There is a new winter wind blowing. It is new because none of its kind is seen elsewhere. It doesn't happen always. Slotland casinos new and glittering slot machine is out. The gaming site calls its new 'glittering wind' Ice Crystal Slots. This is the latest slot machine from the company. Fast and serious players are already on the spin for this new release. Since it is out, it is only two days!
Why Slotland Casinos New Ice Crystals Slot Machine Is Great
What does this new slot machine have for players? According to the Slotland casino press release of December 6, 2017, the online slot machine comes with amazing features. Some of the features are not on any slot machine in the market. The first unique feature is the 'Trailing Wild.' The press release explains that the function can expand. The expansion that will finally cover the entire reel!
Premium Symbols In This New Release
There are two premium symbols on this new release. They come with extra payouts. This is a fitting slot for high rollers. You have until December 12, 2017 to grab your introductory bonus. It is worth $17. What is so different the Wild symbol in this latest release? Ice crystal's Wild Symbol is different from traditional wild symbols. The wild symbol is a frozen W.
The wild symbol in this slot expands every time there is a win. It is its expansion that makes it unique. Once it expands, it covers the entire reel. It even stretches to the next row. It reaches the next spin.
Every time this wild symbol expands, the win multiplier also increases. Speaking of this latest innovation, Slotland manager says this is not an ordinary release. He observes the expansion of the wild symbol is nowhere else. You will try to look around in vain.
"This is not like any ordinary Stacked Wild Symbol. It doesn't expand all the all at once as you may think. Ours trails down one more row each time there is a win. This affects the prize multiplier. It also goes up each time this happens. Getting a stack of wilds is possible. The multiplier goes up to 4X, " Michael Hilary says.
This new slot gives players much leverage. They can bet for as low as low as 50 coins. The highest betting value is 1, 000 coins per spin. As is the case with most slots, each coin has a value of $0.01. That means punters can place a bet of between $.50 to the highest of $10. It is possible to bet using more than 200 coins. But when you bet with 200 coins, the slot automatically activates a special Premium Symbol. At this point, something unusual shows up. A gleaming purple Snowflake pays up to 100X!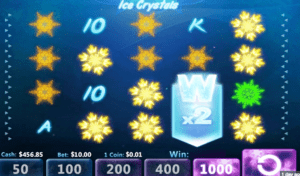 Trailing Wilds And The Higher Paying Premium Symbols Characterize Slotland Casinos New Ice Crystals Slot Machine
One player who plays the slot at WinADay Casino says remarkable words. He agrees that this is a bombshell in the market.
"It is true that the music is not of serene. But it sure gets interesting as the Ws get close to the reel. This is the point you enjoy the game. The multiplier goes up and up. For me, this is the slot of the year. It has nice payouts. I love Ice Crystals already," the player says.

Summary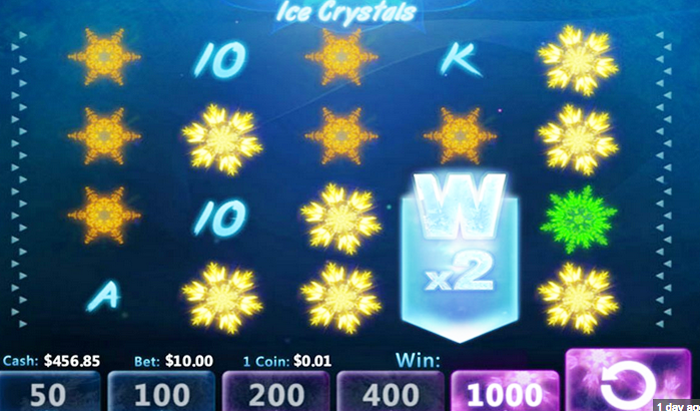 Article Name
Slotland Casino Launches An Amazing & Epic New Ice Crystals Slot Machine
Description
Slotland Casino Launches An Amazing & Epic New Ice Crystals Slot Machine. Trailing Wilds & Higher Paying Premium Symbols Characterize Slotland's Ice Crystals Slots
Author
Publisher Name
Publisher Logo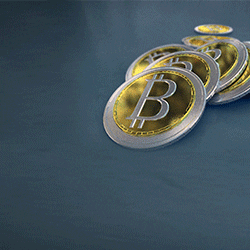 Tagged with: News • online slots bonuses • USA Casinos