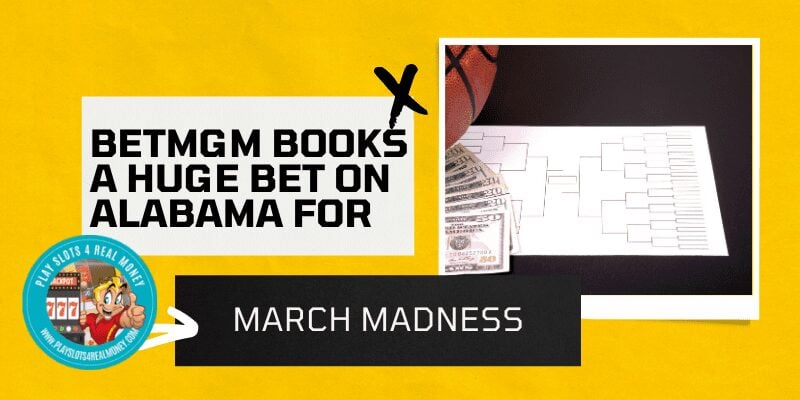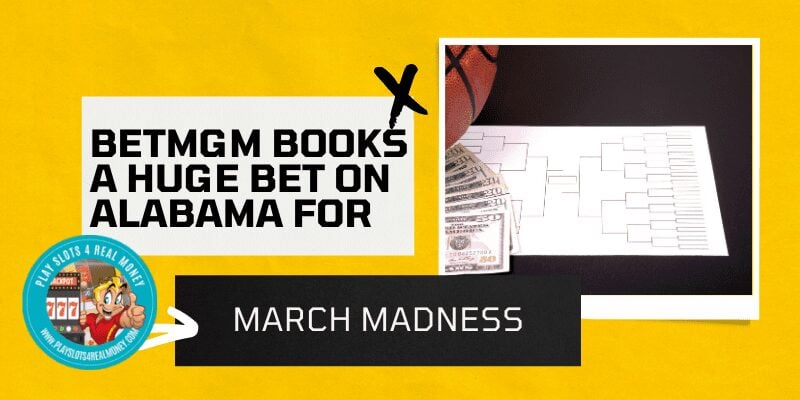 The return of the annual NCAA Tournament after a one-year hiatus has bettors excited across the nation. Last year's tournament was shutdown before it ever got started due to the coronavirus pandemic. One year later, society is still dealing with the ramifications of this global health crisis.
However, heightened safety and health protocols have allowed sports to resume a regular schedule. Along with a coronavirus vaccine, the new normal is starting to take shape.
As far as March Madness, BetMGM mobile sportsbook witnesses the renewed excitement first hand. One Alabama fan may have taken their excitement to a whole new extreme. This pertains to the potential impact on their bank account.
What Huge Bet On Alabama Did BETMGM Book For March Madness?
The Crimson Tide just enjoyed one of their best basketball regular seasons ever. At 16-2 in conference play, the won the SEC regular season title. Alabama then went on to win the annual SEC Tournament. As a result of the team's impressive accomplishments, it was awarded the No. 2 seed in the East Region of the NCAA Tournament.
Alabama opened play with a tougher than expected 68-55 victory over Iona as a heavy 17-point favorite. This set the stage for Monday's second-round matchup against Maryland. The Tide are set as five-point favorites for the slated 8:45 p.m. (ET) tip on TNT.
This is where BetMGM comes in. That one enthusiastic fan bet $330,000 on the Tide to win and cover the five-point spread. Given the 10% juice (or commission) to book that bet, a win would produce a windfall of $300,000. A loss would take some explaining to do to someone.
Related: (Big 12 Tournament Odds, Picks, Favorites, Predictions, & Sleepers)
The spread for the game at BetMGM actually moved to six points after that bet.
Looking across the board at multiple books, the current gameday spread ranges from 5 to 6.5 points.
The Big Ten's Maryland Terrapins knocked off Connecticut on Saturday 63-54 as the No. 10 seed in the East. They closed as 3.5-point underdogs in that game.
Some big March Madness bettors have already been burned bad with their team failing to live up to expectations. One bettor lost $220,000 betting on No. 5 Tennessee against the No. 12 Oregon State Beavers. This opening round matchup in the Midwest Region went horribly wrong.
The Beavers, fresh off a Pac-12 Tournament title, stunned the Volunteers 70-56 as 8.5-point underdogs. Oregon State then went on to oust No. 4 Oklahoma State from the Big Dance. It beat the Cowboys 80-79 on Sunday night as a six-point underdog.
A few big bets did cash early. One Colorado fan wagered $165,000 on the Buffaloes against Georgetown at BETMGM.
That payoff was $150,000 with Colorado's easy win.
For the most part, it has been a tough tournament so far for the favorites. The Big Ten has been hit especially hard with Illinois, Ohio State and Purdue. All three teams made an earlier than expected exit from tournament play in huge upset losses.
The West Coast Conference's Gonzaga Bulldogs remain the top favorite to win this season's national title.
• Source: March Madness: Huge bet on Alabama becomes tourney's biggest wager at BetMGM from Sports.Yahoo.com On March 21, 2021.