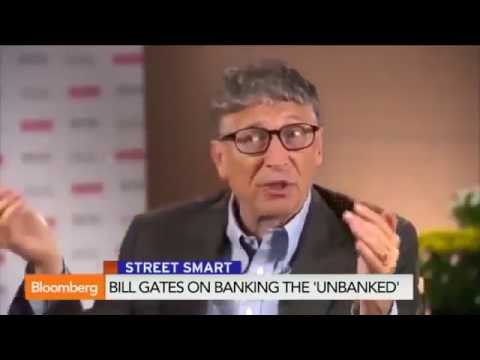 Bill Gates Shares His Views On Bitcoin With CNBC Fast Money. Everyone from Wall Street investors to the average guy on the street probably has an opinion to share when it comes to the cryptocurrency craze. As the digital currency industry continues to evolve behind some everchanging technology, the entire direction of crypto's such as Bitcoin continues to take some interesting twists and turns along the way.
In a recent post on CNBC.com by Evelyn Cheng under the heading 'Warren Buffet Watch,' Microsoft co-founder Bill Gates gives readers his rather interesting take on Bitcoin and other popular cryptocurrencies. He sat down with CNBC's "Squawk Box" on Monday to share his views.
What Did Bill Gates Say About Bitcoin On CNBC Fast Money?
His basic description is quoted as "kind of a pure 'greater fool theory' type of investment." He went on to say, "I agree I would short it if there were an easy way to do it." He also told the panel that he once received some Bitcoin as a birthday gift, but he decided to sell it a few years later. Gates also said he would bet against Bitcoin with the statement, "As an asset class, you're not producing anything, and so you shouldn't expect it (the value) to go up."
Bill Gates Predicts The Price Of Bitcoin?
Tracking the past value gains of Bitcoin, the report adds that the price of this crypto soared to above $19,000 at the end of 2017. It also notes that it has lost half of its value since then and as of Monday morning it was trading near $9,300. The total amount of money that has been raised through past sales since 2016 in the form of Initial Coin Offerings (ICO's) is estimated to be $9.8 billion according to the financial research company Autonomous Next.
What Does Bill Gates Think About Initial Coin Offerings?
Gates was also quoted in the report as saying, "Bitcoin and ICO's, I believe completely [they're some] of the crazier speculative things." While his views on Bitcoin and other cryptocurrencies were not all that flattering, he did lend support for blockchain technology.
The report goes on to describe blockchain as a technology that 'eliminates the need for s third-party intermediary, such as a bank, by quickly creating a secure, permanent record of a transaction between two parties.' Bitcoin gained popularity as the first real blockchain application. Also, this has opened the door to other industries turning to blockchain technology as a means towards addressing some of the supply chain management issues that exist in a variety of different applications.
✓ Articles That May Interest You ·
· Forbes Predicts The Future of Cryptocurrency And Initial Coin Offerings (ICO'S)
· NEW RUMORS FROM ASIA INDICATE THAT BITCOIN PRICE WENT DOWN BY 5%
· Coinbase.com Backs Withdrawal of Bitcoin Forks From Exchange
· Atari Gaming Set to Enter the World of Cryptocurrency.
· Shark Tank's Mark Cuban Talks Betting Bitcoin, Gold & Ethereum
· HODL Bitcoin is the Word From Top Investors?
Warren Buffet Says Bitcoin As 'Rat Poison' And 'Worthless Artificial Gold'?
Gates serves on the board of Warren Buffet's Berkshire Hathaway based in Omaha, Nebraska. In a recent annual shareholder's meeting held this past weekend, Warren Buffet himself and his vice chairman Charlie Munger addressed some different topics in a conference that reportedly has 'tens of thousands' in attendance.
Munger was quoted in the report as referring to Bitcoin as 'rat poison' and 'worthless artificial gold' in a hardline stance on cryptos. While certain aspects of the traditional investment elite are turning a highly skeptical eye towards Bitcoin and the entire cryptocurrency industry, the jury is still out among such much more full circles of investors as to where things go from here.
Previous News Article: Win A Trip To Austria Playing In This Online Poker Tournament For Real Money