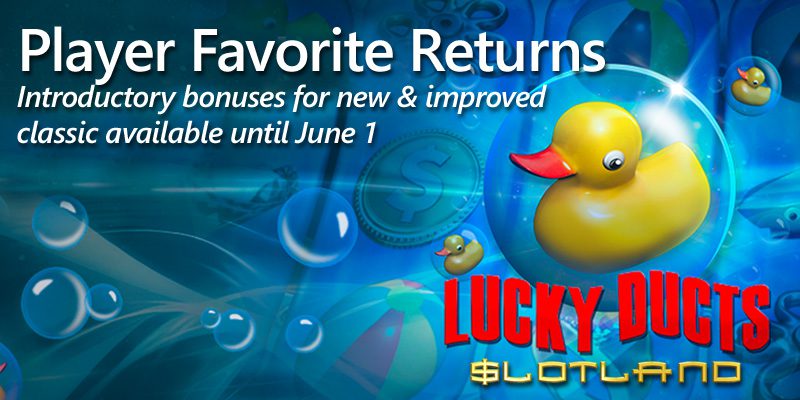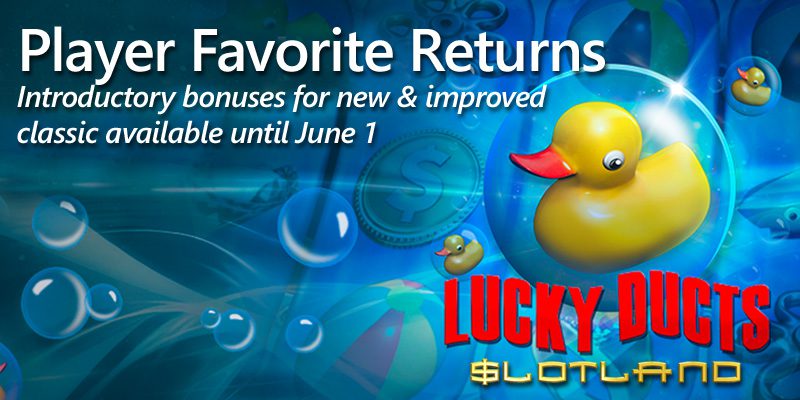 If you're a fan of the Lucky Ducts slot machine, then you'll be excited to hear that the game has just gone mobile friendly! That's right – now you can play your favorite slot machine game on the go, no matter where you are. Whether you are stuck in waiting in a line or in traffic at the grocery store, you can now kill some time by playing Lucky Ducts on your mobile device.

Lucky Ducts Slot Machine Goes Mobile: Play the Popular Game on the Go!
On Thursday, June 7, Slots at Slotland is bringing back a player favorite with the arrival of new and improved Lucky Ducts. Introductory bonuses will be available from May 26, 2022, through June 1, 2022. Officially, the name of this promo is called "Splish Splash — Slotland Re-introduces Popular Lucky Ducts Game in New Mobile-Friendly Format."
Lucky Ducts, a popular selection with free spins, scatter bonuses and win multipliers, has been one of the most-played games at Slotland since it debuted in 2010.Since then, the gaming industry has advanced considerably, thus this week, the original pioneer online casino is releasing a new and improved mobile-friendly version of this classic.
Slotland is providing two significant bonuses for new players. June 1, 2022, through to June 15, 2022 when you sign up through our "Slotland casino review" and use our "Slotland casino bonus code."
NEW LUCKY DUCTS INTRODUCTORY BONUS
From May 26, 2022, through June 1, 2022, folks that sign up through PlaySlots4RealMoney.com are in store for some bonuses. If you deposit between $50-$300 you can get a 122% Match Bonus using the promo code LUCKYDUCTS. Remember there are 33X wagering requirements.
When you deposit between $5 – $300 and use the bonus code QUACKY you will get a 40% Match Bonus or up to 85% for VIP Players. There is a 27X wagering requirement but you can claim this bonus twice daily. These deposit bonuses are only valid for the all new Lucky Ducts game.
About Lucky Ducts
The five reels of this game spin Rubber Duckyes and other bath toys. One of the many games linked to the casino's main progressive jackpot is Lucky Ducts. The progressive prize pool is won by hitting five diamonds on a $20 bet.
The Bonus Reservoir rises when three Faucet scatter symbols are matched. Then, when three Plug symbols appear on the reels, the level of the Bonus Reservoir is increased by 50 percent, up to a maximum of 50X. If the Bonus Reservoir is already full when three scatters appear, it overflows and provides wins.
The game is called 5×3, 20 paylines and it's from the Lucky Ducts series. Players may wager as little as $4 per spin or as much as $80 per spin. The top-paying symbol pays out a total of 1500X.
Slotland Casino Manager Michael Hillary Says…
"We've created lots of new games since the original Lucky Ducts first game online, but this one continues to be one of our players' favorites So we thought it was time for an upgrade that makes it available to players on smartphones and tablets."
Summary
All of the games available on Slotland are created by its in-house game development staff. It's been entertaining players from all around the world for more than 23 years, and it's one of the oldest and most trusted real money online casinos.It's well-known for its outstanding customer care, which offers a diverse collection of one-of-a-kind games. It is also constantly introducing new ones.
If you are searching for a fun and exciting new way to kill some time, be sure to check out the Lucky Ducts slot machine game – now available on mobile devices! Not only is this game a ton of fun, but it also offers players the chance to win big payouts. And if you're feeling lucky, be sure to sign up for exclusive no deposit bonuses through PlaySlots4RealMoney.com. You won't regret it!