Ameristar Casino & Resort
Is It Time To Check In Ameristar Casino Hotel Vicksburg Mississippi? Do you want a change in the way you do your gaming? If that is what you have been craving for all along, it is time you took the appropriate action. By the way, there is nothing as good as doing what you feel is better for you.
There is something you can do if you want to have the exclusive gaming enjoyment you've been looking for. The ideal thing is for you to visit Ameristar Casino Hotel Vicksburg. You can get Ameristar Casino Hotel Vicksburg at 4116 Washington Street in Vicksburg Mississippi. It is s the right thing to say that among Mississippi casinos, The Ameristar Casino Hotel Vicksburg is indeed standing out. Why could someone arrive at such a conclusion?
Here is a quick Ameristar Casino & Resort Vicksburg Mississippi view:
Poker tables – 10
Gaming machines inside the Casino – 1, 571
Table games available – 27
The minimum set betting amount – $0.01
The maximum betting amount per bet – $2, 000
There is enough space for parking both valet and self
Convention space inside the casino is 3, 600 square feet
There is over 70, 000 square feet of casino space
Although there aren't many amenities at the Ameristar, the few that are available such as the Bottleneck Blues Bar and the Cabaret Casino are all that you need to enjoy your visit. It is also important to note that you can book a room at the Ameristar Hotel for as little as $79.00 per night. But you can also find another room that goes for $89.00 per night.
You will also find some three restaurants at the casino area, which will be a place that will take care of your stomach. The three restaurants are:
Heritage Buffet
Bourbon's BBQ & Steaks and
Bella's Bakery & Café
The Ameristar Casino Review
Ameristar Casino Hotel Vicksburg may seem small to many people, but the fact is that it is one of the notable and frequented Mississippi casinos. All the 70, 000 square feet that have been set aside for gaming with only 3, 600 others left for holding meetings is a clear indication that the developer is giving gaming the priority it deserves.
There is more that has been done I the gaming area and its environs that will no doubt convince anyone that indeed, a lot is done to ensure clients get the best. For instance, did you know that apart from the installing of 1, 571, slot machines, ten poker tables for live gaming, and 27 table games, the developer has also included 14 Jacuzzi seats and set aside four executive suites for those that want exclusive gaming?
The three restaurants that are in the casino serve various delicacies to clients at affordable prices 24/7. You will also love the idea that there's a 350-seat room that has been spared for other private and special events. There is much more one can say about The Ameristar.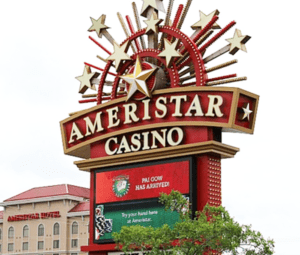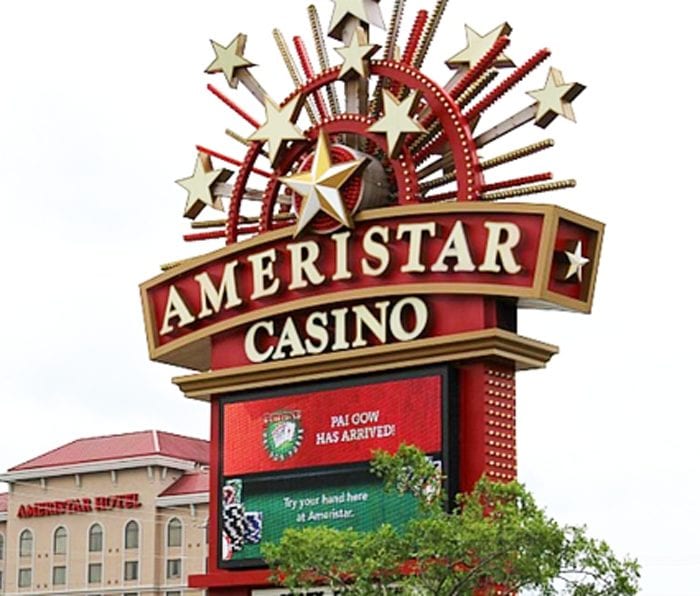 The Ameristar Casino & Resort Gaming Information
Are you a high roller? You are invited to have access to Private Star Lounge, a room that allows you to play for big money, and yes, you will win big.
Some games include
Roulette
3 Card Poker
Blackjack
Flop Poker
Craps
Let it Ride
Mississippi Stud
Find a chance and visit The Ameristar Casino. You won't regret.