Rivers Casino Pittsburgh Review | Find Nearest Casinos
There is no doubt that you need to enjoy games. The only way to do that is finding the ideal place to play them from. To many people, that could mean traveling far. Rivers Casino in PA is a great place to play casino games .
As for you, that shouldn't be a challenge. You only need to read through this write up. It is after doing so that you can realize that you are so close to the place you need.
Indeed, if you've been craving to find that ideal facility to enjoy your games from, do not look further. At Rivers Casino, one of the notable Pennsylvania casinos, you'll find that place.
First, it is important to know the exact location.
You'll find Rivers Casino at 777 Casino Drive in Pittsburg Pennsylvania.
The facility is home to quite a number of gaming equipment that will certainly spur your day. Here is a quick look at the casino:
Quick View
• Table games inside Rivers Casino – 113.
• The number of gaming machines – 2900.
• The casino is open to visitors 24/7.
• You'll access free valet and self-parking.
• There is convention space totaling to 10, 000 square feet.
• The aggregate casino space is 120, 000 square feet.
Other amenities at the Rivers casino include the Levels Bar, the Amphitheater, and, the Spiral Bar as well as the Drum Bar
Before, during and even after gaming, it might be ideal to take a bite of something. In fact, other gamers decide to have a full meal. It is possible to do all these while at the Rivers Casino.
There are a total of five restaurants that are attached to the gaming facility. Here is the list:
• Ciao.
• Wheelhouse Bar & Grill.
• West End Café.
• Andrew's Steak & Seafood.
• Grand View Buffet.
Rivers Casino Review
Rivers Casino is known to be one of the hottest gaming and entertainment destinations among Pennsylvania casinos. Nobody can dispute that. There is full evidence to prove those allegations.
Whether it is nightlife events, dining, amenities or even dining, you'll be amazed. Rivers Casino has for many years been home to celebrities and high-profile personalities. Of course serious gaming enthusiasts have made Rivers Casino their preferred place.
You shouldn't really worry about the time to check in because at Rivers, it is open 24/7. However, the condition is that you should be 21 years and older for you to check in.
This should not deter you from enjoying your game because it is indeed a noble regulation.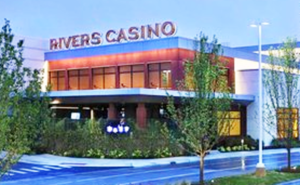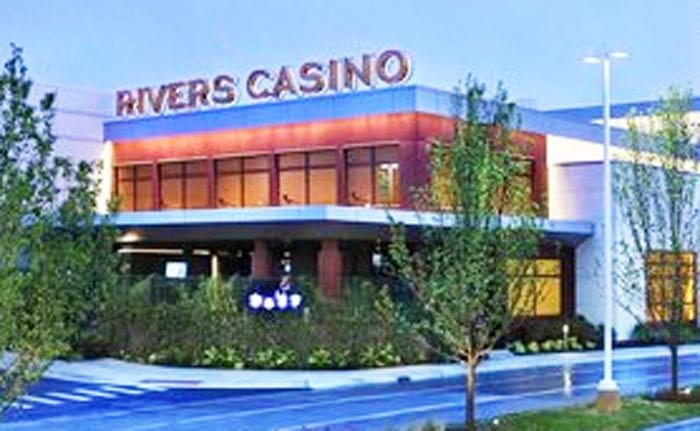 Gaming At Rivers Casino
With 120, 000 square feet of gaming space, you can expect a lot more gaming to take place. That is a fact because inside this casino space, there are 2, 900 gaming machines.
Besides, you will also find some over 100-table games. The interesting part is that gaming inside Rivers Casino is done 24/7.
Some of the games here are:
• 4 Card Poker.
• Gig 6.
• 3 card poker.
• Roulette
• Pai Gow Poker.
• Slot Machines.
• Mississippi Stud.
• Let it Ride.
• Video Poker.
• Crazy 4 Poker.
• Baccarat.
• Craps.
• Blackjack.
Contact information:
Phone number: (412) 231- 7777
Website: www.theriverscasino.com