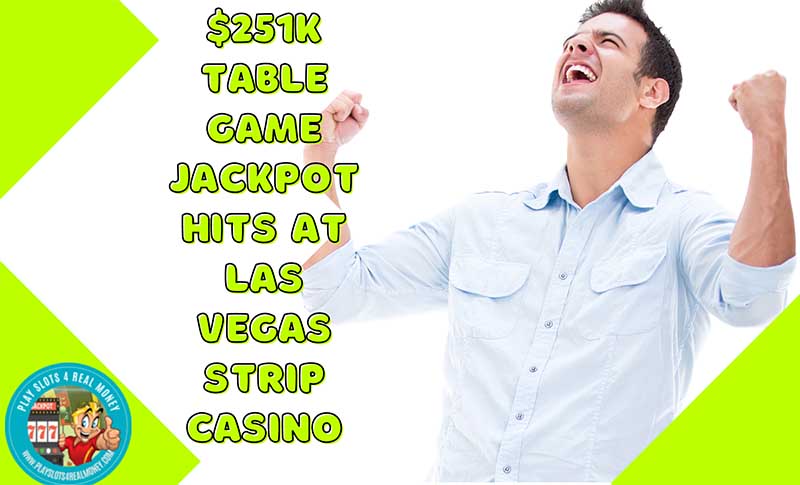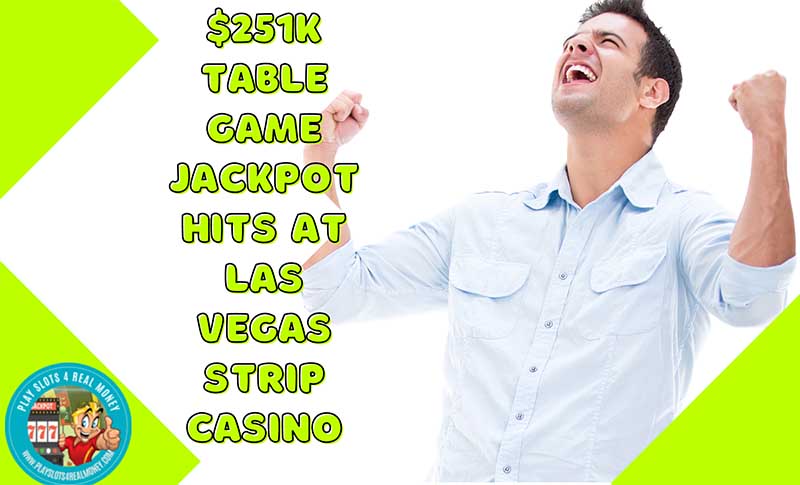 As Las Vegas continues to get things back to normal, big wins remain in the headlines. Lucky visitors and locals alike have been cashing in on some good fortune lately. Nobody bets to lose in this town and there are more than enough big winners to go around these days. In late October 2020, a gambler playing Ultimate Texas Hold'em Poker becomes another big winner in Las Vegas as he is leed by A Six-Figure table game jackpot.
Big $251,404.37 Jackpot Winner Gets Lucky Playing Table Games
The biggest winner took home a $251,404.37 jackpot at Bally's Las Vegas on the Strip. This was not your typical slot jackpot on a progressive machine. It was actually a table game win on the casino's Blazing 7's Mega Jackpot. The Blazin 7's Mega Jackpot land machine is similar to the online slot game, Ultimate 10X Wild.Bally's posted the following tweet:
That may have been one of the biggest wins over the final weekend of October. This is according to news sources close to PlaySlots4RealMoney.com. However, this was not the only big win in Las Vegas lately.
Playing video poker at Aliante Casino downtown was a lucky decision for John. He walked away with an extra $22,000 after hitting the jackpot on an Ultimate Poker machine. That casino's winning tweet read:
"Ultimate Poker can lead to an ultimate win. Congrats to John, a Las Vegas local, on hitting this $22,000 jackpot at Aliante."
John posed for a picture next to the Ultimate Texas Holdem winning machine for this tweet. This big win took place on Oct. 28. The following day, another lucky Aliante player hit a progressive slots jackpot for $10,606. The tweet released for that win was:
"One lucky @bconnected player hit the Grand Progressive jackpot for $10,605 on the Gold Stacks 88 slot!"
That tweet also contained a screen shot of the machine but the winner was not pictured. The $10,000 bonus was added to the Major, Minor and Mini jackpot amounts.
The California Casino is another downtown Las Vegas hot spot. It actually caters to guests from Nevada's coastal neighbors to the west. On Oct. 30, a $1 bet turned into a $12,556.97 jackpot win. The casino summed up this hit with the tweet:
An Interesting Find: Millions In Slots Jackpot Wins Pile Up In Northern Nevada .
"This incredibly lucky guest hit the Grand Progressive jackpot betting $1 to take home this awesome $12,556.97 win!"
The winning machine was also added to the tweet with the lucky spin still displayed on the screen.
Moving to Fremont Casino in the downtown area of Las Vegas, Oct. 30 was also lucky for one slots player. Seong was able to turn $2 into $10,000 during her recent visit to town. The casino tweet detailing this win read:
"Seong turned $2 into $10,000 on her recent visit here. Way to go, Seong."
This winner's machine was pictured in the background and she was also holding the traditional oversized check. Also pictured was her husband. He appeared to smiling ear-to-ear under his mask.
It is always good for business when lucky players lay claim to five, six and even seven-digit jackpots. First of all, this becomes free advertising for the casinos where the win took place. As creatures of habit who tend to also be superstitious, avid slot players will gravitate towards these winning locations.
• Source: $251K table game jackpot hits at Strip casino From Reviewjournal.com On October 31, 2020.

49074
49074