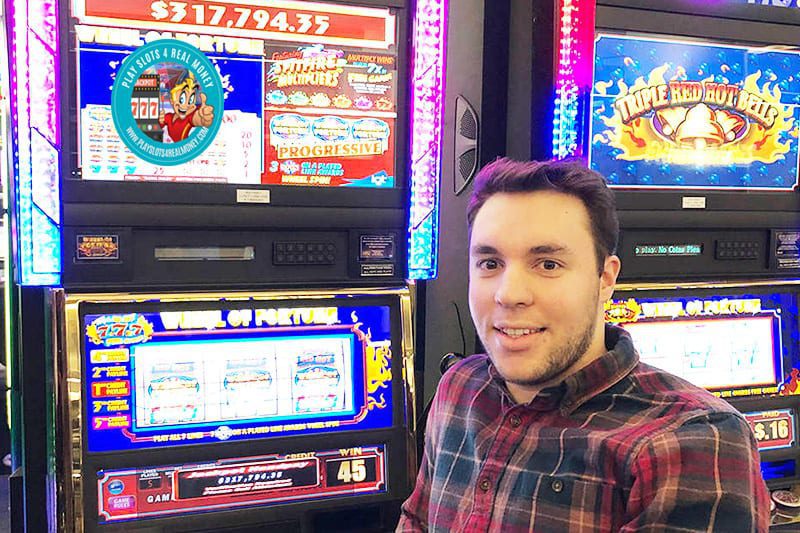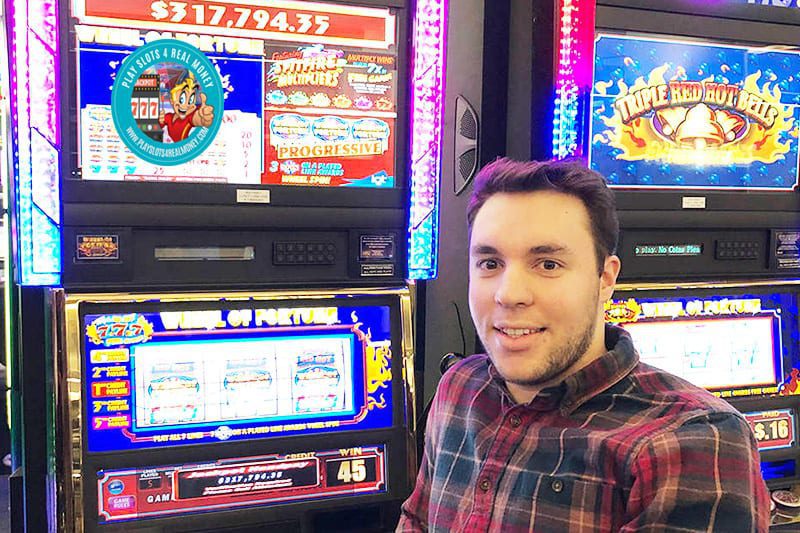 Anyone who has ever flown into Las Vegas is familiar with McCarran International Airport. Staying true to the image of the casino gambling capital of the world, there are slots throughout the terminal. The machines are there in case you did not get enough real money gambling action during your stay. You could also see these slots as a way to get your visit off to a winning start. Either way, Las Vegas has you covered from the minute you arrive or leave this gambling town.
For one Ohio man, playing those last minute slots made him over $300,000 richer. As posted on www.reviewjournal.com, Ryan C. from Columbus, Ohio was the lucky winner. There is a picture of him seated by the winning machine. You can also clearly see the three Triple Red Hot 777 symbols blazoned across the screen. It was not mentioned whether he was arriving or departing the airport. However, when you win that much money does that really matter?
The winning slot was the progressive Wheel of Fortune Triple Red Hot 7 by International Game Technology. This IGT slot has been known for delivering some of the biggest jackpots in recent years. Kelley Waynert is a spokesperson for IGT. She noted that the winning spin on the .25-slot came just after 5 p.m. on Monday, Nov. 18. The actual jackpot was $317,795.94.
"Congratulations to the lucky #IGTJackpots player who won a $317,795 Wheel of Fortune jackpot at McCarran Airport in Las Vegas, Nevada."
Christine Crews is a spokesperson for McCarran International Airport. She also confirmed the big win. She also identified the lucky winner as Ryan C. Crews was the one who added that she was not sure if Ryan had just arrived on a flight or was waiting to depart.
November has been a lucky month in Southern Nevada. There have been three big jackpots awarded so far on a Wheel of Fortune slot machine. The Friday before the airport jackpot, the Mirage's Wheel of Fortune Triple Red Hot Bells was the big winner. One extremely lucky player turned a $5 wager into $2,218,046.41.
The month started off with a $257,221.73 jackpot at Terrible's Hotel & Casino in Jean, Nevada. That big winner was playing the .25 Wheel of Fortune Triple Double Emeralds on Nov. 5.
Along with those three big payouts on Wheel of Fortune progressive slots, a bonus blackjack wager turned into a $180,000 win. Playing blackjack at the Flamingo, Susan became the big winner. She was in town to celebrate her daughter's 30th birthday.
You May Also Like:
"Susan is in #Vegas celebrating her daughter's 30th birthday. And had only been playing for 20 minutes before she hit the jackpot of $183,303! #Congratulations.
A video poker machine at Fremont paid out $20,000 on a royal flush. Juby from Hawaii walked away with an extra $7,000 at the California Hotel. She drew a straight flush on the Let It Ride machine. Four Queens paid out a pair of $4000 hits for royal flushes on a $1 video poker machine.
• Source: Slots player at Las Vegas airport wins more than $300K From Reviewjournal.com On November 19, 2019.