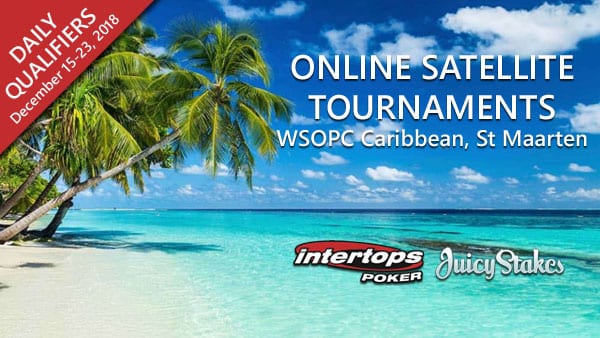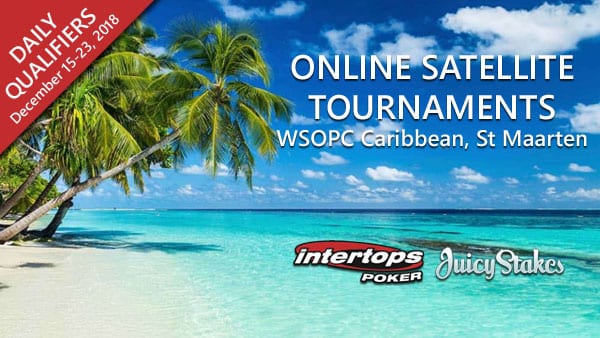 Intertops casino is one of the best USA friendly online poker rooms. Over the next week, you will have an opportunity to win your way to the Caribbean for the WSOPC St Maarten Satellites on Saturday. Have you ever been to Sint Maarten? It is a country that is located in the Southern Caribbean a part of the Kingdom of the Netherlands.
There are so many things do to in St. Maarten like visit Maho Beach, which is a very popular beach for planespotting. Also, you can stop by the Simpson Bay Lagoon, Dawn Beach and Great Bay Beach. In addition to that, you have a chance at the second round of online satellites to play for the $250,000 GTD WSOPC Caribbean. This tournament starts on December 15, 2018, and ends on December 23, 2018. One lucky winner will win a $4500 guaranteed prize package to compete in St. Maarten tournament in early 2019. Scroll down to see the video.
How Can I Win A Trip To The Caribbean At Intertops Classic Casino?
You can win a trip to the Caribbean by signing up for Intertops Classic Casino through our website. After that, tell customer service that you want to participate in this tournament. Also, head to the online casino lobby to register for one of the daily satellites. You will find the satellites tournaments tab in the lobby.
You may have a chance to win a trip to Sint Maarten, which is part of the Kingdom of the Netherlands. This country on the southern part of a Caribbean island shared with Saint Martin, a French overseas collectivity. Its natural features span lagoons, beaches, and salt pans. The capital, Philipsburg, has cobblestone streets and colorful, colonial-style buildings lining its Front Street shopping area. The port is a popular cruise-ship stop.
Enter Step One Tournament With Just Three Dollars
In a recent press release, the manager at Intertops went on record. He says "You can enter a Step 1 tourney for just three bucks and win your way from there to the Final." After that, he goes onto say "Or you can skip the preliminaries and just buy into the Final for $100." Ultimately, you will have a chance to join become the ultimate champion of this satellite poker tournament. If you are victorious, you will join the winner of the first round from the previous month. Both winners will meet at the newly refurbished Sonesta Maho Resort. If you have never been to this resort, it is all-inclusive and on the Dutch side of the island, which is directly right across the street from the casino.
The first step will cost you three dollars and thirty cents for re-buys. This step takes place on December 15, 2018, at 2 pm EST and 8 pm EST. If you make it to the second step, you will have a chance to win one ticket for the final event. However, the buy-ins cost ten dollars and re-buys cost one dollar. The second step takes place on December 29, 2018, at 8:00 pm EST.
$4500 WSOPC Prize Package Includes The buy-in for the $250,000 GTD WSOPC Main Event
If you are lucky enough to join the winner from last month, you are in store for some more rewards. At Intertops, they are including the $250,000 GTD WSOPC Main Event with the entire $4500 WSOPC Prize Package. Remember, the main event takes place on March 28, 2019, through April 2, 2019. Eat and drink for free when you are at the resort plus you will receive six hundred dollars for travel expenses and $100 cash game buy-in.
A Lot More To The St. Maartan Tropical Paradise Than Just The Exciting Nightlife And Outdoor Adventures
The odds are when you are in St. Maarten, you won't get bored. Overall, when you are not gambling at the casino, you will have plenty of things-to-do in this tropical paradise. Feel free to enjoy the clubs, bars and everything that comes with their exciting nightlife. Meet people, or go on an outdoor adventure by yourself or just lay down on the beautiful beach and get sun. Last year, The World Series Of Poker (WSOP) included St. Maarten on its Caribbean circuit. Most importantly, the folks that went had an amazing time. Remember, there are all types of poker players there from casual to professional.