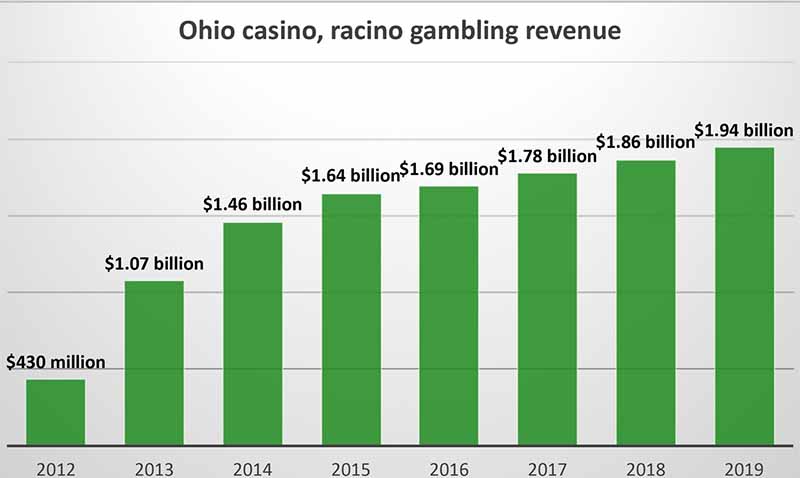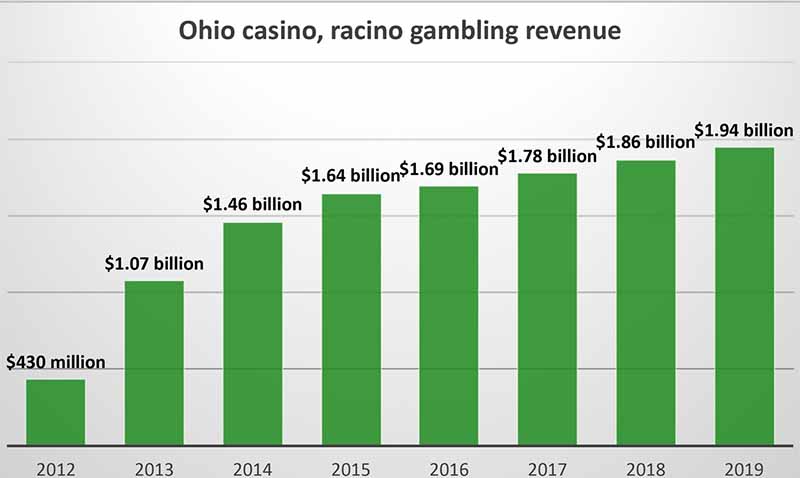 From land-based casino venues to real money online casino sites, gambling continues to expand its overall footprint. Furthermore, this pertains to the gaming industry across the nation and around the world. More and more states are looking at expanded gambling options as viable ways to fill shortfalls in operating budgets. More and more countries are expanding into regulated casino gambling for the same reasons.
How Does The Ohio Casino Industry Set An Annual Record for Gambling Revenue?
The sheer amount of revenue generated by any form of casino gambling is staggering to say the least. Nevada, and more particularly Las Vegas, is the true pioneer of real money casino gambling. However, it is just one of many hot spots these days.
According to a source close to PlaySlots4RealMoney.com, the state of Ohio qualifies as one of those hot markets. Ohio state's casinos and racinos just set a record for annual gambling revenue in 2019. The total reached $1.94 billion. Moreover, this reflects an increase of 4.3 percent from the $1.86 billion mark the year before.
There are 11 casino/racino facilities operating across the state. Going back to the industry's origins in 2012, the total revenue is close to $12 billion. The growth over the past eight years has been steady from the $430 million collected that first year.
Total gambling revenue is reported by the state's lottery, and control commissions. It reflects the amount of money taken in by casinos and racinos after paying out winnings. Ohio offers both slot machines, and table games in its casino industry. This figure only pertains to gaming activities. It does not take into account any of the added money generated by casino sales for food and drink. These revenue figures do not reflect any money taken in on horse racing gambling.
A financial boon in casino gambling revenue is a boon to the state's coffers through taxes and fees. Close to a third of all gambling revenue goes to the state. That total reached almost $650 million last year.
The casino market expanded to four gambling venues in 2013. The last of the seven racinos opened their doors the following year. At full capacity, revenue has grown 18.3 percent over the past four years. The industry is poised to eclipse the $2 billion mark in 2020.
The Ohio Casino Control Commission is the official governing body for the four casinos. They can offer table games along with slots. The Ohio Lottery Commission oversees the seven racinos. Furthermore, these gambling facilities are limited to slots along with horse racing. Legal sports betting is still on the drawing board. This should change in light of legal sportsbooks in neighboring states.
The biggest gambling venue in the Buckeye State is MGM Northfield Park racino with $253.6 million in revenue. Next is Hollywood Casino Columbus ($229.2 million) and JACK Cleveland Casino ($212.1 million). MGM Northfield Park is the former Hard Rock Rocksino going back to last April. This gambling venue experienced a $2.3 million decline in revenue from 2018 figures. The only other decline was at Hollywood Casino Toledo. The decline was close to $700,000 from the previous year.
• Source: Ohio casinos, racinos set record with $1.94 billion in gambling revenue in 2019 From Cleveland.com On January 9, 2020.

49116