What are you going to do on Thanksgiving Day? Nobody's going to host a big dinner because of lockdowns and quarantines. So better be content with online toasts while eating your own turkey and soup. Say hello to everybody on camera while you raise up your glass of red wine.
We're suggesting you visit Slotland online casino to celebrate your own Thanksgiving party at home. It's going to be the launch of the new and exciting Blazin Wild Slot Machine Thanksgiving Edition! Blazing Wild sounds familiar to you? It's that popular slots with the demonic symbols. Only this time, they're replaced with turkey's and pumpkins and the devil is donning a chef hat.
Learn The Truth About Blazing Wild Slots In This Review
You can play Blazing Wild Slots only in 3 casinos : Slotland, and affiliate sites WinADay Casino and Cryptotoslots. They're part of the new breed of casinos which only accept cryptocurrency as deposits. Choose from among three: Bitcoin, Litecoin and Monero.
Blazing Wild Thanksgiving has similarities to its predecessor, having a free spin bonus round and one payline. And the winnings are always doubled.
FEATURES
Aside from the symbols being the turkey and the pumpkin and the devil with the chef hat, there are 3 scatters that trigger 13 free spins. The wild symbol, a flaming turkey, appears a lot in the free spins bonus game.
For each appearance of a bonus symbol in the free spins, one free spin is awarded. All the winnings, from the horizontal to the middle pay line, are doubled.
 You May Also Like:
WHAT DEVICES TO USE FOR GAMEPLAY?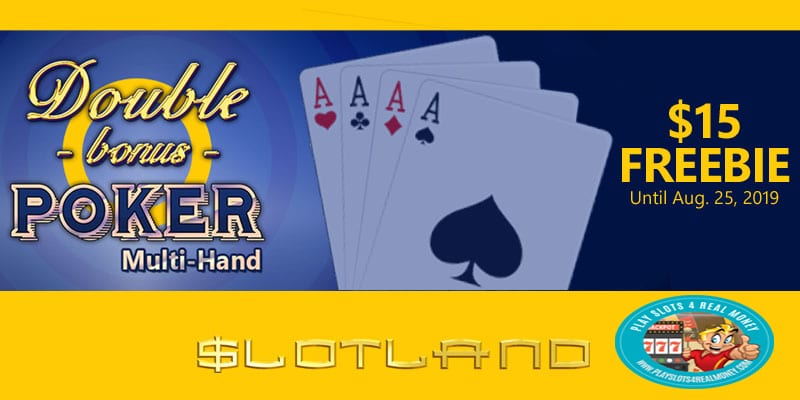 If you've got a smartphone, tablet, laptop or PC that has updated software, you will have no trouble playing Blazing Wild Thanksgiving. It has a CryptoSlots version which accepts the only cryptocurrency. Thanksgiving bonuses are only valid until November 30th.
WHAT ARE THE BEST NO DEPOSIT BONUS AT SLOTLAND CASINO
When you deposit from $5 to $400 at Slotland Casino, you get a 166 percent deposit bonus using the bonus code BLAZINGWILD.Use our Slotland casino no deposit bonus codes to get exclusive bonuses.
You can claim twice. To be able to claim your winnings, you should fulfill a wagering requirement of 35X. This privilege is available only from November 25 to 30, 2020 only.
WHAT IS THE BEST NO DEPOSIT BONUS AT WINADAY?
Deposit anywhere from $10 to $500 at WinADay Casino and claim a 122 percent deposit bonus. To claim your winnings, you should play a wagering requirement of 32X. Available only from November 24 to 30, 2020 only.
Related: (Slots.com Review & Bonuses)
WHAT IS THE BEST DEPOSIT BONUS CRYPTOSLOTS?
With a minimum deposit of $50 and using bonus code BLAZINGWILD, claim a 88 percent deposit bonus. This can be claimed 2X per day and winnings require a 35X wagering requirement. Available only from November 24 to 30, 2020.
To qualify for the bonuses, all deposits should be in cryptocurrency (Bitcoin, Litecoin or Monero). Customers who don't own a cryptocurrency wallet yet, can do their crypto deposits via credit card with Cardit or Coinify.
Slotland players enjoyed the Alice in Halloweenland slots last month. It is but proper that Slotland and its affiliate online casinos come up with Blazing Wilds Thanksgiving for this very special holiday weekend.