Welcome to the Cubee slots reviews by RTG. In this review, we will explain the pros and cons of this new groundbreaking casino slot game. First of all, Realtime Gaming releases this cutting-edge breakthrough in February 2019. Unlike any other online slot machine, Cubee goes against the rules of traditional online slots. Furthermore, this new ground-breaking, cutting-edge slot machine brings players on an exciting adventure. While this online gambling game has twists and turns, once you get the hang of it, you can win some big cash money.
Learn The Truth About Cubee Slots By RTG In These Reviews
While most online slot machines have a specific amount of reels and pay lines, Cubee is not the average pokie machine. As a result, you may find it harder to understand and play in the beginning. If you opened up Cubee slots, you will notice it looks different than any other pokie machine you have seen.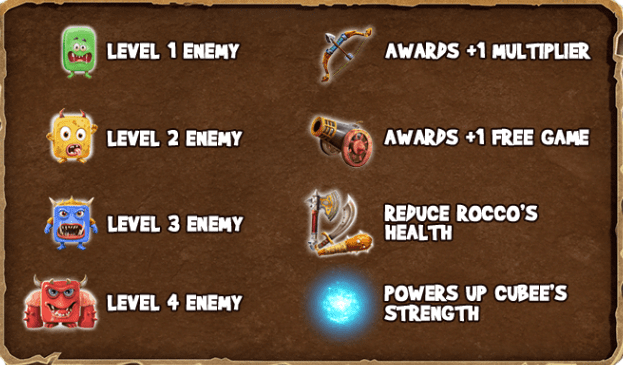 Understand And Learn How To Play Cubee Slots
First and foremost, you should understand that Realtime Gaming builds Cubee on four different levels. There is the Era of Piracy, the Viking Age, Cubeeland, and The Stone Age. Regardless of which level you are on, your objective is to beat the boss on that level. Usually, you will square off against Rocco. If you win, you will increase Cubee's strength. You can also increase your strength by fighting and defeating other smaller characters that appear in the vortex.
Read The Pay Table And Understand The Feature Before You Spin
Take some time to read the pay table. As a result, you will get a better understanding. For level one, you should see your green enemy next to a bow that awards multipliers. After that, you should see the yellow level, two enemies. When you defeat him, you will see the cannon, which awards you one free game. Next up, defeat the level three blue enemy and reduce Rocco's health. Finally, when you fight the red level, four enemies, you receive a power-up. As with most other real money pokies, you start to play Cubee by setting the amount you want to bet. After that, you click the 'spin' button. Once you click spin, you will notice the blue vortex throwing out eight symbols.
Ultimately, these eight symbols are a mix of weapons, energy balls, and your enemies. To build your strength, you have to defeat the little enemies by discovering energy balls. As a result, you will be strong enough to level up by beating Rocco on each level. Also, every time you level up, you will receive new weapons. Use these weapons when fighting Rocco and beat him. Watch his energy and yours on the top of the screen.
Read More Realtime Gaming Slot Reviews
How To Win Money Playing This Cutting-Edge New Casino Game
Finally, when you beat Rocco, you level up to the Era OF Piracy. As a result, you will unlock new free casino games every time you get your hands on a cannon. Additionally, you can win more free games as you make your way through the Viking Age. However, you have to unlock each level. In the case of the Viking Age, you need to use your bow and arrow symbol from the blue vortex. Over time, you accumulate freespins, which you can use on higher levels. Eventually, you will reach the Cubeeland, which is the highest level. At Cubeeland, you can win the most amount of money. Also, there are tons of free online casino games.

Summary
Reviewer
Review Date
Author Rating