Sasquatch Casino Review
Colorado is abundant with majestic beauty, and Sasquatch Casino stands tall amongst it in Black Hawk. Although the venue may be small compared to others, its payouts are incomparable; gamblers simply can't get enough of those amazing gifts!
Sasquatch Casino is the pride and joy of Colorado's Black Hawk–a family-owned business managed by Ed & Shirley Inc.
In 2011, this flourishing gambling establishment was established in one of Black Hawk's beautiful 19th century buildings that stands as a historic symbol of the city today. With its vibrant lights, exciting atmosphere, and state-of-the-art technology, Sasquatch Casino has quickly become one of nearly 40 sought after casinos in Colorado!
Even today, the casino offers a classic atmosphere that strongly resonates with Black Hawk's colorful gold-mining history.
Sasquatch Casino Review
Aside from its tremendous rewards, the Sasquatch Casino offers a variety of original experiences to gamblers. Especially exciting is that patrons are warmly invited to caress the backside of their famous 7'4'' Harry the Sasquatch statue! Folks flock to Sasquatch Casino in the hopes of having their luck boosted, believing that rubbing the famous statue's behind before they enter will bring them good fortune. Excitement and nostalgia can be felt in the air as many look forward to trying their hand at gaming.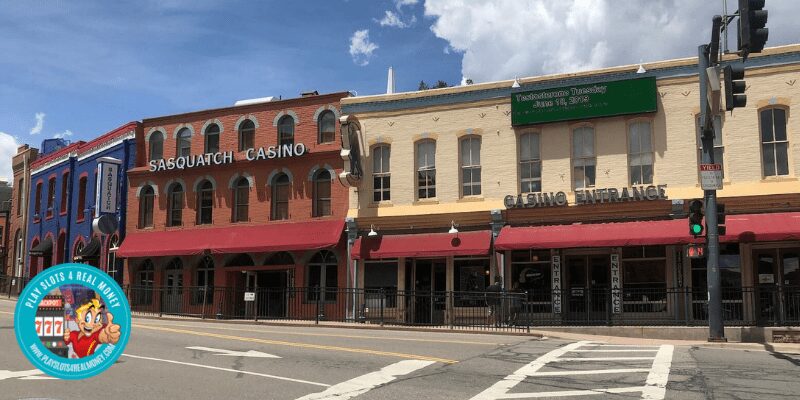 Sasquatch Casino Sportsbook
On May 1, several Colorado casinos joined the ranks of many U.S. territories in offering legalized sports wagering outlets throughout the state – all thanks to a successful vote by Colorado voters that took place just five months prior! With this newly revamped gaming market, these locations are ready to move quickly and make their mark on an exciting new industry.
Ed & Shirley's Inc. has recently joined forces with International Game Technology (IGT), providing Sasquatch Casino and Wild Card Saloon and Casino the opportunity to offer retail and online sportsbook products in Colorado. This is especially thrilling for Sasquatch Casino, as this alliance will allow them access to a broad range of services from IGT!
IGT is proud to offer a wide selection of state-of-the-art technology solutions for the gaming market across 13 states and 100 countries on all continents except Antarctica.
IGT has joined forces with industry-leading sportsbook, FanDuel, to boost their presence in Colorado's booming market. Their PlaySports gaming platform was made available on May 1st and as of now is live in nine states which includes Colorado – making this a remarkable partnership!
Ed and Shirley's collaboration with IGT has given them access to the revolutionary PlaySports platform. It is exciting news for their Colorado gaming business, as the advanced retail technology of PlaySport's has already been a major success all over America – offering Ed and Shirley's Black Hawk casinos an edge in Colorado's sports gambling market.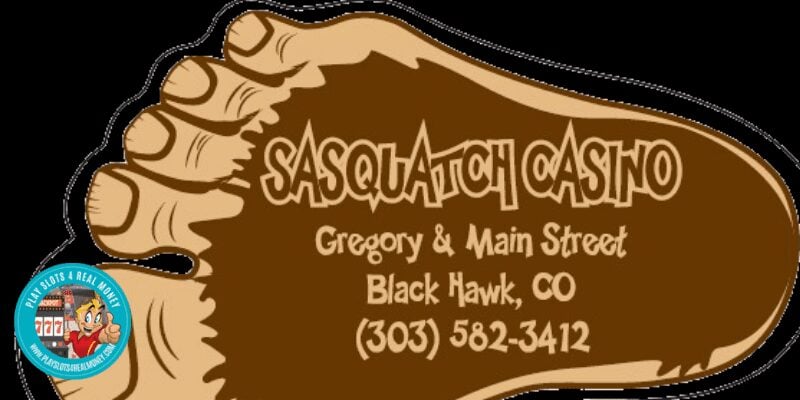 Sasquatch Casino Gaming Floor And Amenities
For Black Hawk gamblers seeking an unheard-of gaming experience, the Sasquatch Casino is fun-filled and family friendly! Not only do you get access to a large casino floor with exciting games, but there are also delectable restaurants.
To top it off, visitors of all ages can explore educational wildlife exhibits or have some fun in our arcade while mom and dad keep watch over their little ones.
Although there isn't a hotel onsite, the casino district of Black Hawk offers an expansive selection of nearby abodes for lodging.
Sasquatch Gaming Floor
Get rewarded with some of the highest prizes when you play at the Sasquatch Casino! Our 6,000 square feet and two-floor gaming area is unmatched in entertainment. You'll always have a chance to take home big wins such as cash and luxury vehicles through our regular promotional offers. Come visit us today for an unforgettable experience!
Sasquatch Casino welcomes you with a range of gaming experiences, from conventional slot machines to electronic and tabletop systems. With over 180 popular slots featuring video poker variations, there's something for everyone in this Las Vegas-style casino floor! Popular games include:
Enchanted Blackjack
Wheel of Fortune
Harley Davidson
Buffalo Gold
$1,000 or Nothing
Multiplier Ridge
Double Diamond Strike 
Just off the casino floor is a remarkable tabletop bar, where gamblers can play video-poker and enjoy watching games on sleek flat-screen TVs in an unparalleled atmosphere.
Sasquatch Arcade
Immerse yourself in nostalgia at the Sasquatch Casino with their family-friendly arcade! With over 15 classic games, ranging from MotoGP racing to Pac Man and Pinball, those under 21 can enjoy all the excitement of a casino without having to worry about age restrictions.
The fun never stops when you play at the Sasquatch Casino's underage gaming area!Gamers can also take their chance with prize driven machines, such as the classic claw machine. Kids will love trying to snag their desired item and seeing how lucky they are!
With the ultimate convenience in mind, Sasquatch Casino offers parents a chance to rest easy. The arcade is kept visible from the slots section of the casino so that moms and dads can remain playing their favorite games while also keeping an eye on their little ones.
Sasquatch Casino Dining Options
When casino-goers want to take a break from the thrilling gaming floor, they can delight in two full-service dining options that are proudly referred to as having "the tastiest food around."
For a flavorful and satisfying meal, come to Harry's Grill & Pizza! We serve up American favorites such as ham and turkey sandwiches, Broaster chicken fajitas with green chili, all-day breakfast options – plus amazing deals like pizza for only $0.99 per slice. Join us at Harry's today for an unforgettable taste experience!
After eating their scrumptious meal, patrons can wash it down with one of the casino's renowned beer options, like Sasquatch Wheat Ale. Then, they will be ready to jump back into the games!
Indulge in the delicious flavors of Harry's Steakhouse with their renowned $6.99 prime rib steak dinner! In addition to this fantastic deal, you can also enjoy a wide range of scrumptious selections like hot sandwiches, chicken tenders, and mouthwatering cheeseburgers.
For a filling meal that won't break the bank, Harry's Steakhouse is your go-to spot. Their savory entrees and appetizers will leave you with a full stomach and money in your pocket! And for an extra special treat, all playing customers can enjoy complimentary soft serve ice cream – definitely something to look forward to!
Sasquatch Players Club
Join the Sasquatch Players Club, an exclusive rewards program offered by the world-renowned Sasquatch Casino. Membership is complimentary and your play time will be rewarded with incredible prizes!
Collecting points at the casino is easy! Simply swipe your Players Club card when playing any of their slot machines and instantly you can start redeeming for delicious dining experiences, luxurious merchandise, or even more gaming opportunities.
For example, 40 points are enough to snag a free meal from the award-winning steak house – not to mention all the promotional prizes that could be earned too!
The casino's loyalty program is designed to make sure that customers keep coming back. On Diamond Tuesdays, players can earn points and gain free gameplay. After collecting 25 points or more, members are eligible for $20 in complimentary slot play or dining and drinks – an extra special reward for their dedication!
Start accumulating those Player Points and cash them out for your ticket to spin the Big Wheel. Exchange every 100 points you have saved up for one chance at our Diamond Tuesdays drawings! From 10am-12midnight, we'll hold a drawing every 30 minutes where players can get their hands on various cash prizes – so don't miss out this opportunity!
At Sasquatch Casino, we aim to make your visit even more special with our Ladies Day promotional offer! Reward yourself with a fun-filled afternoon – join us at the Sasquatch Casino for an unforgettable experience today!
Sasquatch Casino History
Ed & Shirley's Inc. opens in 2011 their 3rd Black Hawk casino – the Sasquatch Casino. Prior to this opening, they were in charge of two other casinos: The now-defunct Black Hawk Station and Wild Card Casino. With years of expertise operating these establishments, it is no surprise that Sasquatch has quickly become a standout gaming destination in its own right!
The Sasquatch Casino, an iconic structure since 1875, was previously the home of Jenkins McKay Hardware. In addition to being a beloved local store for many years, its upper level has lovingly hosted various events and gatherings like lodge meetings and fireman's balls.In addition to being the venue of popular community gatherings, this building was also home to one of Black Hawk's few and notorious murders in the early 1900s – a domestic dispute that left its mark on local history.
After almost a hundred years of operation, Ed & Shirley's Inc. bought the land in 1985 and established Ed and Shirley's Grocery on the premises to serve their local community. Fast-forward six more years, Sasquatch Casino was inaugurated at this renowned site in 2011.
Ed and Shirley's Inc. is a family-owned business that has been serving the Black Hawk casino district for more than three decades since casino gaming became legal in the state. In 1991, they opened their first gambling establishment, Wild Card Casino – setting out on an incredible journey to success!
While both the Sasquatch and Wild Card Casino remain attractive destinations for casino-goers in Black Hawk's gaming district, Black Hawk Station has now closed its doors due to their merger with the Sasquatch Casino back in 2015.