latest game release
should be an instant fan-favorite. With an average return to player (RTP) of 96.13 percent, it will also be a big hit with real-money slot players. The actual
release date was July 23, 2019
was July 23, 2019.
The central theme of this 5×3 video slot is a cowboy with a dark past. He rolls into Gold Canyon to protect the town from various outlaws. These outlaws expand to fill the reels to enhance the wild west atmosphere. Players are urged to polish up their spurs and saddle up their horses. This game is filled with pistol shooting and hunting for treasure in some wildly entertaining reel-spinning action.
BetSoft Introduces Gold Canyon Video Slot
Described as a "Mysterious Drifter", he makes things even wilder when he appears on the reels. The treasures of Gold Canyon are designed to produce some bigtime wins. Another money-making feature are Dynamite symbols. When three or more come together it will trigger some free spins. It all comes together in one of the more entertaining yet profitable offerings from BetSoft in recent releases.
A few of the technical aspects of this video slot in a 5×3 reel format includes 20 pay lines. The maximum win is 4774.80 x wager. The supported platforms are Desktop (HTML5) and Mobile (iOS, Android). The governing jurisdiction for the game is Malta. The desktop version will load in 8.69 seconds @ 5 Mbps. The total download size is 13.2 MB. The mobile load time is 47 seconds @ 3G speeds. The total download size for this format is 10.2 MB.
Gold Canyon Slots is highlighted by three primary gameplay features:
Frontier Action
Scatter Pays
Free Spins
Frontier action offers face card symbols from Jack through Ace. It also has a Royal Flush as well as a Lucky Horseshoe. There are other primary symbols that represent a frontier town such as gold nuggets and horse's heads. You can in a Sheriff badge for good measure.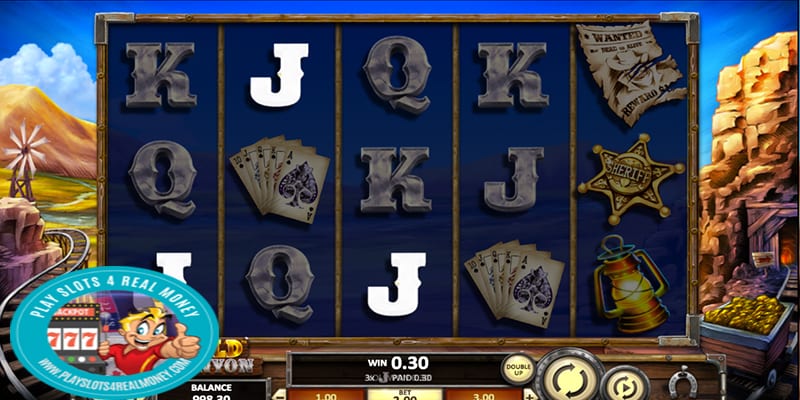 The scatter pays features explosions of dynamite when three or more are bundled. The blast itself triggers the scatter pays.
Free spins are also tied to exploding dynamite. Players have to dig a bit deeper for the biggest wins with an exploding bundle triggering the free spin. The rate is one free spin for every bundle that blows up.
BetSoft offers an on-screen game demo that brings everything to life. It also gives players the option to watch an on-screen Gold Canyon gameplay trailer. This new video slot follows in the footsteps of Spinfinity Man as another recent release.
A few more new games you can add to the list include:
Fruit Bat Crazy
Indeed, this is just a small sampling of what BetSoft has been up to in a very active year. The company has earned a reputation for producing high-quality iGaming products. Furthermore, this is backed by an experienced team of account managers to help bring everything to market. From a service standpoint, the company also offers a comprehensive casino management platform.