Slot players who also enjoy playing poker will love this NetEnt slot.NetEnt has successfully combined two games into one with Kings of Chicago.That's right, this isn't just a slot or poker game—it's both! The reels are located on a poker table, so to win big prizes you'll need winning poker hands when you spin the reels. The Kings Of Chicago slot game takes place in the 1920's in Chicago.
Kings of Chicago Slot Review
This casino game has three rows of five cards and five paylines. Every time the slot is played, fifteen cards are dealt.The cards are separated into black spades, blue diamonds, red hearts and green clubs. You don't match the cards up–instead you form poker hands like 'three of a kind' or a 'royal flush.'
The game's interface highlights different combinations, so you'll start to understand how to play as you go.This slot has a simplistic layout that makes the payouts easy to understand and see. Not only that, but they also happen often and are very impressive. Is there anything else you could ask for?
About Kings of Chicago
Kings of Chicago is a slot machine game that blends the features of classic poker with those of modern video slots. It has 5 paylines, making it perfect for players who want to try their hand at something new.The game, powered by the NetEnt software platform, has random scatters that can be any card.
There is also a Joker card which substitutes for all other cards. Free play is available on this page, or players can choose one of the NetEnt casinos from the listings to wager real money.
Before beginning their thrilling poker journey in Chicago, players need to set their bet. To set the bet level, move the "Level" selector. The coin value, which ranges from 0.01 to 1, is regulated by moving the "Coin Value" selector.Initiate the game by clicking "Spin/Deal", spin the reels without interruption multiple times by clicking "Autoplay", and play at the highest wager by clicking on "Max Bet".
You May Also Like:
Free Deals Feature
3 or more scatter symbols activate the Free Deals feature, wherein payline wins come with a x2 multiplier.Win more Free Deals by getting three or more scatters to spin into view.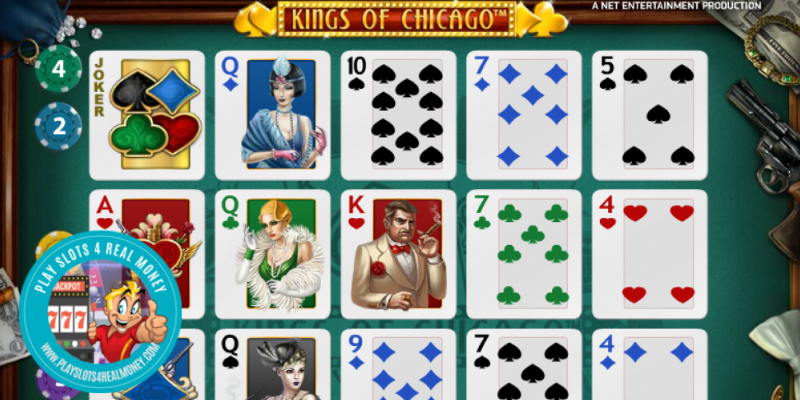 Kings of Chicago Theme
This NetEnt slot machine has a retro feel to it, and its theme is inspired by the Dick Tracy comics.Consider the less popular, Chicago South Side where Al Capone and other Sicilian gangsters generated their business in the 1920s.
The game is played on a traditional poker table with the addition of realistic props like cash, cigars, scotch glasses, and a revolver. These extra touches help to create an immersive gangster poker experience for the player.
The cards feature various mob characters, a wild Joker, and scatter symbols which activate the Free Deals feature.The Joker doubles your payout when it appears on the reel.Women in glamorous 1920s clothing form the Queen, and men dressed in suits and fedora hats represent the Kings and Jacks.
Kings of Chicago Graphics And Sound
The graphics cards used for the reels are excellent, and the concept is both unique and thrilling.
Earlier, we mentioned the poker table complete with all the items you'd expect to find in a casino during prohibition in the 1920s.
The animations are marvelous, and the noises in the background perfectly simulate what you would hear in an actual casino – people conversing and poker cards being shuffled before being dealt.
In a time when online slot machines are constantly becoming more and more state-of-the-art, Kings of Chicago takes you back to the roots of casino gaming.Those who enjoy gambling and remember the good old days will love this slot, while those younger gamblers who might not be familiar with poker will also easily fall in love with this unique game.
Kings of Chicago Betting Range
The slot boasts five paylines on its interface which, though it might seem like a modest number, is perfect for this game.NetEnt's paylines are fixed, but you have the numbers of wager per rounds.You can play with coins worth £0.01 to £1 per line.
You can also choose the level of your bet from 1-10, meaning that the maximum wager is £50. This is ideal for those high rollers who like to play big.To automatically bet the maximum amount, simply click on Max Bet.
Kings of Chicago Features And Bonus Symbols
The cards feature traditional symbols such as green clubs, black spades, blue diamonds and red hearts, as well as mob-related items like men and women in fedoras.
The two main features in this slot game are the Joker and scatter symbols, which both give the player free spins.
Kings of Chicago Joker
This is a wild card that can replace any other card, just like in other games. If the Joker appears and completes a betting line, then your wins are doubled.
The Joker card is easy to spot as it has the word 'Joker' written on the left side, alongside a green club, red heart, blue diamond and black spades.
Kings Of Chicago Free Deals
A Scatter symbol appearing during play prompts free deals. Any Betting line wins that occur during a free deal are subject to a 2x multiplier. In this game, a free deal equals a free spin like in any other slot game.
The scatter symbol is a man in a grey suit with the word scatter below him. If you are lucky enough to get five scatters at once, you'll get the most free deals available, as well as a great cash prize of x500 your stake. I'm pretty proud of what I accomplished today.
Three scatters yields you fifteen coins and ten free deals. Four scatters yield you fifteen free deals as well as fifty coins. To get five hundred coins and thirty free deals, you need to land give scatters.
 Kings of Chicago Paytable
After the cards have been dealt, check to see if you received any winning combinations. These are:
 3 of a kind.
  A straight is a poker hand that has 5 cards of same rank, but they don't have all of the same suit.
Five cards of the same suit.
 A full house is when you land 3 cards of the same value. Also, two other cards that also share the same value.
4 of a kind is 4 cards with the same value.
A straight flush is 5 consecutive cards of the same suit.
The Ace, King, Queen and Jack from the same suit plus the Joker equals a Royal flush.
You need five cards of the same value, plus the Joker, to have a Five of a Kind.
A natural royal flush is five cards from the same suit in sequence, namely the Ace, King, Queen, Jack and 10.
The most lucrative hand is the natural royal flush, and if a Joker is in any of your winning combinations, you'll receive double the payout.
Kings of Chicago Game Settings
If you've played NetEnt games before, then Kings of Chicago will feel familiar to you in terms of game settings.You can tailor this slot game to your own liking with the various settings provided.The options you're looking for are at the bottom left of your screen, among four buttons. Here, you'll be able to learn how to play the game, turn autoplay on and off, and control the audio.
Kings of Chicago Volatility And Jackpot
With a 97.8% return to player percentage, this slot wins against most others currently available.On a maximum bet of £50, the maximal cash prize you can win is x10,000.
King of Chicago Free Play
NetEnt offers many free slots that can be played without depositing any money. If you're undecided about this particular slot, it's a good idea to play it for free first.Before you play Kings of Chicago or any other online slots game, it is recommended that try out at least 150 to 200 free spins.
Before you get started, it's crucial to figure out if this is the right game for you. Otherwise, you could end up wasting your money.Everyone knows that each slot game is unique, and you can only succeed if your budget fits the game.
Kings of Chicago Mobile
NetEnt's slots, this one included, are available on most devices including desktop, mobile, and tablet. This means that you can play it when suits you best and in any location. You'll also have a perfect experience playing on mobile devices.
You can play directly on your smartphone's browser or by downloading the app.The controls of the game are easy to use as they're optimized for touch screens, so you can play with just a touch of your finger.
Net Entertainment Software
NetEnt is a well-known casino software provider that has hundreds of online casino games in its repertoire, including the innovative Mega Fortune progressive slots.
Generally, NetEnt creates slots with a return to player (RTP) of 95% to 98%. This company's RTP is significantly higher than other similar-sized companies.
The company first opened its doors in 1996, but it wasn't until 2000 that they launched their online casino.In 2010, one of its most well-known hits, Gonzo's Quest, was released. It featured cascading symbols and 3D graphics – both novelties at the time.
Play Kings Of Chicago Slots With Real Money
Claim kings of chicago slot free spins before you play for real money. Sign up for online casinos and claim our Kings of Chicago slot bonus. You will find that the Chicago video slot has a poker theme to the point where you will see poker chips on the reels of chicago slot game.
Casino players can score bonus rounds from the original game from this innovative game. Discover card symbols (card games) , prohibition era, real poker symbols, and much more. As you play Kings Of Chicago you will see the scatter card symbols , joker symbols, and playing cards to score the max win.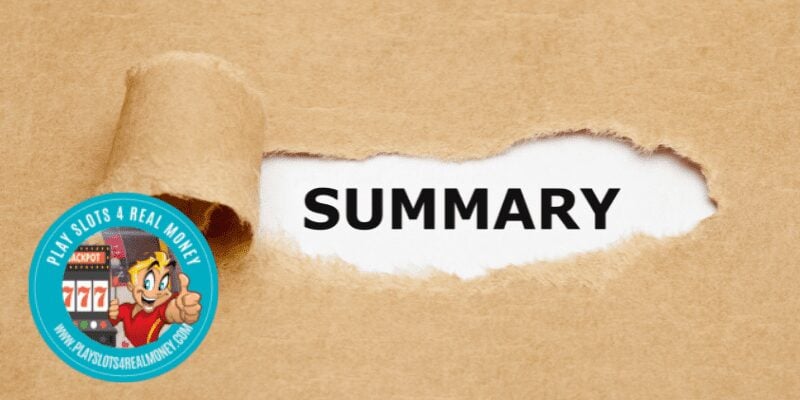 Summary
Kings of Chicago is a slot machine game that also throws in a great poker game- so you're getting two games for the price of 1.Not only are the graphics pleasing to look at, but the 1920s Chicago underworld gangster theme is fascinating.
Not only does this slot offer players a low house edge, making it great for high rollers, but it's also perfect for new players.We highly recommend this game for its amazing double rewards and RTP of 97.8%.
Similar Slots
If you liked Kings of Chicago, then you'll love Jack Hammer 2. Another NetEnt classic, this game is sure to keep you entertained.This slot will have you on the edge with its crime and adventure theme, reminiscent of a comic book.
With 99 bet lines It has a plethora of features to keep you occupied and amused.The free spin feature gives up to 20 free spins, and the RTP is 97.1%, which isn't bad for players.
The RTP for Starmania is 97.87%, which even beats Kings of Chicago.
The graphics in this slot are amazing, and the background is set against a backdrop of outer space.The free games feature is packed with stacked wilds which help players to make some really big wins. Players love this feature because it increases their chances of winning big.
The game is more immersive and fun to play on a desktop with a large screen, where you can appreciate the graphics, music, and sound effects fully.
By playing mobile games offline, you not only lower the chances of a bad internet connection ruining your game, but also save yourself from having to process extra information and data that could potentially slow down the game.
This game combines the best of slots and casino-style games for a truly unique and enjoyable experience.