Small Fortune has officially been released by real time gaming software. PlaySlots4RealMoney.com is proud to bring it to you for you to play free. This is the newest RTG slots game and people really seem to like it. Small Fortune is a new RTG slots game released in September 2013. It is based on a picnic and an army of ants. It is available at most RTG casinos online however I prefer Sun Palace Casino as you can get up to a $3000 welcome bonus. Continue to read about this new game or to play small fortune for free below.
Small Fortune Slot Review & Bonuses
People are enjoying winning their picnic basket as they bring about a free spin. It is not only fun but also lucrative to play in you have some real money on the line. We have not received word from any mobile phone casino regarding the new RTG slots game. The release date was yesterday so some casino may have it up and running and so many not. There are two random jackpots in Small Fortune, grouped wild symbols, and up to forty-five free games with six times multipliers.
Small Fortune is a five reel slot machine on line featuring twenty five pay lines, two jack pots, and the chance to win forty five free games with up to six multiplier depending on which rtg on line casino you are playing at. When most people have a picnic they do not like having small ants around. However have you ever wondered what the ants are thinking? They are probably extremely happy that all of these people are here with all of this food!
Minimum and Maximum Bet In Small Fortune
USA residents that play Small Fortune slots online for real money can bet anywhere from one penny on one payline up to twenty-five pennies on all twenty-five paylines. The number of paylines that you choose to play with is always adjustable. Small Fortune gives real money slot players the ability to play anywhere from one penny per spin up to twenty-five dollars per spin.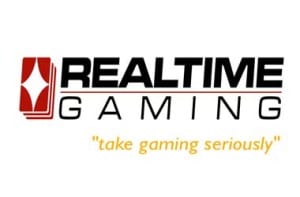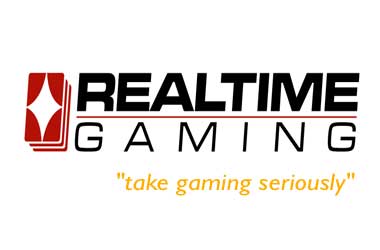 When you look at the small fortune pay table you will see that the non-scatter play goes from the left to the right. There are a total of fourteen paying symbols, but two symbols are needed to win. You will need to line up three or more of all of the other symbols in small fortune, with the exception of the scatter symbol. Keep your eye open for the ant, as the ant is the scatter symbol. The picnic basket also is a symbol that you should watch out for, it rewards players up to five hundred coins plus helps trigger the free games feature when playing Small Fortune.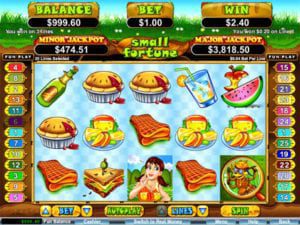 Small Fortune has a cool picnic scene theme and in this rtg game.
The ants are in control of the distribution of wealth. There are two types of ants in small fortune, one of the ants will only appear on the first reel and the second ant will appear on the fifth reel. Both of these ants are wild symbols and you can use them to put together you winning combination to win money playing slots.
How Are The Free Games Triggered?
Small fortune has a unique feature that other slots games powered by real-time gaming (RTG) software do not have. You will obtain a free game when at least one ant appears on the first reel and at least one picnic basket must appear on the second, third, fourth, fifth reel.
When you obtain your free slots game the number of picnic baskets will determine how many free slots games you qualify for
Make sure to check with your on line casino about this. The amount of ants that appear on the first and fifth feel determine now grandiose the multiplier is. Does that sound like fun? Play Small Fortune Slots Online Or Any Casino Game & Get A Instant Free Play Bonus Up To $14,000 when you sign up through our links and mention that PlaySlots4RealMoney.com.com referred you!