Thank you for stopping by the Trump It Deluxe slots reviews. In this online slot machine review, we will give you our opinion and the facts about this electronic gambling game. First of all, this is an "interesting" game based on politics. If you don't like politics, you may not like this game. Also, whether you not you like Trump It Deluxe slots most likely depends on your political view. With that said, this game features a 96.2% return to player percentage (RTP%).
Discover how one lucky player wins the progressive jackpot playing Trump It Deluxe slots in this article. That said, we are going to move on with this online slot machine review.
https://youtu.be/CUguujjcr10
The Trump It Deluxe slot machine has five reels, and thirty pay lines. Fugaso Gaming. If you haven't guessed, this game has a political theme. , the world leaders the game focuses on are North Korea's Kim Jong-un, Donald Trump, Vladimir Putin.
Discover The Details About Trump It Deluxe Slots In These Reviews
Overall, the Trump It Deluxe slot machine has nice three-dimensional graphics and animations. However, the main symbols (and highest paying symbols) are the North Korean president Kim Jong Un,
Donald Trump, and Russian President Vladimir Putin. Additionally, there are interesting lower paying symbols that consist of animals. Also, you may see three more politicians on the reels. Despite your political view, this online slot machine has some nice wins.
Place Your Bets And Spin!
Before you start to play Trump it Deluxe slots, you will need to set the amount of money you want to wager per spin. Furthermore, the betting size is fifteen coins. Also, there are ten separate wagering levels to choose from. Ultimately, this allows you to put how many coins you want to bet per pay line. After you set how much you want to wager per spin, click "Spin,"or "Autoplay".
Interestingly, the most you can win is 100.000 coins. However, these wins are multiplied by your betting level. That said, the game has medium volatility.
Once you start spinning the reels for real money, you may notice this electronic gambling game offers generous bonus features. Furthermore, keep your eyes open for the random Overlay Wild feature. Moreover, there are three separate types of Random Overlay Wild symbols. You can trigger the Bear Paw feature. If you trigger this feature, the game rewards you with four wilds. Additionally, you can trigger the tiger claw feature. More specifically, this feature offers you between two and five wilds on all five reels. However, if you score the Eagle Flight feature, you will win between two and five wild symbols. These symbols appear on the first and fourth reel.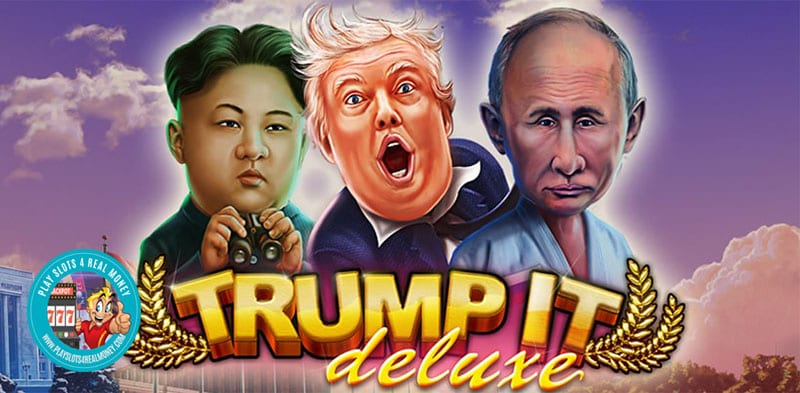 Trigger The Free Spins Bonus Round By Landing One Of Three Scatter Symbols
As with the wild symbols, there are three separate scatter symbols. Furthermore, each scatters icon offers a different bonus game. To claim these bonus round, you have to land three or more scatters on the reels at the same time. Keep your eyes open on the blue scatter. If you land three or more of the blue scatter icons, you trigger the Bear bonus spins. As a result, one politician plus animal symbols present themselves along with three free spins.
If you land three of the Green scatter, you trigger the Tiger bonus round. As a result, you trigger free spins with a 1X multiplier. However, three red scatters in Trump It Deluxe brings you Sticky Wild during the bonus round.

1
PlaySlots4RealMoney.com
The Trump It Deluxe slot machine has five reels and thirty pay lines. Fugaso Gaming. If you haven't guessed, this game has a political theme. , the world leaders the game focuses on are North Korea's Kim Jong-un, Donald Trump, Vladimir Putin.
4.5