Charlotte Casinos & Gambling 2023
If you're looking to gamble in the city of Charlotte, North Carolina, there are in fact only a handful of options that range from land-based tribal casinos in the vicinity of Charlotte to online offshore casinos. On this page we'll explain what exactly are those options and how you can gamble if you reside in Charlotte.
Since there are no casinos to speak of within the city limits, the best thing you can get are casinos near Charlotte. There are two. One of them has been under construction for a while now but has a temporary location with hundreds of slots, and that's the only way to gamble if you want to drive from Charlotte and back on the same day. The other casino is much further away but it's an impressive one – so you'll choose it for a weekend getaway.
Finally, you can click and sign up with any of the online casinos we recommend here, and gamble from the safety of your own home. These are tried and tested online casinos that accept North Carolina players, and we not only reviewed them but we play there ourselves.
The key things you'll find on this page include 👇
Casinos in and near Charlotte
Legality of gambling in Charlotte
Online casinos that accept NC players
Your questions answered
Best Charlotte Online Casinos
Land Based Casinos In Charlotte NC
The entire state of North Carolina has three Indian casinos and that's it. The state has long resisted any expansion of gambling, since it's in the conservative Bible Belt, but fortunately there are two federally recognized Indian tribes that operate three casinos on tribal lands. There was also a high-stakes Cherokee bingo parlor that is now closed.
North Carolina used to have horse racing tracks and even video poker machines in the 2000s, but the options have since been reduced to lottery and charity bingo and raffles. Bingo prizes can't be above $500, while raffles prizes can't go above $10,000. The game referred to as beach bingo has prizes of $10 or less.
Since casinos in North Carolina can only exist on tribal lands, it means there can't be one in a city. So, Charlotte doesn't have any casinos, and to find one you have to look for nearby Indian reservations. And you'd be advised to do just that, or to gamble online, as those are the only two ways to pursue gambling in the state of North Carolina.
Interestingly, the tribe that runs two casinos is trying to prevent the other tribe from building a third casino. Cherokees run two casinos, and the Catawba tribe didn't even have their own tribal land but managed to get their own casino off the ground regardlessly.
Casinos Near Charlotte NC
Since you can't possibly find a land-based casino in Charlotte since the city isn't built on tribal lands, you'll have to travel to one of the three Indian casinos that exist in the state of North Carolina. Fortunately, there is one that's very near to the city of Charlotte, as you only have to drive some 35 miles west to get there.
There is another one that is a bit further away, but offers a lot more, at least for the time being.
You'll have to drive for at least three hours to get to that one, so you likely won't be going there and back on the same day. You'll plan a bit more carefully and you'll likely stay there for a few days.
There is also a third casino, Harrah's Cherokee Valley River, but that one's a 4-hour drive under favorable conditions so we won't even mention it in more detail.
If you just want to gamble right now, drive to Catawba Two Kings Casino, or sign up with one of our recommended online casinos and start playing right away.
Catawba Two Kings Casino

The Catawba Two Kings Casino was opened just recently, though at a temporary location, in July 2021. There have been some problems with the federal government and there was also a dispute between two Indian tribes, but now it seems that the Catawba Two Kings Casino is finally on course to be completed as it was planned. At the time of writing, the temporary location has 500 slot machines.
When the casino resort will be completed, it will be a huge casino that acts as a gambling center for the entire state of North Carolina.
There will be over 1,800 slot machines in this huge 195,000 square foot facility with 75,000 square foot of gaming space, a 1,500-room hotel, entertainment center, restaurants and stores. You'll find this amazing casino just west of Charlotte, it's a 40-minute drive. Since the facility also includes a hotel, you'll be able to stay there for the weekend. Or you could just drive there and back on the same day since it's close enough to Charlotte.
For now, it's best to simply drive over to Catawba Two Kings Casino and see what does it have to offer, since it's been continuously under construction for several years now. It might just be fully completed by the time you're reading this!
Address: 538 Kings Mountain Blvd, Kings Mountain, NC 28086
Gaming space: 75,000 sqft
Number of games: 1,800 slot machines, 54 table games, 24-hour sportsbook
Hotel rooms: 1,500
Amenities: Entertainment center, restaurants and stores
Harrah's Cherokee Casino Resort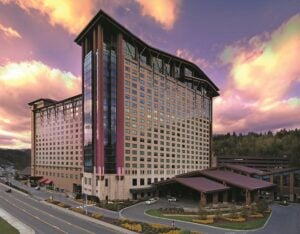 It is in fact the Eastern Band of Cherokee Indians, owners of the two North Carolina casinos (this one and the one a bit further west) that have been halting construction of the Catawba Two Kings casino. Their Harrah's Cherokee Casino Resort is a huge project that has undergone several expansions, and is ran by Caesars Entertainment.
You'll get everything you need in this continuously expanding casino resort, from hotel rooms and suites, to bars and restaurants, and to all kinds of entertainment. While you can simply go play slots at Catawba, that's all you'll get there, at least until that casino is fully constructed, but at Harrah's you'll get everything else as well, the full service. That makes this casino the best option for Charlotte players.
The casino resort is a 3-hour drive west from Charlotte, so you won't be able to use it for your daily gambling needs, and will likely have to plan for a whole weekend stay.
Address: 777 Casino Dr, Cherokee, NC 28719
Gaming space: 150,000 sqft
Number of games: 3,000 slot machines, 54 table games, 24-hour sportsbook
Hotel rooms: 1,830 (107 suites)
Amenities: Luxury spa, event center, entertainment center, food and retail outlets
Is Gambling Legal In Charlotte NC?
Legal forms of gambling in the state of North Carolina include the North Carolina Education Lottery, charitable bingo and raffles, and low-stakes beach bingo. There are three casinos in the state of North Carolina, but in the city of Charlotte all you can get is the lottery and charitable bingo and raffles.
Unless you go online and visit one of our recommended offshore casinos, that is. And that would be the only way to gamble while physically being in the city of Charlotte.
Gambling on any game of chance that involves winning money is a Class 2 misdemeanor in North Carolina, but it is almost never enforced.
There is also something unique to North Carolina – the sweepstakes parlors. They operate in a legal gray area by offering chances to win when customers purchase something such as Internet or phone time. These parlors were banned and all but disappeared in 2013, but in 2015 started popping up again, and today there are still hundreds if not thousands of such parlors available.
In Charlotte, there may be close to 100 sweepstakes parlors, mostly in lower-income neighbourhoods despite dealing in a high-cash business. There have been several robberies and even shootings in those places.
Take our word for it – it's best to avoid all that trouble and simply go online, get a good welcome bonus, and play games at a proper casino, where you know the games are fair. No one is controlling the payouts at sweepstakes parlors while the games at online casinos we recommend are provably fair and independently audited.
Can I Play At Online Casinos From Charlotte NC?
There are many US-friendly online casinos that accept players from North Carolina, which includes Charlotte, of course. These casinos don't have a North Carolina license as there isn't one to apply for, but instead operate on offshore licenses, which allows them to accept US and NC players.
Some casinos that accept US players are shady and aren't worth your hard-earned money, while some are best of the best and can compete with the largest online casinos in the world. We put all casinos through our stringent review process so we can present you with the best ones.
➡️ Simply choose one of the casinos we recommend on this page, follow our links to get the best deals, and after that make your deposit and start playing.
We review all of these casinos carefully, and make sure to not recommend any casinos that raise some red flags. We play at those casinos we recommend ourselves. That means you can sign up and deposit money with confidence, as we made sure that we only list casinos that will treat you fairly and pay out your winnings without any fuss.
We sometimes offer exclusive signup deals, and/or exclusive no deposit bonuses, so be on the lookout for those. Choose a casino you like on this page, sign up, get your bonus and start playing.
Charlotte Casinos & Gambling – FAQs
How many casinos are there in Charlotte NC?
There are no casinos in the city of Charlotte, North Carolina. This is because the only way to legally operate a casino in NC is for it to be on tribal lands.
Does Charlotte NC have a casino?
No, Charlotte NC doesn't have a casino. There is a nearby Indian casino though.
Can I gamble legally in Charlotte?
You can legally play lottery or charitable bingo and raffles, and you can visit offshore online casinos. To gamble in a land-based casinos you'll have to drive some 20 miles west to the Catawba Two Kings Casino.