Fresno Casino & Gambling Guide 2023
Are you looking for land-based casinos in and around Fresno? Or are you looking to gamble online from Fresno and are wondering what the options are? On this page you'll find out everything you need to know about Fresno gambling. There are two casinos within city limits, four great Indian resorts nearby, and there are some amazing online casinos you should look into.
Among other things, on this page you'll find:
Reviews of the two casinos within Fresno city limits

Four Indian casino resorts just outside Fresno

Fresno real money online casinos

Local gambling legislation
Best Fresno Online Casinos
Fresno (California) Casinos – An Overview
Players who live in Fresno can choose from two card gaming establishments that aren't real casinos as they don't have slots, but offer everything a card player might need.
True casinos aren't far away either, as there are four Indian casino resorts within 30 miles from Fresno, and even more if you're willing to drive further away, but for the purposes of this article we'll stick with the four casinos that are in the immediate vicinity of Fresno.
You also always have the option of simply going online and placing real money bets at one of the casinos we recommend here that accept California players. You can do that even if you visit the cardrooms and the casino resorts, as it's easier to play online than to have to physically visit a casino.
Without further ado, let's start with the two cardrooms that are within Fresno city limits.
Club One Casino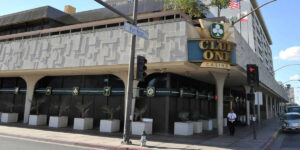 Right in the heart of Fresno there is a quality card gaming establishment that offers Texas Hold'em, Omaha, No Bust Blackjack, Pure 21.5 Blackjack, Pure Spanish 21.5, Pai Gow Poker, Fortune Pai Gow, Three Card Poker, Ultimate Texas Hold'em, 21st Century Baccarat and EZ Baccarat.
There are lots of tournaments here, with a buy-in from $60 to $120 and prize pool from $3,000 to $15,000 or more. If you're a card player and live in Fresno, this is the place to be.
500 Club Casino
This is a card gaming establishment near California State University Fresno. It doesn't have slot machines and doesn't have Texas Hold'em poker tournaments. What 500 Club Casino does have is casino poker and some blackjack: Fortune Pai Gow Poker, Three Card Poker, Ultimate Texas Hold'em, EZ Baccarat, Spanish 21.5, Pure 21.5 Blackjack, Texas Hold'em, and Omaha. There are bars and restaurants, and a sports bar, so this is in fact a place you could consider visiting despite the absence of slot machines.
Fresno Gambling & Casinos – Legislation
In the state of California, commercial casino-style gambling is prohibited. However, legal forms of gambling include cardrooms, Indian casinos, the California State Lottery, parimutuel wagering on horse racing, and charitable gaming.
Residents of Fresno in particular benefit from the fact that cardrooms and Indian casinos are allowed, since two large Indian casino resorts are just outside city limits, and there are two cardrooms in the city.
There are 63 casinos operated by 61 federally recognized Indian tribes in the state of California, and there are 66 cardrooms in the state, with a moratorium on new ones that came into effect in 1995. The Californian Indian casinos combined generate around 10x the revenue of Californian cardrooms.
The minimum age to gamble is 18, but most establishments simply deny entry to anyone under 21 years of age to make it easier for them, as 21 is the legal drinking age in California.
Participating in an illegal game of chance is technically a misdemeanour in California, but the state has no interest to penalize the players who gamble online at offshore casinos.
Other Casinos Near Fresno
If the one casino in Fresno isn't to your liking, or you go there all the time and want to explore what else is within a 30 mile radius, there are quality options. Three of the four casinos are large Indian casino resorts, so it's up to you which one do you want to visit. Table Mountain Casino is the most luxurious, Chukchansi is more about the nature and adventure, and Tachi Palace promises luxury accommodations without the extra fees so it's a budget option.
Table Mountain Casino
This Indian casino resort opened in 2022 and it has a 600,000 sqft total space, with a gaming floor of over 110,000 sqft. It features a 171-room hotel, an event center, restaurants and bars. The thing that sets Table Mountain Casino apart from the other casinos in the vicinity is the live music on Friday and Saturday -and it's not just any old artist, Pitbull was one of the stars who performed here. There are 2,400 slot machines to choose from, plus 33 table games and VIP high-stakes room. It's 20 miles outside Fresno on CA-41. The address is 777 Jackpot Lane, Friant, CA 93626.
Mono Wind Casino Fresno
This casino with 300 slots isn't really worth visiting if you're looking for a large casino with lots of slots. Most people come for the food or to buy something at the gas station, and the slots are there just as an added bonus. This isn't a casino resort even if it is ran by Indians, it's just a small casino restaurant and gas station. The staff is great so if you like small casinos, just head 20 miles northeast of Fresno. It's open 24 hours. The address is 37302 Rancheria Ln, Auberry, CA 93602.
Chukchansi Gold Resort
Chukchansi Gold Resort has a 73,000 sqft gaming floor with over 2,000 slots and 40 table games. It's between Fresno and the Yosemite National Park, so you might visit Yosemite as well. It's no worse than Table Mountain even if it is a bit smaller and less posh, it's non-stop excitement with lots of promotions such as the recent $600,000 road adventure giveaway. The address of this resort is 711 Lucky Ln, Coarsegold, CA 93614.
Tachi Palace Casino Resort
Located in the Santa Rosa Rancheria reservation, this tribal casino resort is just south of Lemoore and around 35 miles from Fresno. It's well worth a visit if you're looking for a weekend getaway. There are 2,000 slots, 21 table games, a poker room, and a bingo hall on a 60,000 sqft gaming floor. There is also a 255-room hotel with a pool and a spa. 
Fresno Online Casinos
Your options for gambling from Fresno are to visit one of the two cardrooms or to head to one of the Indian resorts just outside the city – or to simply go online and visit one of the reputable online casinos we recommend.
It's hard to expect that you'll drive to a resort every single time when you want to gamble, and the two cardrooms won't be enough unless you're a dedicated card player and don't wish to play slots.
In the online casinos we recommend you'll have access to all the most popular online slots, and will be able to quickly make a deposit and get a welcome bonus. Payouts are also fast, otherwise the site you're signing up with wouldn't be listed here at PlaySlots4RealMoney.com.
We review a lot of casinos, and you can be certain that our review process is strict and we don't list casinos that raise any red flags. That means we can recommend online casinos that accept Fresno players with confidence. Follow our links to get the best deals at these casinos.
Gambling & Casino Tax For Fresno
All gambling winnings are taxable, with the exception of California Lottery and Mega Millions. You may deduct gambling losses but no more than your winnings.
Generally, you will be paying 24% tax on your gambling winnings. The payer will provide you with the W-2G form if you win $1,200 or more from bingo or slots, $1,500 or more from keno, $5,000 or more from poker, or generally $600 or more or at least 3e00 times the amount of wager.
Fresno Casinos FAQs
How many casinos are in there in Fresno, CA?
There are two cardrooms within Fresno city limits and four true casinos within a 30 mile radius. The cardrooms don't have any slot machines, so to play slots you'll have to drive to one of the resorts or visit an online casino.
Is gambling legal in Fresno?
Technically, commercial casino-style gambling is prohibited in California. However, legal forms of gambling include cardrooms, Indian casinos, the California State Lottery, parimutuel wagering on horse racing, and charitable gaming.
Can players in Fresno gamble online for real money?
Yes, players in Fresno can visit one of the offshore online casinos we recommend, play for real money and win real money. California players are welcome so all you have to do is find a way to deposit money. The most commonly used method is Bitcoin. You also get Bitcoin back, but you gamble in dollars.
What is the best casino in Fresno?
Fresno has two cardrooms, and Club One Casino is the larger of the two so it has the title of the best casino in Fresno. If, however, you want a full casino experience that includes slots you should visit one of the online casinos listed on this page or drive to one of Indian casino resorts near Fresno.