Oklahoma Casinos & Gambling Guide 2023
If you're looking for information regarding gambling in Oklahoma, you've come to the right place. On this page we'll explain all about the Oklahoma land-based tribal casinos as well as all the online gambling options for Oklahoma residents. We'll guide you through the legality of Oklahoma gambling, taxation, and everything else you might need as a player.
Among other information, the key things you'll find on this page are:
Oklahoma casinos and resorts
Best Oklahoma online casinos
Oklahoma state gambling laws and taxation
Your FAQs answered
Best Oklahoma Online Casinos
Best Oklahoma Casinos – An Overview
Oklahoma is the state with the largest number of tribal casinos in USA, and is home to the largest casino in the country – and in the world – WinStar World Casino & Resort. In Oklahoma you can also gamble online at US-friendly offshore casinos, which means that it's a state that offers the best of both worlds.
In Oklahoma, casinos are large, and although WinStar gets all the recognition, the Choctaw casino isn't a small one by any means either. The two resorts both cater to Texas players, and the one option for Oklahoma City residents is the Riverwind Casino in the OKC metro area.
WinStar World Casino & Resort, Thackerville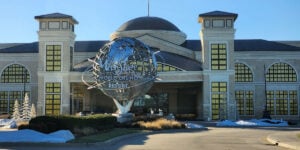 Cleverly placed in Oklahoma but only 80 miles from Dallas, Texas, the largest casino in USA and the world is seeing never-ending streams of traffic. The casino opened in 2004 and has undergone several renovations since. If you want to visit the largest casino in the country, this is it. It will be an experience like no other. The hotel has 1,500 rooms and there's also an RV park. It's worth noting that this casino isn't too far from the Choctaw casino, some 100 miles, and both casinos are near the border with Texas.
Address: 777 Casino Ave, Thackerville, OK 73459
Gambling space: 370,000 sqft
Games offered: 10,500 slots, 100 table games, 55 poker tables, bingo, keno, off-track betting
Amenities: Nine gaming plazas, VIP ultra high stakes rooms, bingo and poker tournaments, hotel with 1495 rooms, over 20 restaurants, WinStar Golf Club, RV Park with 200 spaces
Riverwind Casino, Norman
This casino is located in the outskirts of Oklahoma City, and is still in the OKC's metro area though it's some 20 miles south of downtown Oklahoma City. This shouldn't deter you from visiting – this is a large resort and there are other interesting things nearby. The casino opened in 2006 and is operated by the Chickasaw Nation. You'll find lots of slots, not as many table games and poker tables, and there's just enough food and drinks options to keep you happy. There's a 1,500-seat theatre room that also hosts live concerts, so do check the event schedule. For those who wish to stay overnight, there's a new 100-room hotel.
Address: 1544 OK-9, Norman, OK 73072
Gambling space: 219,000 sqft
Games offered: 2,800 slots, 17 poker tables, 30 casino table games
Amenities: Two restaurants, several bars, 1,500-seat theatre that also hosts concerts, 100-room hotel
Choctaw Casino Resort, Durant
This is a really large resort that is closer to Dallas, Texas than it is to Oklahoma City, so Texan players are its main audience. But it's worth visiting from Oklahoma as well. There are lots of slots and other games, plenty of restaurants, bars and other forms of entertainment, an indoor and outdoor pool. The hotel has 1,700 rooms and a AAA Four Diamond rating. If you're from Oklahoma and intend to gamble at a resort, and stay for a couple of nights, then Choctaw Casino Resort is the place you.
Address: 4216 US-69, Durant, OK 74701
Gambling space: 218,000 sqft
Games offered: 7,400 slots, 100 table games, state-of-the-art poker room, racebook
Amenities: 16 restaurants, 20 bars, bowling, arcade, six movie theatres, indoor and outdoor pool, spa, hotel with 1,700 rooms
Oklahoma Gambling & Casinos – Legislation
Oklahoma has a large tribal gambling industry worth over $8bn in revenue on an annual basis, as 33 of the 38 federally recognized tribes in the state of Oklahoma chose to run the casinos. Some states have no tribes at all, and the sheer number of tribes in Oklahoma led to the construction of whopping 60 tribal casinos. No other state has as many tribal casinos as Oklahoma.
The construction of the casinos was first approved in 2003 and then the voters, in a 2004 referendum, voted to give the actual green light to tribal gambling in the state.
It's interesting to note that no Oklahoma casino is permitted to use dice or wheels, which leads to a phenomenon of games like craps and roulette being played with cards instead!
The online casino industry is, as is common in states with tribal casinos, unregulated. This is a common sight in every state that has large land-based casinos, as these casinos don't want any online competition, and are very protective of their money-making assets. The tribes are hiring lobbyists and are using their influence to prevent online gambling from being regulated, so large brands can't join in.
This means that there is no way for a casino to be licensed to offer its services online to Oklahoma residents, but this isn't targeted against the players, it's designed to keep the big brands out. No one will raise an eyebrow if an Oklahoma resident is playing casino games online at an offshore casino. Technically it could be constituted as a misdemeanor with a $25 to $100 fine, but players are not being prosecuted.
When it comes to poker, there are fourteen poker rooms in the state, but again, online poker is unregulated. This means that poker players can enjoy playing at both the land-based tournaments and offshore poker sites.
Sports betting is currently limited to horse racing. It is available at the local racetracks: Will Rogers Downs in Claremore, Remington Park in Oklahoma City, and Fair Meadows in Tulsa. All of these also offer simulcast races.
Oklahoma is one of the states that is yet refusing to introduce sports betting and daily fantasy sports (DFS). The bills designated HB 2278 and SB 1396 were introduced in Oklahoma's House and Senate in 2016 but the tribes managed to stop the bills from going through.
However, major DFS players such as FanDuel, DraftKings, Yahoo DFS and CBS Sports continue to operate in Oklahoma as their games are skill-based and therefore aren't gambling. The Oklahoma authorities haven't attempted to block those companies from accepting Oklahoma players, and the tribes haven't done anything either, so DFS remains unregulated but Oklahoma players are allowed to participate.
What all this means is that Oklahoma residents are very lucky and are spoiled for choice when it comes to gambling. One thing that is absent are the big online brands such as BetMGM that we see in states that issue online gambling licenses, but in return Oklahoma players can freely play at the offshore casino sites.
Oklahoma Casinos With Hotels
In this section we'll focus on the hotels instead of gambling. In other words, we'll tell you what are the best hotels that have a casino attached to them in the state of Oklahoma.
Hard Rock Hotel and Casino Tulsa
Rated as the best value of 1,500 places to stay in Oklahoma, the Hard Rock Hotel and Casino in Tulsa is a perfect place for your entertainment needs, especially if you're looking to party with friends, as this hotel is fit for a rock star, and you can see some of them perform live if you come at the right time. There are 454 rooms. The casino has 75,000 sqft of gaming space. This is by far the best place in Oklahoma if you're looking for entertainment that also happens to include gambling.
Choctaw Casino Resort
The Choctaw Casino Resort is more of a family friendly place, as you can see from separate pools for families and for adults. There's also an arcade, a bowling alley, a movie theater, fitness, spa and many other things. The casino has 110,000 sqft of gaming space with 4,300 slot machines, 50 table games and 30 poker tables. The resort has 1,700 rooms. Note that this is the only property that appears both on our list of best casinos in Oklahoma and the best hotels in Oklahoma. If you want both at the same time – Choctaw Casino Resort is the place.
River Spirit Casino Resort
This tropical themed destination is all about the atmosphere. There are 483 luxurious rooms as well as a 50,000 sqft casino. Of course, the main thing about the River Spirit Casino Resort is the tropical-themed pool as well as a variety of bars and restaurants. The 2,500-seat Paradise Cove Theater offers live entertainment and sporting events.
Oklahoma Online Casinos
There are no online casinos that have an Oklahoma license, and there can't be as the state of Oklahoma doesn't have a regulatory body and the legal framework that would issue those licenses. That means that big brands can't offer their services in Oklahoma, and neither can the tribal casinos, so they don't have an online presence in the state.
The offshore casinos – the online casinos that are registered at an offshore location – can freely offer their services to Oklahoma residents as the local state laws don't apply to them. This gives Oklahoma players a vast selection of offshore casinos to choose from.
Of these hundreds or even thousands of casinos, many are legit but there are also bad casinos and even downright scams. This is why our website PlaySlots4RealMoney.com is basically taking over the work of some overseeing regulatory body and is carefully reviewing each online casino for you, so we can tell you what the real quality offshore casino sites are.
You'll find these casinos presented on this page.
Gambling & Casino Taxation For Oklahoma
The state of Oklahoma is primarily concerned with taxing the operations of the tribal casinos. Depending on how much revenue a tribal casino is producing on an annual basis, the casino will get to retain from 50% to 65% of the money. State will get from 10% to 30%, and of those funds 12% goes to the General Revenue Fund and 88% goes to the Education Reform Revolving Fund. The rest goes to horse racing, from 20% to 30% of the total revenue of the casino.
As far as individual players are concerned, casino winnings are taxed as supplementary wages under state tax law. You are entitled to a tax deduction for any gambling losses you had. Gambling winnings are generally subject to a flat 24% tax.
Oklahoma Casinos FAQs
How many casinos are there in Oklahoma?
There are 60 land-based tribal casinos in the state of Oklahoma. The casinos are run by 35 of the 38 federally recognized Indian tribes. If you include other classes of gaming centres such as smoke shops with Indian gaming, then there are over 150 of them in total.
What is the largest casino in Oklahoma?
WinStar World Casino & Resort in Thackerville is the largest casino in Oklahoma, in USA, and the largest casino in the world.
Can you drink alcohol in Oklahoma casinos?
Yes, although the minimum drinking age is 21 while the minimum gambling age is 18. WinStar and Choctaw serve alcohol. You can't bring drinks from the outside, you can't take drinks out, and the law says you can't get free alcohol in the state of Oklahoma.
Can you gamble online in Oklahoma?
Yes, you can gamble online in Oklahoma. While the state doesn't issue any online gambling licenses, you are free to visit any of the offshore online casino sites and play for real money.