Alaska Casinos & Gambling Guide 2023
If you're looking to gamble in Alaska, your options are few and far in between. On this page we'll explain exactly what those land-based and online options are, and how you can play your favourite game from Alaska.
Some of the key things you'll find on this page are:
Alaska land-based casinos with bingo-based slot machines
Offshore casinos that accept Alaska players
Alaska gambling laws, legislation and taxes explained
Your FAQs answered
Best Alaska Online Casinos
Accepts Players From Most Countries
RTG Software
Great Customer Service
Payouts In Less Than 1 Day
Crypto & Tons of Banking Options
Mobile Friendy
Mobile App
Live Chat
Accepts USA Players
Sportsbook
Racebook
Live Dealer Casino
Wide Variety Of Games
Great Software
Customer Service
Accepts USA Players
Unique Casino Games
Excellent Software
Great Customer Service
Fast Payouts
Live Chat
Amazing Bonuses
Accepts USA Players
Fast Payouts
Real Time Gaming Software
Excellent Graphics
Large Selection Of Games
Great Bonuses
Awesome Customer Service
Alaska Casinos – An Overview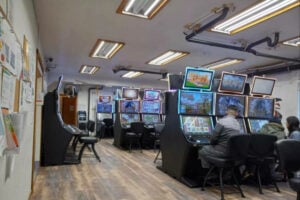 There are technically no casinos in Alaska, as even the local Native American tribes aren't allowed to operate gaming establishments that offer slots, table games or video poker. The only way to play these is to visit one of the online offshore casinos.
However, if you count non-traditional Alaska casinos as real casinos, you'll find exactly 10 of them and they have a total of 92 Class II slot-like machines that look and feel almost like a real thing, provided your standards are really low.
People in Alaska have three choices: play pull-tabs or bingo at one of 10 locations in the state, partake in some social in-home gambling, or play for real money at an offshore online casino. The latter is the only option that gives Alaskan residents access to some real gambling, with top-notch world class casino games that are independently audited.
In this section we'll cover the most notable land-based gambling establishments in Alaska that aren't in Anchorage, as we'll cover the five Anchorage casinos separately. Here are the five casinos that are located elsewhere in the state.
There are some others that you may heard of such as Agate Pulltabs or Crystal Serenity, but at time of writing, in 2023, these are the only ones that are open for business.
Native Village Barrow Pull Tabs
Non-bingo players can enjoy pull tabs, which is the only other legal gaming vertical allowed in the state. It is considered a skill game and is therefore allowed by the state low. Native Village Barrow Pull Tabs is one of the largest establishments dedicated to pull tabs – as opposed to bingo – in Alaska. It's way up north so it caters to a very small audience. Address: 940 Egasak St, Utqiagvik, AK 99723
Klawock IRA Pull Tabs
Formerly known as the Klawock IRA Smoke Shop, this establishment offers mostly pull tabs, but bingo is offered too. It's a unique little place that has a certain charm.
Address: 407 Bayview Blvd, Klawock, AK 99925
If bingo is your thing and you reside in Alaska, then Metlakatla Indian Community Bingo Center is the place to visit at least once. This is a large bingo center with Indian performers and with over a hundred people playing bingo at the same time and having fun. Metlakatla is way south, on the Annette Islands, so it's closer to Canada than Anchorage. Definitely worth a visit and at least a 2-3 day stay.
Address: 8th & Upper Milton St, Metlakatla, 99926 AK
Tlingit and Haida Community Bingo Center
Often called the Juneau Casino, this bingo center is also a large one like Metlakatla, but sans the Indian theme. The thing that attracts people to Tingit and Haida is the sheer size of bingo games, as residents from all neigbouring areas come to play and watch the bingo games here. You might want to do that too.
Address: 3235 Hospital Dr, Juneau, 99801 AK
Sun'aq Tribal Bingo
Though not as large as the two aforementioned bingo centers, Sun'aq offers something unique, perhaps even worth a chuckle as a bingo center in Alaska of all places has a tropical tribal theme. It's a nice place to have a seat, get warm, and enjoy the tropical themed ornaments while you play bingo.
Address: 312 W Marine Way, Kodiak, 99615 AK
Alaska Gambling & Casinos – Legislation
Gambling in Alaska is almost completely banned, with only a handful of gaming options available but these don't include slot machines, table games and video poker. Live poker is also prohibited, as no Class III game is allowed.
While many states that prohibit gambling allow the Indian tribes to run casinos, Alaska does not, which means this state has a firmer stance on gambling than almost everyone else. There are casinos on Native American reservations, as authorized by the Indian Gaming Regulatory Act of 1986, but slot machines are banned. Horse racing is also prohibited, while dog mushers contests and other games closely associated with the Alaskan culture are allowed.
Alaskan Indian tribes have a different legal status from tribes in other US states, and a more restricted version of sovereignty. This is why the state of Alaska is managing to keep the Indian gambling under much stricter control than the other states.
Also, the state relies on oil and tourism as the main drivers of the economy, and there is no real need – or a way – to make lots of money from gambling tax, looking at the population of Alaska and its remoteness. Because it is one of the most conservative states in the country and has some of the tightest laws across the country, it is extremely unlikely that gambling rules will be relaxed in this state over time.
Social gambling in one's own home is allowed, which is an interesting thing to note as many other states don't allow private gambling and Alaska does. This would technically allow private poker and table games, and undoubtedly there are a lot of these going on during the coldest winter.
The only two notable gambling options allowed in Alaska are bingo and pull tabs, as both of these are recognized as skill games. Bingo is legal in Alaska, but it can only be carried out by charitable and tribal organizations that have acquired a license from the Alaskan Gaming Commission. Minimum gambling ages are 21 for casinos, 19 for bingo and 18 for dog racing.
Alaska does not participate in Mega Millions or Powerball, which again limits the options for Alaskan residents, but has its own state lottery called LottoAlaska with a $100,000 minimum jackpot.
Some Indian casinos are managing to circumvent the ban on slot machines by offering games that look like slot machines but are actually bingo-based.
Casinos in Anchorage Alaska
There are no real casinos in Alaska so there aren't any in Anchorage either, but there are some gambling establishments that do offer some skill-based games. Here they are.
Eagle River Bingo and Casino
The Eagle River Bingo and Casino is possibly the best-known casino in Alaska. This family-operated establishment is located in Eagle River, the suburb of Anchorage, and is running 12 bingo games from Thursday to Sunday starting at 7.30 PM. There are also 26 pull-tab games.
Address: 12130 Regency Dr, Eagle River, AK 99577
Tudor Bingo Center
Bingo is the most popular game that's played in Alaska, as there are few other options, so Tudor Bingo Center is one of the establishments that caters to the needs of bingo players, and it also has some slot-like machines. It can often get quite crowded.
Address: 1436 E Tudor Rd, Anchorage, AK 99507
Northern Lights Bingo
Northern Lights Bingo is attracting visitors from the entire state of Alaska, that's how popular this Anchorage bingo center is. People come to participate in the massive bingo games that are hosted by Northern Lights Bingo.
Address: 703 W Northern Lights Blvs, Anchorage, AK  99503
Lucky Boniface Center
The Lucky Boniface Center is possibly the largest bingo center in Alaska, and it offers a unique mix of smaller and larger tables. Here you can play at a small 20-30 player table, a medium one with around 50 players, and of course there are also large ones with over 100 players.
Address: 360 Boniface Pkwy, Anchorage, 99504 AK
Gold Cache Bingo
Gold Cache is one of the most popular bingo establishments in Alaska, and it has five locations, one of which is in Anchorage. Players usually say that this is their favorite bingo hall and that the experience is better than at Tudor and other places.
Address: 110 E Fireweed Ln, Anchorage, AK 99503
Other casinos near Alaska
If you're in Alaska and really want to visit a true land-based casino as opposed to playing online – if you want the atmosphere and actual casino games – then there is one option in Yukon and several in British Columbia. The Yukon casino is the Diamond Tooth Gerties in Dawson City, but it would take almost a full day to get here from Anchorage. A four-hour flight from Anchorage to Seattle would seem a better choice for your land-based gambling needs.
For people live in the southern part of Alaska, the Treasure Cove Casino and Bingo in British Columbia is the geographically closest real casino. But it's still an unbelievably long drive from Juneau, so again a flight to Seattle would be a better option.
Alaska Online Casinos
One shouldn't expect too much from the ten Alaskan casinos that manage to offer bingo-based slot machines. These are very, very small establishments that often have less than a dozen machines, and they don't resemble a real casino at all. It's just a small place with some machines. Also, no one knows their real RTP and house edge, so you can't tell if the game is worth playing or not.
As we already said, the closest real land-based casinos are in Seattle so you'd have to fly. So, either play subpar games in establishments that aren't even close to being called casinos, or pack up and make it a weekend getaway.
That's why residents of Alaska should just go online and visit one of the tried and tested legit offshore casinos that we list on this page. We review all casinos carefully so the players who visit PlaySlots4RealMoney.com can be certain that the casino is legit and that it pays.
Our reviewers actually deposit money at the USA online casino, claim the bonus, play the games, and finally withdraw the money and test the customer support a bit. If a casino raises any red flag during the review process you won't find it on this site. The ones that are here are the ones that passed all our checks and deserved an inclusion.
Finally, it's important to note that you, as a resident of Alaska, can freely play for real money at offshore casinos. No one has yet been fined for playing casino games online on Alaskan territory.
Gambling & Casino Taxation For Alaska
There is no gambling-specific tax in Alaska, as it's the operator of gambling activities that is taxed with 33 percent of the adjusted gross income that comes from those activities. Alaska has the lowest taxes in the nation as there are no statewide income or sales tax in Alaska. Residents need to file a federal tax return.
Alaska Casinos FAQs
Does Alaska have any casinos?
Technically there are ten small establishments that offer bingo-based slot-like machines, but these don't look or feel like casinos at all. For all practical purposes, there are no casinos in Alaska.
Is gambling legal in Alaska?
All forms of gambling are prohibited in Alaska, even in the Native American reservations. The only things allowed are skill-based games such as bingo and pull tabs, sweepstakes, state lottery, and social in-home gambling.
Can you gamble online from Alaska?
Yes, you can freely gambling online at reputable offshore casinos if you live in Alaska. This is the only way to actually play true casino games from Alaska. Browse our list of quality casinos on this page, pick the one you like, register a free account and deposit some money for real money play.