Welcome to the Race For Office slot game reviews. As with all of our online slot machine reviews, we will give you our opinion about the advantages versus disadvantages of playing this online slot machine produced by Slotland Entertainment.
Regardless of where you live in the world, you probably know that Donald Trump is running for a second term for US President against Former Vice President Joe Biden. That said, this is not the first online slot machine made about Trump.
However, there is a lot of history going back to the 2016 election. That is when he ran against Hillary Clinton, and the Russian President Vladimir Putin allegedly helped Trump win by hacking(speculation). The reason we bring up these political figures is because they are all symbols on the Race For Office slot machine. Additionally, you will find the Dictator Of North Korea Kim Jong Un, and the politicians that ran against Joe Biden in the Democratic Primary, like Bernie Sanders, and Elizabeth Warren.
Find Out The Truth About Race For Office Slots In Our Reviews
Before you start to play the Race For Office political betting slot machine, you need to choose how much you want to wager. Furthermore, you can start betting with as little as thirty coins. However, the maximum you can wager is thirty dollars on this five-reel slot machine with fifteen pay lines. That said, you have the choice to bet thirty, sixty, one hundred twenty, two hundred forty, and six hundred coins. After you make your betting selection, you can click spin or turn on the auto spin. Try out a Megaways slot machine game.
The Race For Office slot machine is part of the Mega Matrix series from Slotland Entertainment. Furthermore, this five reel, fifteen pay line slots game offers a pick me bonus game, and wild symbols.
You May Also Like: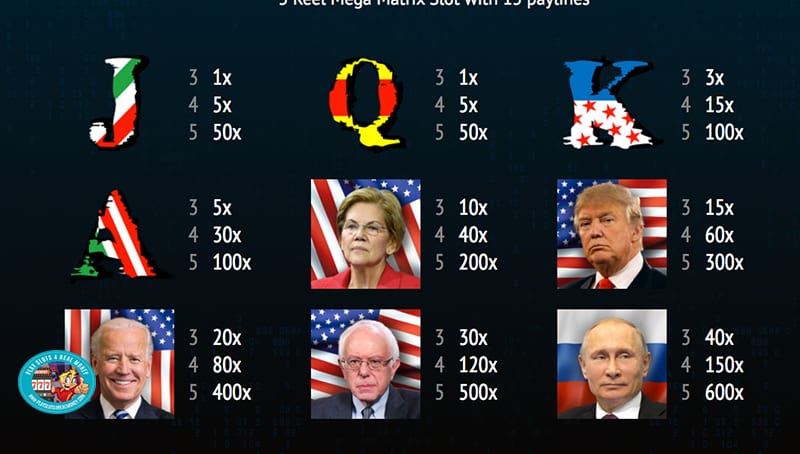 Enjoy The Symbols And Big Wins Playing This Political Themed Slot Machine Game
As we said, you will see some common political figures as symbols on the reels. On top of these political figures, you will find the typical poker playing card symbol. As you can imagine, the poker playing card icons are the lowest paying symbols. Russian President Vladimir Putin is the highest paying symbol. When you score three Vladimir Putin symbols on the reels, you will win forty times your wager. If you land four Vladimir Putin's, you will multiply your betting bankroll by one hundred fifty times. If you get lucky and score five Vladimir Putin icons, you will trigger the six hundred times multipler!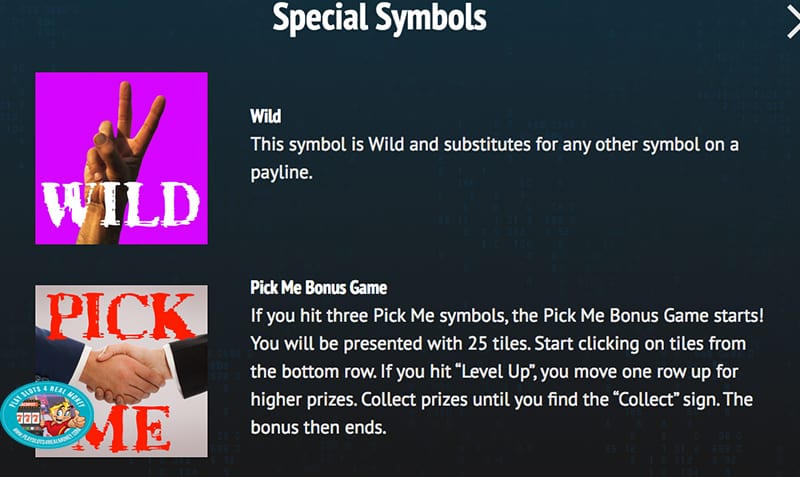 How Can I Win Money Playing The Race For Office Slot Machine
The next highest paying symbols is Bernie Sanders. If you score three Bernie's, you will win thirty times your wager. Score four Bernie Sanders and win one hundred twenty times your bet. Land five of the Bernice Sanders symbols and take home five hundred times your wager. You will win four hundred times your wager if you land five of the Joe Biden symbols. You win eighty times your wager if you score four Bidens and 20X if you just land three Joe Biden symbols.
.
Score five Donald Trump symbols and win three hundred times your wager. However, if you score five Elizabeth Warren icons, you will win two hundred times your bet. Also, you will find the peace symbol, which acts as the wild symbol. On top of that, you can score bonus rounds by landing three or more of the Pick Me Bonus symbols.