Sam's Town Hotel & Gambling Hall Tunica
Are You Ready To Find Out What You Need to Know About Sam's Town Hotel & Gambling Hall Tunica? Sam's Town Hotel and Gambling Hall Tunica, conveniently located at 1477 Casino Strip Resort Boulevard, Tunica is guaranteed to give an experience out of this world, be it at the Tunica Casino, in the restaurants or accommodations in the hotel.
https://www.youtube.com/watch?v=Pun6YIPAY9I
Getting to the hotel, one is welcomed by the beautiful ambiance and the provisions which go a long way to promising a good time approach before one enters a gaming room. With the Mississippi casino covering an astounding 75,000 sq ft and a convention hall equally as big with 7.500 sq, conveniently big enough to hold meetings and conferences within the premise, so no matter how big the crowd, there are no worries about the ability to accommodate your needs.
Learn About Sam's Town Hotel And Casino In Tunica With These Reviews
It is important to note that the casino has 38 game tables accompanied by 1300 gaming machines. It keeps getting better because the casino is open 24/7 and whenever the desire for a game ensues, you can walk at any time of day and indulge yourself. Parking is not an issue as both self-parking and valet parking services are available. Depending on your mood and the time, you can choose the valet services or self-service parking. Regardless of choice, your vehicle will be in the excellent condition it came in as it will be very well taken care of.
Sam's Town Hotel & Gambling Hall Tunica Summary
1. 24/7 operations.
2. Valet parking.
3. Self-parking.
4. 1300 gaming machines.
5. 38 game tables.
6. A convention center 7,500 sq feet in size.
7. A gaming hall that is 75,000 sq ft.
More Amenities At Sam's Town Hotel And Gambling Hall
In addition to the above listed, there are also other amenities that will cater for those who would like to take a break from the resort or those who appreciate a game of golf, The river bend links with its fantastic view is ideally situated within the premises for you to indulge in a game. More often than not, one would wish to take a mini-break from the huddles on the road with traffic and bad weather. If so desired Sam's Town has a hotel within the premises which at a low rate of $49.00-$139.00 is available for accommodations.
Enjoy Fine Dining
Indeed, the choice is yours on where to stay, but regardless of your choice, you will get your money's worth at the hotel. If so desired the River Palace Entertainment Centre provides various entertainment. Who says you have to spend your entire weekend in the Casino? Whether you are craving a sweet steak you would like to be offered a variety of choices, or maybe you would just like to end the day with a beer and some good pizza, these and much more are available at the fantastic restaurants within the premise. You can walk to the restaurant or order for food to be delivered to your location. It doesn't matter, just order for it and it will be given to you.
The restaurants are;
1.Twain's Steakhouse.
2. Smokey Joe's.
3. The Great Buffet featuring Corky BBQ.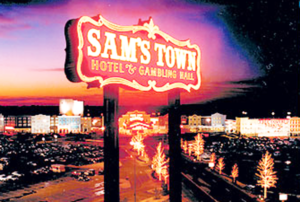 Sam's Town Hotel & Gambling Hall Tunica Review
Sam's Town Hotel & Gambling Hall is ideally located in an accessible area and borders the Mississippi River. In addition to the other provisions, there is ample parking space for RVs as well as a huge concert venue with a capacity of 1,600 seats and standing room.
Gaming At Sam's Town
Gaming at Sam's Town is undoubtedly a fun time with varying game selections such as;
1. Blackjack
2. Craps
3. Roulette
4. Slot machines
5. Video Poker
6. Electronic Keno
Visit Samstowntunica.com or call (662) 363-0711 for more information.