Fitz Casino & Hotel Tunica
Why Would You Visit The Fitz Casino & Hotel In Tunica Mississippi? In answer to that question, many people would simply tell you that the only way is to visit Fitz Casino & Hotel Tunica, one of the highly frequented Mississippi casinos.
Well, they are very right. However, before you visit, isn't it reasonable that you know where the Tunica Casino is? The Fitz Casino & Hotel Tunica is located at 711 Lucky Lane, Robinsonville, MS 38664 and is near the Mississippi River.
Quick Fitz Casino & Hotel Tunica View
• There are over 1, 134 gaming machines in the casino
• You will also find some 20 table games
• The minimum bet amount is &0.01
• All visitors can access self-parking as well as valet
• Convention space is 8, 000 square feet
• The available gaming space is 38, 457 square feet
At the facility, there are 20 table games along with 1134 gaming machines thus able to serve many visitors at ago. The minimum bet has been set as low as $0.01, and anybody can be able to enjoy a game. There is self-parking as well as valet parking at the casino, and this is very convenient for those who visit the casino.
It is also useful news that the facility is open 24/7. The casino itself covers 38,457 sq ft and has a convention center that includes 8,000 sq ft. Some of the amenities available at the casino are Fitz Casino & Hotel Tunica, which charges between $35.00 and $119.00.
In addition to the Fitz Stage Bar, the casino boast two-attraction sites like the Tunica River Park & Museum. The Tunica River and the museum offer enjoyment for kids as well as grownups that would wish for it. It is, therefore, accommodating to different audiences. You can also find two restaurants; The Steakhouse and River-View buffet, which offers mouth-watering dishes and one, can have a bite before heading home.
Fitz Casino & Hotel Tunica Review
The hotel offers extensive services along with a resort get away with about 40,000 sq ft gambling space with over 1,000 slots and 20 gaming tables.
In addition to a bar with live music five days a week, there are 500 rooms for accommodation and lodging. The rooms are quite affordable with fantastic dining choices; steakhouse or buffet.
The casino offers table games, slots, and video poker. The hotel also has a meeting, conference, and banquet facilities with one big room and four smaller venues. The hotel also boasts a substantial refreshing pool as well as a Jacuzzi, convenient for when one needs to relax.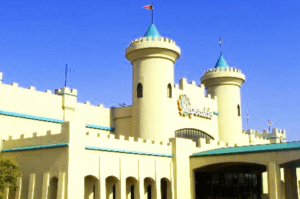 Gaming at Fitz Casino In Tunica Mississippi
The Fitz Casino & Hotel is considered to be one of the friendliest places to play in Tunica. It is also believed to have the loosest and player-friendly slots in the area. There are also more than 1,000 slots and video poker games one can try as many as they'd like to. The high limit area has the legendary Lucky Irish machines. You can find different games at the casino tailored to offer the most enjoyment and fun. The games are:
• Blackjack
• Craps
• Mississippi Stud
• 21+3
• Blackjack – Single Deck
• Progressive 3-Card Poker
Four Card Stud
• Blackjack Double Deck
• Kings Bounty
For more information, call (662) 363-5825 or just visit Fitzgeraldstunica.com.