Connecticut Casino Guide (2023)
If you're looking for information on Connecticut casinos you've come to the right place. We'll explain all about the two land-based Connecticut casinos in the state and how to get there, and will also cover the online gambling options that include the offshore online casinos as well as the websites owned by the two tribal casinos.
We'll also cover the legality of all gambling verticals in Connecticut, will tell you what is the legal gambling age for each, so when you're done reading this page you'll have a perfect overview of Connecticut casinos. And you'll know exactly where to turn to get the best gambling experience possible as well as the best deals.
Key things you'll find on this page include 👇
The two Connecticut tribal casinos
Online casinos in Connecticut
Legality and gambling age in Connecticut
Frequently asked questions
Best Connecticut Online Casinos 2023
Casinos & Gambling in Connecticut – An Overview
Gambling in Connecticut is all about the two Indian casinos that were opened in 1992 and 1996 respectively, and have maintained the duopoly ever since, aided by the state. There are no further casinos planned, it is these two that have gained a foothold on the market and aren't going anywhere. The two casinos also have an online presence, though the experience you can get there is quite poor.
You can read more about the exact gambling laws and future developments in the respective section on this page. Here we'll just briefly say that everything related to gambling in Connecticut revolves around Mohegan Sun, Foxwoods Resorts, and the Connecticut State Lottery.
That is, unless you're a clever gambler who signs up with an offshore online casino. That would be the only way to gamble in Connecticut that isn't related to the two tribal casinos.
Land Based Casinos In Connecticut
Connecticut is a state that has a really low number of options for gambling – a total of two for four million people – but these options are some of the largest casinos you'll see in the US. In fact, the two Indian casinos in Connecticut are #2 and #3 by total casino floor space in the country, trailing only the majestic Winstar casino in Oklahoma.
The two casinos are really close to one another, in the southeastern part of Connecticut that sees 60% of all tourism in the state, close to the border with Rhode Island. It's not far from New York either, or more precisely from Long Island. Everyone in this area visits the two CT casinos.
Mohegan Sun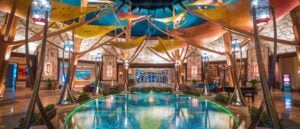 Mohegan Sun casino is owned and operated by the Mohegan Tribe on 240 acres of their own land, and it has 364,000 square feet of gambling space. It's far from being a casino only – this resort includes a 12,000-seat capacity arena that's home of the WNBA team, a 350-seat Cabaret Theatre, 100,000 square feet of meeting space, 130,000 square feet of retail shopping, and, of course, an impressive hotel with over 1,500 rooms.
The facility was opened in 1996, and there have been numerous renovations and expansions. This comes at a cost, however, as the Mohegan tribe was almost $2bn in debt in 2010. There have also been several attempts by the tribe to expand into other locations, for example, New York, which is a deal that fell through.
This is a majestic facility and you won't regret visiting. There are almost 4,000 slot machines and over 300 table games you can play, and a state of the art poker room. The slot machines available here are second to none, you'll get all to play all of the top games. If you want to see a bit of the Mohegan Sun atmosphere, watch the 2019 movie Uncut Gems, as the climax of the movie was shot in this casino.
Address: 1 Mohegan Sun Blvd, Montville, CT 06382
Gaming space: 364,000 sqft
Number of games: 4,000 slot machines, 377 table games, racebook, poker room
Hotel rooms: 1,500
Amenities: Entertainment center, restaurants and stores, indoor waterfall, WNBA arena, Cabaret Theatre
Foxwoods Resort Casino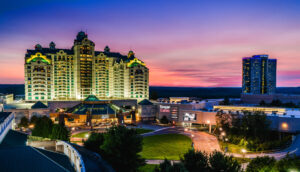 This casino is trailing the Mohegan Sun by total gaming space just barely, but it has a larger hotel. Meaning, we have to rank the two somehow, and Mohegan Sun is larger if we use the usual measurement of gaming floor area, but for all practical purposes, the two casinos are the same. And grandiose, both of them.
Foxwoods had a four-year head start as it opened in 1992 and had the monopoly for four years, so the Mashantucket Pequot Tribal Nation gathered billions in profits. The number of slot machines varies over the years, and it was 6,300 in 2008, for example, while at the present moment it's closer to 3,000.
There is no shortage of gambling options here – you'll find all of the table games you can possibly want to play, with tournaments, promotions, loyalty programs, happy hours, sweepstakes, you name it. Few, if any, other casinos offer so many perks.
Address: 350 Trolley Line Boulevard Ledyard, CT 06338
Gaming space: 344,000 sqft
Number of games: 2,900 slot machines, 250 table games, sportsbook, racebook, poker room
Hotel rooms: 2,200
Amenities: Amusement rides, 15 restaurants and bars, sporting events such as MMA
Online Casinos & Gambling in Connecticut
If you can't find the time to drive over to Mohegan Sun or Foxwoods, or can but can't really go there every time you feel a gambling itch, then your only other option are the offshore online casinos. These include USA online slots sites where you can play for real money.
Sure, you can also visit the Mohegan Sun Online and Foxplay Casino Online, but these have very limited gambling options, as is common with monopoly land-based casinos that establish a protected online presence.
The offshore casinos are simply superior as they offer more real money slots, better welcome bonuses, and even no deposit bonuses. These casinos have been in business of accepting US players for a while now, and offer an unprecedented level of gambling experience. If Mohegan and Foxwoods are huge in the land-based game, in online terms they're no more than minnows that use obsolete technology.
That's why you should look through our list of trusted online casinos that accept Connecticut players, make your pick, and sign up using our links so you can get the best welcome deals. And if Mohegan and Foxwoods ever catch up with the quality offered by these casinos, they can have you as a customer too.
Gambling Law in Connecticut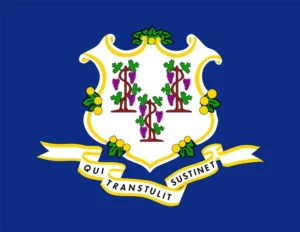 A certain type of gambling is illegal in Connecticut unless the law specifically allows it. The Department of Consumer Protection (DCP) Gaming Division oversees and regulated all gambling in the state.
When it comes to permitted forms of gambling, Connecticut allows licensed horse racing and dog racing, jai alai and the state lottery. Charitable gambling and social gambling are also permitted.
All that makes for a state that is very conservative when it comes to gambling, as there are virtually no signs that Connecticut wants to open up the gambling scene to more types of gambling, such as casino games, daily fantasy sports, poker, and anything else for that matter. Connecticut will have none of it.
The reason for this is simple. The two Indian tribes that run the two casinos in Connecticut pay 25 percent of their slot machine revenue to the state, in exchange for the state maintaining its prohibition on the machines outside the two casinos.
The two tribal casinos are operated on tribal lands under the federal Indian Gaming Regulatory Act of 1988. Mohegan Sun Casino is operated by the Mohegan Tribe, while the Foxwoods Resorts Casino is operated by the Mashantucket Pequot Tribal Nation. These two casinos are huge, and are third and second in USA by total gaming space respectively.
There was a third casino proposed, to be operated jointly by the two tribes, the East Windsor Casino. But it has been held back by legal proceedings and it looks like the construction is not happening.
Sports betting was legalized in Connecticut in 2021, to be conducted by the two tribal casinos and the Connecticut Lottery. Both Foxwoods and Mohegan Sun offer betting on the premises and online, in partnership with DraftKings and FanDuel respectively. The lottery offers online betting in partnership with Rush Street Interactive as well as retail sportsbooks at several of the Sportech OTB venues.
Best Bonuses For Connecticut Online Casinos
We bring you only the best USA online casinos that accept Connecticut players. In many cases we have exclusive bonuses, no deposit bonuses, and generally the best deals you can get with these casinos. You'll get those deals if you follow our links and use them to sign up.
Browse through the casinos we mention on this page and pick one or more that you like. Use our links to sign up, claim the welcome offer, make your deposit and start playing for real money.
Legal Gambling Age For Connecticut
You must be at least 21 years old to participate in online or land-based casino play or sports wagering. However, you can participate in daily fantasy sports, buy a lottery ticket, bet on horses or dogs, and play keno at the age of 18.
Is Gambling Taxed in Connecticut?
If the winner is a resident of Connecticut, and meets the gross income test, all gambling winnings are subject to Connecticut income tax to the extent includable in the winner's federal adjusted gross income. Gambling losses are NOT deductible. Income tax in the state varies between 3% to 6.99%, in seven brackets.
The Connecticut state lottery withholds 6.99% of all winnings that are over $5,000 or over 300 times the amount of the wager.
Connecticut Casinos – FAQs
How many casinos are there in Connecticut ?
There are two casinos in Connecticut, operated by the two Indian tribes. There were plans for a third casino that would be operated jointly by the two tribes, but the proposal fell apart.
What are the names of the casinos in Connecticut?
The two casinos in Connecticut are the Foxwoods Resort Casino and the Mohegan Sun.
Does Connecticut allow gambling?
Yes, Connecticut allows gambling, but only at the two tribal casinos in the state. Outside these two casinos, only horse and dog racing, state lottery, and charitable and social gambling are allowed.