Foxwoods Resort Casino Reviews
Did You Know That Foxwoods Resort Casino Is A Big Casino In Connecticut? There is something extraordinary about this casino located at 350 Trolley Line Boulevard in Mashantucket Connecticut. The first thing that makes this casino to stand out is that it is one of the two that are in the state of Connecticut.
Yes, the casino only faces a slight competition from the other casino in the state. But do you know what! The other Connecticut casinos, Mohegan Sun, is also owned and operated jointly, bringing the two casinos under the day to day operation of two Native tribes from Connecticut.
Here is a quick look of Foxwoods Resort Casino
The casino is owned and operated by Native American tribes
Number of poker tables – 147
Gaming machines installed in the casino – 4, 800!
Table games available – 380
The casino is open 24 hours all the seven days
There is plenty of ample valet and self-parking for all visitors
Amount of gaming space 345, 000 square feet (one of the most massive gaming halls in the whole of USA)
Total convention space – 150, 000 square feet
There are entirely some social amenities here that you will find amazing to look at and visit. Some of the facilities include the Grand Pequot Tower, the Fox Tower, Two Trees Inn, and Great Cedar Hotel.
Besides, other attraction sites have always kept others to come back to Foxwoods Resort Casino namely Tree House Arcade, Celebrity Ballroom, the Grand Theater, the Fox Theater, Premier Ballroom, Bowling Center, Exhibition Center, and of course the Pequot Museum. Do not also forget about the lake of Isles where you will enjoy golf.
You will also realize that because the casino is big thus quite a number check in on a daily basis, they should find enough restaurants that serve them with their favorite meals.
That is why; you will find full-fledged restaurants at the Foxwoods Resort Casino, many than most Connecticut casinos online.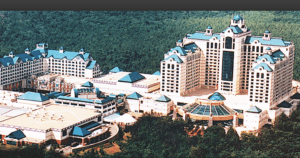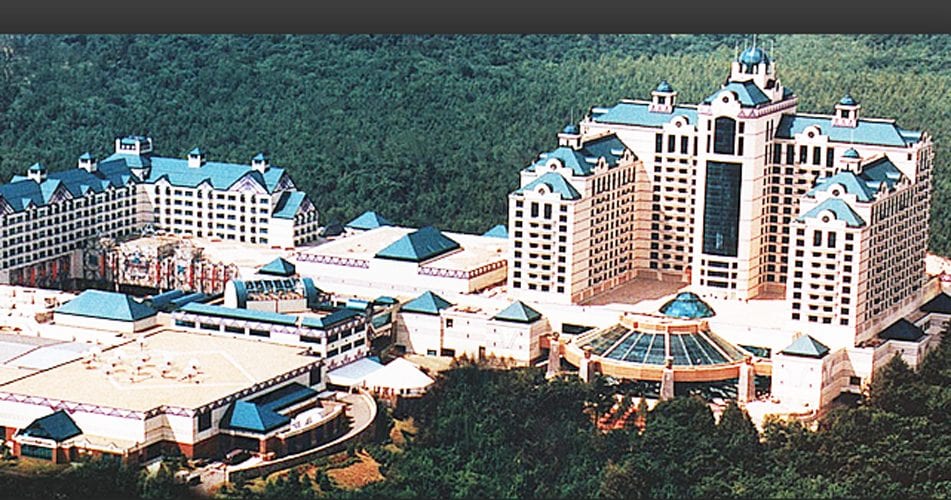 Here is a list of some of the amenities at Foxwoods:
Al Dante
Paragon
California Pizza Kitchen
The Kitchen at Shrine
Alta Strada
David Burke Prime
Cedars Steak House
Golden Dragon
High Rollers
Matches Tavern
Hard Rock Café
Junior's Restaurant
The Grill at Two Trees
Gelato Café
Dunkin' Donuts
Gelato Café
Noodles
Fay Da Bakery
The Scorpion Bar
Veranda Café
Fuddruckers
Lucky 7
Sbarro
Festival Buffet
Phillips Seafood Express
Subway
Panera Bread
Pequot Café
Boar's Head Deli
There is quite a lot to talk about especially if you know the history of the gaming industry in this American Native Tribe gambling dominated state. For instance, did you also know that the poker room in Foxwoods is the largest in the whole Northeast? Now you know.
Besides, in less than an hour, it is possible that Foxwoods casino will receive hundreds to thousands of visitors from New York and Boston.
It is true that the poker room is not the largest in the whole world, but the fact that carries large 140 tables, is reason enough to conclude that it is indeed large. You can call (860) 312 3000 or visit Foxwoods.com for more information. Now, check out more information about the resort.
Summary
Reviewer
Review Date
Author Rating