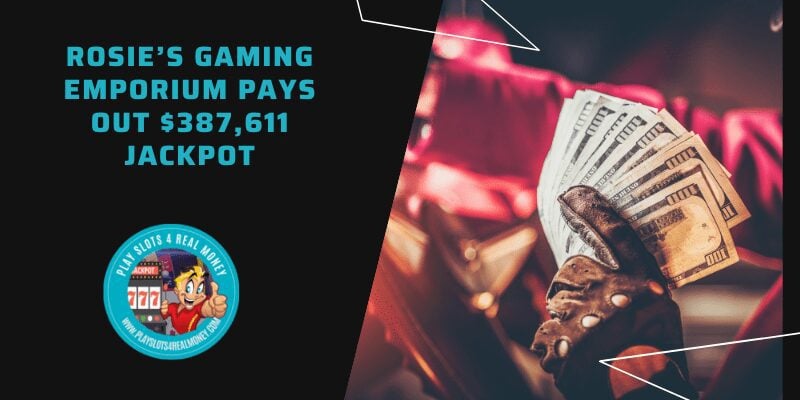 The state of Virginia is in the process of bringing casino gambling to the Commonwealth. Construction is underway in locations such as Danville and Norfolk. In the meantime, Colonial Downs remains the only game in town. This horse racing track is located outside of Richmond in New Kent County. It also owns and operates Rosie's Gaming Emporium at this location. There are also a number of satellite facilities around the state. Rosie's does not offer casino gambling games. It does not even offer slot machines. What is legal in Virginia are games of chance known as historical horse racing machines.
These machines are similar to slots in many ways. The gaming terminals are manufactured by industry giants such as:
They look, feel and play like your favorite slot machines. However, the element of chance is tied to the results of a historical horse race. This creates the ability for big wins, including progressive jackpots on certain terminals.
A local Virginia news source with close ties to PlaySlots4RealMoney.com posted the story of a recent record jackpot. One lucky Rosie's player at the Vinton location just walked away with close to $388,000. This set a new record for a Rosie's jackpot win. The player chose to remain anonymous after the big hit on May 21.
Rosie's Gaming Emporium celebrated its two-year anniversary in April. The Vinton location is undergoing a $28 million expansion project that got underway in January of this year.
Ernie Dellaverson is the general manager of that location. Through a local news source, his thoughts on the expansion included:
"That's going to give us 350 additional games, a live bar and stage area, and because of the magnitude of the popularity, 280-foot parking garage."
According to Dellaverson, construction on this project should be completed by the end of this year. All told, there are five Rosie's Gaming Emporiums in Virginia. Along with the main location at Colonial Downs in New Kent, the other four are in Richmond, Hampton, Dumfries and Vinton. Each location offers a series of jackpot games.
Interesting Article: How To Play Penny Slot Machines?
More Penny Jackpots
A few of the Penny Jackpots at the Vinton location include Lucky Penny and Star City Winnings with the biggest potential wins. Moving to the Nickel Jackpots, Take A Chance On Me offers the biggest return.
There are also Quarter, One Dollar, Five Dollar and Ten Dollar Jackpot games. The current value of the Hang Ten Jackpot was listed as $57,367 heading into the big Memorial Day Holiday weekend.
The New Kent location offers the biggest selection of jackpot games. Pennies From Heaven's jackpot tops $100,000 at the current moment. Show Me The Money is a Five Dollar Jackpot game at New Kent. The current value of that jackpot is listed as $146,921. The Perfect 10 Jackpot now sits at $243,960.
Players can earn valuable points as part of Rosie's Rewards. Membership is free and these points can be accumulated and used for valuable perks at all five locations.