3 Card Poker Rules, Odds & Strategies
When it comes to playing poker, whether online or from land-based casinos, 3 card poker is the most popular. Of course, almost all types of poker are. According to gaming experts, poker, particularly three card poker, is the most profitable. This variation is to both the house and the player. As the gambler places more money, thus winning, the house also benefits.
Win A Straight Flush Playing 3 Card Poker
Accepts USA Players
Sportsbook
Racebook
Live Dealer Casino
Wide Variety Of Games
Great Software
Customer Service
Accepts USA Players
Unique Casino Games
Excellent Software
Great Customer Service
Fast Payouts
Live Chat
Amazing Bonuses
Have fun with poker variants plus other titles like
bet behind blackjack
, and
live roulette
after signing up through PlaySlots4RealMoney.com. Also, look at
Casino Action
.
Allows Sports Bettting
Has a Racebook
Accepts USA Players
Unique Casino Games
BetSoft Casino Gaming Software
Great Customer Service
Fast Payouts
Live Chat
Mobile Phone Casino
Live Dealer Games
Real Money Poker Tournaments
100's Of Slot Machines
Accepts Bitcoins
USA accepted
100% up to $500 poker bonus
No-nonsense payouts
Mobile- and Mac-compatible
Fast-fold Zone Poker
Jackpot Sit & Go combines poker and lottery
Anonymous Poker Tables
BetSoft Casino
Live Betting Sportsbook
Racebook
Full Online Casino
Mobile App
US Welcome
Accepts US Players
Accepts Cryptocurrencies
BetSoft Games
Nucleus Games
Live Dealer Casino
Large Table Game Selection
Offers Specialty Games
Competitive Betting Lines
Excellent mobile user experience
Extensive news section
Learn how to play slot machines right here.
Accepts Credit Cards and Debit Cards
Reduced Juice
Live Betting Sportsbook
Racebook
Casino
Poker Room
Cash Back Offers
Free NFL BETS
Accepts Paypal
Quick & Easy Cash Outs
Great Deposit Options
Great Withdrawal Options
Licensed Sportsbook
Accepts US Players
Accepts Cryptocurrencies
Realtime Gaming
Poker Tournaments
Rival Gaming
BetSoft Games
How To Play Three Card Poker
We will cover how to play Three Card Poker at a casino, including how to win.
THREE CARD POKER REQUIREMENTS
This poker game is played with one fifty-two card deck and betting chips in live casinos. Automatic shuffling machines are frequently in action, with one deck shuffled while another is being played.
The most popular variants of Three Card Poker are those in which there are no physical cards or playing chips. There's also a credit meter that displays how much money you have left to wager.
Instead of virtual cards, some casinos employ live dealer video streaming.
THREE CARD POKER OBJECTIVE
The secret to beating Three Card Poker is straightforward: make the greatest three-card poker hand you can! There's no "hits" in Blackjack, for example, where players may exchange or draw additional cards. It all comes down to the playing cards you were dealt from the start.
This is because it is a "stud" poker-based game, rather than a "draw" variant.
Depending on the type of wager or bet a player want to make, you'll either want to (1) try to make a pair or better; or (2) put your hand outrank the dealer.
 Any A-X-X hand, for example, will win over a K-X-X hand. Said differently, even if you have A-3-4, you'll defeat a holding of K-Q-9 if the average value of the K-9-8 is greater.If the first high card in a hand is "tied," the second will determine the winner, and so on.
Also, note that even if 2 gamblers have the exact same poker hand rating or ranking (e.g., a pair), the gambler with the higher hand value wins.
Three Card Poker Rules
There are 2 different types of wagers in Three Card Poker:
Ante-Play: The action of playing your hand against the dealer's in order to create the highest-ranking poker hand.
Plus-Pair: You'll try to make a hand of a pair or more with your hand in this variant.  
Different casinos have different betting requirements. Some require you to put an ante in if you want to play a hand, but the Pair Plus bet is optional. Other casinos let you choose whether to play with the Ante or the Pair Plus.
Dealing
The live dealer deals 3 cards face-down to each player in the hand. You're attempting to beat the dealer if you choose the "ante-play" betting option, as blackjack is similarly structured. The other players' cards are irrelevant when it comes to whether you win or lose.
Playing Action
It's the players' turn to act once they have received their cards. They have the choice of "playing" or "discarding" their hand.
 If the real money gambler discards their hand, the dealer wins their initial ante.
To keep playing, the player must place a "Play" bet. The play bet should be equal to or greater than the ante that the player initially wagered. In live casinos, these chips are typically played after a player puts his hand in order and then places them face-down in the designated "play" area.
Credits are deducted from your meter when you make a play bet by touching or clicking on an icon in online casinos.
Winning and Payouts
The dealer then shows player cards, followed by their own. This is carried out automatically once all play or fold decisions are made online. Then hands are compared, and any required monies are collected or paid out:
The dealer's hand must qualify to be "played" before it can be dealt. If the live dealer has a Jack high High Card or a worse hand, it cannot be "played." The amount of the "ante" wager will be won by players still in the hand, but they will push with their "play" bet. As a result, they simply recover the chip(s) formerly in play rather than earning an additional prize for this gamble.
Even if the dealer's hand is superior to the player's hand, the player wins the ante if the dealer does not qualify.They'll "push" with their Play wager and reclaim their chips after the hand, while still "pushing" with their Play wager and reclaiming their chips. (If the dealer has J-4-3 and the player has T-9-7, for example.) The gambler will win the amount of their ante.
If you have a Queen-high High Card hand or better, imagine what your opponent might do. The dealer's hand is evaluated against the player's hand. If the player's hand is superior, they win the amount equal to both their ante and play bets. The dealer's hand wins, and the player's money from these betting actions is collected as required.
  Additionally, most casinos provide Ante Bonus payments if you make one of the best hands in the game. These straight or better payouts are part of the ante-play component of the game and do not need additional wagering.
The Ante Bonus payout might look like this, but it varies depending on the payout structure.
A Straight pays one to one, while a Three-of-a-Kind pays four to one. A straight flush pays five to one (4 to 1 or 3 to 1).
The most popular pay table is 5-1 for straight flushes, 4-1 for three-of-a-kind, and 1-1 for straight hands. However, don't be shocked if your return is reduced.
You May Also Like:
3 Card Poker Rules Pair Plus Payouts
The Pair Plus wager is unaffected by ante-play. Players win if they make a pair or higher, or lose the bet if they are dealt a High Card hand. The live dealer's hand does not have any bearing on the outcome of Pair Plus hands.
You don't have to compete against the dealer. Payouts are made according to a pay table posted on the table or online on the screen.
These are the usual Three Card Poker odds and payout methods used for Pair Plus payouts in America, as well as several payout alternatives employed:
A Pair pays 1 to 1, while a flush pays 3 to 1 or four to one. Straights pay six to one or five to one, while 3 of a king pays out thirty to one. However, Straight Flushes payout forty to one.
The most popular variant employs non-parentheses payoffs. Some casinos add a larger payout to the top of the game. Quees, Kings, and Aces of the same suit will separate one "mini royal" from another straight flush. Mini royals are usually worth 50-1, but they have been seen at 100-1.
Three Card Poker Stakes
Three Card Poker Tables offer fixed minimum and maximum wager amounts. If the minimum table is $5, though, making a play bet will cost you $10 in total if you decide to keep and play your hand against the dealer: $5 for the ante wager and $5 for the play wager if you choose to stay and challenge.If you put $20 on Pair Plus and $15 on 3-Way, your total risk is $35.
The ante and play chips must always be of the same numeric value when played. However, they can differ from the amount used for the Pair Plus wager.
The line must still be less than or equal to the amount wagered. The minimum and maximum table stakes must also be satisfied.
3 Card Poker House Edge And Strategy 
The optimal Three Card Poker strategy is to play all hands with a value of Q-6-4 or more, including all pairs, and then fold the rest.
The house advantage in this ante-bet game is about 2% of your total ante and play bets over time. You don't make the play bet on every hand. So, 3.4 percent of the ante compares to the overall house edge of 2%.
That is determined by the payout on the ante bonus. If straight flushes pay 5-1, three-of-a-kind pays 4-1, and straights pay 1-1. That leaves house edge of 2.01 percent of the overall action or 3.4 percent of the ante pool.
Antes are commonly won by the player who is first to complete his/her wager, as a result of a 2.6 percent house edge added to total bets and antes.
The house edge in Pair Plus is smaller when a small change makes a big difference. In the most prevalent version in the United States, the house advantage is 7.28 percent, with the following payouts:
Forty to one on straight flushes, and thirty to one on 3 of a kind. Six to one on straights, three to one on flushes and one to one on pairs.
If only one adjustment is made, with flushes paying 4-1, the advantage drops to 2.32%. A variant sometimes seen in Europe pays 35-1 on straight flushes, 33-1 on three of a kind, 6-1 on straights, 4-1 on flushes, and 1-1 on pairs.
3 Card Poker Etiquette
In Three Card Poker, there are three things to keep in mind about etiquette: play your hand: arrange your cards from lowest to highest, place them horizontally face-down in the "play" box, and then put your "play" wager on top of them.
Tossing your cards forward towards the dealer: If you bet but don't want to "play" your hand, you may fling it in the direction of the dealer.
Tipping
When you win, it's common practice to give dealers a gratuity. While the amount and frequency of your tips are at your discretion, 10% is typically accepted.Place bets using $1 chips after you've won a round. (If you're playing with $5 chips, remember to use $1 chips.) To thank your dealer, place it to the right of any of the betting circles: Pair Plus, Ante, or Play after a hand.
You can also bet on the dealer. In the United States of American, this is most popular way to offer a tip. Place an additional ante in front of your original ante space. The dealer wins if you win.
  

 House Rules Each Casino Is Different
It's critical to understand the subtle variations in casino regulations between one site and the next:
There is no limit to the specific amount of hands that may be played at the same time by one player. Some casinos just allow players to play one hand at a time. Others allow a single player to engage in multiple hands ( simultaneously across different betting sections from the same table).
Sharing Your Hole Cards
By definition, a one-on-one player per hand is prohibited at most casinos. You are not permitted to expose your cards to others. Other places allow players to show each other their hole cards and assist them in determining how to play their hands (s).
Which Bet MUST Be Placed
In some casinos, you must put up an ante chip to play a Three Card Poker hand, leaving the Pair Plus as a choice wager. In other places, you may bet antes-play, Pair Plus, or both. You don't have to be anteplay to wager on the Pair Plus.
3 Card Poker Strategy & Rules
This calculation is not only done by gaming experts. The same report confirmed by individual operators. They look at the overall performance of all casino games.
Ancient Game Reinvented
The first time this game came out was way back in 1994. However, it did not have a patent until three years later in 1997. Derek Webb was the figure behind the innovation. In his original vision, all he wanted 3 card poker to have was the same excitement that poker game has. Also, Webb wanted the game to have the speed of other casino games.
What Innovator Achieved
In the end, this newest innovation had achieved three major things. One of the things that this poker game came with that is impressive to date is the easy understanding of its game rules.
You should know that many gamers tend to avoid any casino game that is known to have stringent rules. They'd instead go for a game with low payouts than an online casino game with a high payout that has very difficult rules.
The second thing that accompanied this innovation was the lofty payouts. 3 card poker is one of the table games that is known not for its gameplay but for what winners walk away.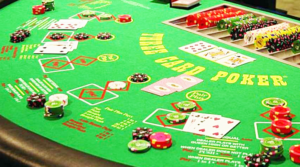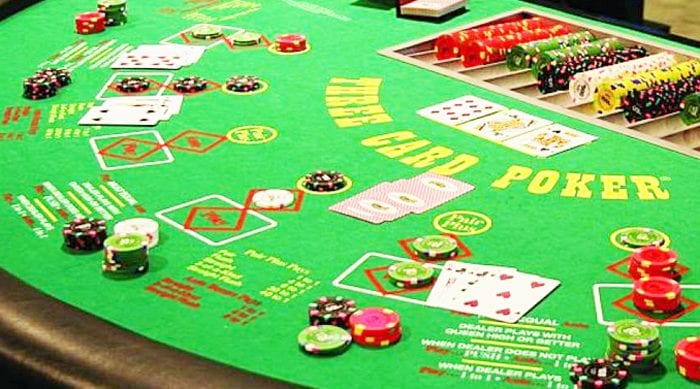 It has large payouts that are bound to attract a large number of players. This makes it easy for many players including those that have never played poker before to give it a try.
The third and perhaps most crucial achievement was that it had a nice house edge. There is nothing as good to a business person as knowing that a particular commodity is fetching a lot.
With a useful and practical house edge, it is definite that casino operators would be interested in offering it. Yes, they still do.
Operators will not offer a game if it doesn't guarantee equal or a higher share of revenue. In most cases, if the game is more of player oriented, operators tend to avoid it. If they don't, they ensure it works in their favor.
Rules Of Playing 3 Card Poker
The rules for playing this game are pretty much simple. With only two modes of play, you can imagine how easy it is for players to grasp. There is the Ante and the Play.
In all these, the player is competing against the dealer. There is a pair Plus Wager and pay the player on a pay scale basis. But it has to be a pair or better on the side of the player.
However, it is important to point out that the Pair Plus and the Ante options are not available in all casinos. In some though, the Ante is a must!
Here is a list of some hand ranks you must beware of:
  Straight flush has a probability of 0.22%.
  Three of a kind has odds of 0.24%.
  Straight has 3.26%.
  The Flush has 4.96%.
 Pair (two cards with the same rank) has 16.94%.
  High Card Flush has 74.39% probability.