Majestic Star Casino Hotel
The Majestic Star Casino is one of the eleven Chicagoland Riverboat casinos in Indiana. According to Hotels, Expedia, Tripadvisor, and KAYAK, the hotel rooms start at seventy-seven dollars per night. There are several different types of rooms like the Large Suites & Mini-Suites that you can book at the Majestic Star that cost more.
The Majestic Star Casino and The Hotel are spectacular places to stay and play; This Chicagoland Casino is the home to Two Casino Boats. Slots, Poker, Baccarat, Table games, and High Limits! They also offer lower limit games too. Start off with fifty thousand free credits and unlock different online slot machines for real money when you reach different levels. The premium electronic gambling machine listed is "Winning Times Slots." I found the slot machine decent, but it was nothing special in my opinion.
Play Online Slot Machines Free At The Majestic Star Online Casino
The first online casino level allows you to play Jungle Wild and when you unlock the second level, you can try Broncos. Personally, I do not like the different levels in the online casino, I prefer as many free games available as possible, but I understand why they use this strategy for marketing.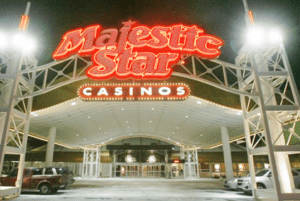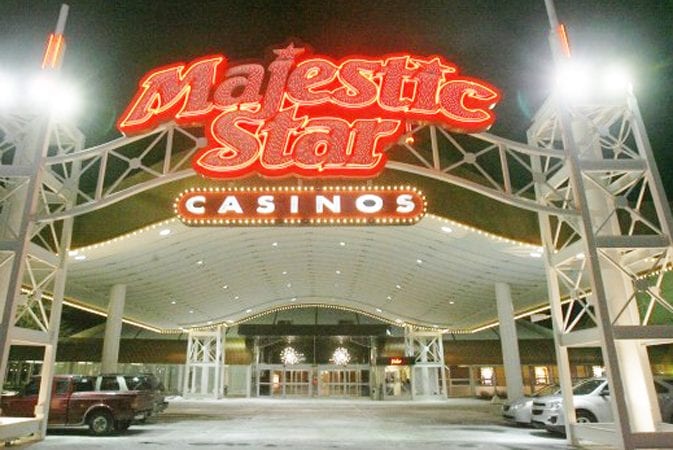 Find Local Casinos In Indiana
They have a "Play 4 Fun Online Casino" on their website. Their headline says that they offer premium online slots however after playing them for about an hour I do not consider them top notch. Also, enjoy other games like mini baccarat.
Chicagoland Majestic Star Casino And Hotel Casino Information
The Majestic Star Casino Hotel is located on 1 Buffington Harbor Drive in the town of Gary, Indiana. Contact them directly toll-free at 1-888-225-8259 or visit their official website www.majesticstarcasino.com. Their website has free online slot machines and other games to play. We will go into their online casino later. Book your stay directly on their official website. Make dining reservations in advance through their live chat.
Majestic Star Casino Hotel in Indiana offers their guests a daily Continental Breakfast, Flat Screen Televisions in their room, Eco-Friendly Toiletries, Complimentary Shuttle Service Between Hotel & Casino In-Room Coffee, Pillow Top Mattresses, Complimentary Wifi, 24 Hour Front Desk, and Complimentary Parking. Unfortunately, they do not allow pets including cats and small dogs.
 You May Also Like:
Indeed, Feel free to contact them anytime directly. Well, you can call them by phone. Also, you can send them an email. Ultimately, you can ask if they can accommodate you like the Blue Chip. However, if they cannot, you still have choices. When it comes to local casinos, you can try the Hollywood Resort. Also, the Horseshoe Hammond is good. Remember, there are plenty of Resorts that allow pets. However, they may be more expensive.