Tropicana Online Casino

The Tropicana Casino In Evansville Indiana is one of the 11 Chicagoland Riverboat casinos. Tropicana Entertainment owns the hotel, resort, and casino that was opened in 1995 by The Aztar Corporation. The Tropicana casino was known as the Aztar and was the first Indiana casinos.
About The Tropicana Casino In Evansville Indiana
The Tropicana Casino In Evansville is located on 421 North West Riverside Drive in Evansville, Indiana. The hotel resort is open twenty-four hours a day, and you can contact them by phone toll-free at 1 (812) 433-4000. Visit their website and take a look at what they have to offer directly at tropevansville.com. Check out the bonus money video below.

Tropicana Online Casino Reviews
Their websites say that the Tropicana Casino resort has a place for every taste in Indiana and that may be true. There are several other Indiana casinos on the waterfront that have restaurants, bars, nightlife and a casino like the Ameristar, the Blue Chip and the Horseshoe Casino. When you get to their website, you will see several sections including nightlife, dinings, selection of games, hotels, entertainment, "Trop World Online Casino" and events. Check out The Tropicana casino on the Las Vegas Strip in Nevada right here.
About The The Tropicana Trop World Online Casino
Receive the Trop Advantage when you play slots online at the Trop World online casino. When you first visit you will see a pop-up advertisement that welcomes you offer you fifty thousand credits to play free casino games. They have a decent selection of games compared to the other free casino games from Indiana resorts and hotels.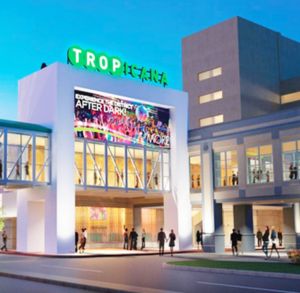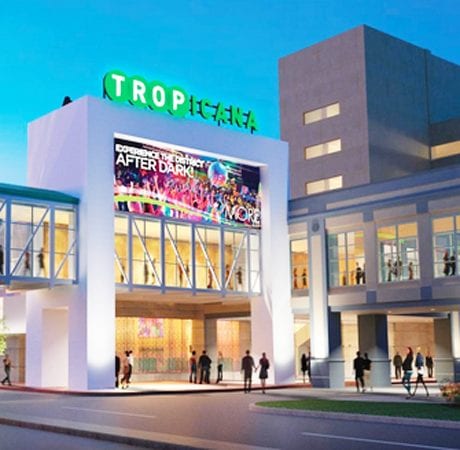 The Tropicana Trop World online casino has a progressive jackpot that claims to be worth up to twelve thousand dollars currently. There are four completely different progressive jackpots that you can see on the top of the screen. Enjoy the Diamond. Emerald, Ruby and Saphire progressive jackpots.
The Tropical online casino has different levels that you can unlock to play more free games. The Boardwalk slots are the first game that you can play. It is fun but not the best Vegas-style slot machine I have ever played. They have a "Mardi Gras Bingo Game" to play, which I found fun plus they have real money blackjack, baccarat and other table games you can play for free on the Internet.
Tropicana Evansville Hotel
The Tropicana Evansville Hotel allows pets in designated rooms! It is a beautiful place to stay and filled with amenities. In 2015 Courier And Press rated the resort as the number one local hotel. Enjoy choosing from ten different suites that have extremely spacious dining and living areas. All ten suites have a master bedroom that has a Spa.
The Tropicana Evansville Hotel offers their guests free wireless Internet, coffee service, Overnight Dry Cleaning / Laundry service, Pavilion Gift Shop and Hotel Amenities Store, Fitness Center, Enclosed 1,600-Space Garage with Valet Parking.
Le Merigot Hotel
The Le Merigot Hotel is notorious for luxury and also rated the number one local hotel by the Curious And Press in 2015. The rooms at the Le Merigot Hotel may cost more, but they are beautiful and have an extraordinary service. Enjoy the Italian bed linens, Plush micro-fleece robes, High-speed Internet Access, MP3 inputs, Coffee service, Goose-down duvets.
The Bedroom and the bathroom both have Flat-screen LCD televisions. The bathroom has Glass-enclosed showers that are spectacular. They come with overhead rainmaker showerheads and multi-unit body sprays.
Hotels Near Tropicana Casino In Evansville Indiana
When you go to the hotel section of their website you will see the Tropicana Evansville Hotel and the Le Merigot Resort. You can view the Evansville room packages to see what is all-inclusive. Above all, there are daily free games at Tropicana Atlantic City. Indeed, enjoy your free spins and refer a friend bonus at this New Jersey online casino. Furthermore, there are 90 ball bingo games with community jackpots. Above all, make sure you gamble for a profit, and not a net loss.
According to the Trip Advisor website, the rooms start at one hundred eighty-nine dollars per night. Are you or someone you know looking for a hotel near the Tropicana in Evansville Indiana that is more affordable? The Country Inn And Suites By Carlson has rooms started at seventy-seven dollars per night, which is a pretty good price. Top
Summary
Reviewer
Review Date
Author Rating