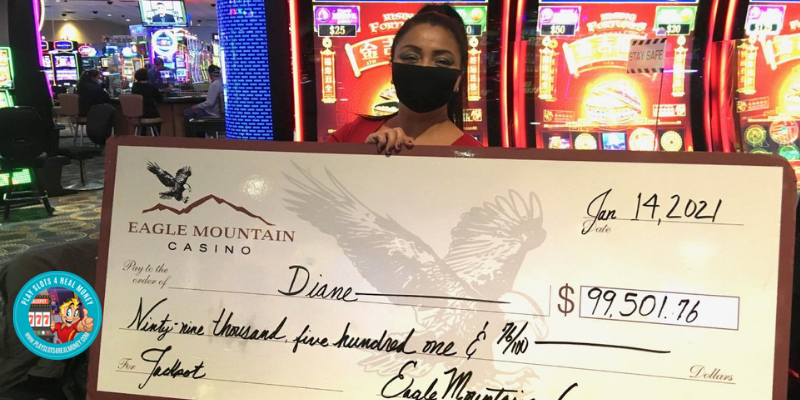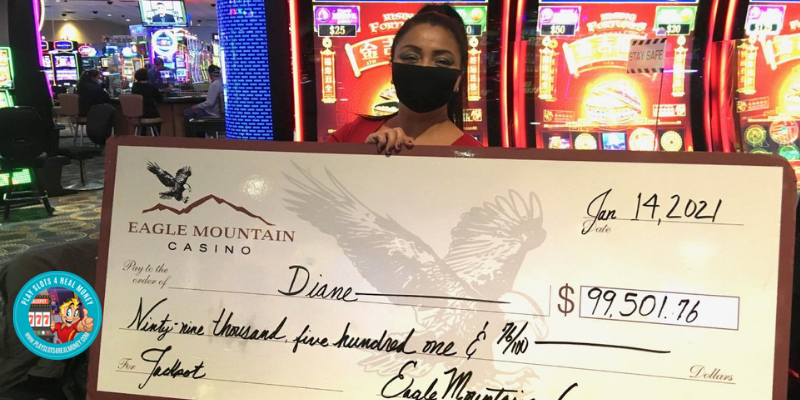 The coronavirus continues to hamper the entire casino industry across the US and around the world. However, there are still a few big winners to be found. Earlier this month, one of those big winners cashed in on their luck at Eagle Mountain Casino in Northern California.
Eagle Mountain Casino In Northern California Pays Out $99,000 To Jackpot Winner
Known only as Diane, her big jackpot win added up to $99,501.76. Eagle Mountain Casino posted a picture of the winner holding the oversized check on Jan. 14. You can only imagine her smiling face underneath her black mask.
She was playing a Rising Fortunes slot with a progressive jackpot. By placing an 88 cent bet on a Wild symbol, she triggered the big win through her play in the bonus round.
The bonus round on this particular game features 12 gold coin symbols. Each coin came with a bonus type. The four available were:
Peach Minor Bonus
Orange Mini Bonus
Treasure Major Bonus
Diane was able to match three symbols with the highest jackpot amount to win almost $100 grand. This is an excellent example of Lady Luck being on your side.
Her visit to Eagle Mountain Casino was part luck as well. After plans to visit the casino with a friend fell through, she decided to make the trip anyway. The Rising Fortunes has always been one of her favorite progressive slot machines. This time around, 45 minutes into her playing session suddenly turned into a life-changing win.
Diane's first reaction was shock. Another player nearby helped to confirm that she hit the big jackpot.
It took a bit more time to register the fact that this was a six-figure hit.
Eagle Mountain Casino has been one of her favorite casinos to visit for more than 20 years. Diane plans to use this big win to pay off some bills. She would also like to put most of the money away in savings.
The big winner is no stranger to the casino industry in the state. The resident of Porterville, California used to work at Peoples Casino in the same area. She is now the first big casino jackpot winner of 2021.
Eagle Mountain Casino was recently in the news for its plans to relocate.
Owned and operated by the Tule River Tribe, the casino's plans for a new home in Porterville have been approved. The current location is on the Tule River Indian Reservation in the Porterville area. The new location will actually be in the Porterville city limits.
Tribal Chairman Neil Peyron released the following statement:
"This decision will allow the Tribe to relocate our existing casino to the City of Porterville. So that we may use our limited water supply to provide critical housing to our tribal members. And continue to improve the general welfare of our tribal members."
He also added:
"We are grateful to the Office of Indian Gaming, the BIA Regional Office and the Assistant Secretary's office for the service to Indian Country."
• Source: JACKPOT! Guest wins over $99,000 at Eagle Mountain Casino from Bakersfieldnow.com On January 15, 2020.