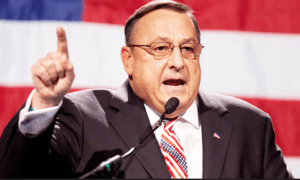 Maine will not see a gaming complex build in her territory soon after her Governor Paul LePage buried what was seen by many as a chance for the Maine to have a new casino put up in the state.
On a statement to the press this week, LePage who appeared adamant about the casino venture in his area of jurisdiction said that he will not give in to people who he considers greedy and who do not put the interests of the state at heart.
"I will not listen to greedy people who want to only satisfy their bellies instead of giving priority to good governance and commendable public policies," LePage told WVOM-FM.
The governor argued that there are a few people who want to ruin the state only to reach their personal gain.
He added that when he looks at things critically, as a Republican governor, the state does not have enough people who will give support to any individual or organization that wants to establish another casino. He claims that the two casinos established in Maine, Hollywood Casino Hotel, and Oxford Casino, are enough to carter for people's gaming thirst as well as making real money casino gambling sites a reputable industry.
However, many people believe that the governor could only be against Shawn Scott and his sister Lisa Scott of the famous Horseracing Jobs Fairness.
It appears that Lisa Scott, who resides in Miami, is the sole officer from Horseracing Jobs Fairness spearheading the expansion of casinos in Maine. In fact, reports confirm that Ms. Scott together with her brother had a lot to do with the November ballot that is aimed at seeing the governor give in to the establishment of a third gaming complex in Maine.
Surprisingly enough, Lisa poured $4.2 million, which facilitated to collection of signatures, which enabled them gather enough people to sign in favor of the casino expansion and the forcing the referendum.
Shawn Scott
Another challenge for the governor is Lisa's brother Shawn Scott who does not seem to lose whenever he embarks on an endeavor.
It should be remembered that nearly 13 years ago, in 2003, Shawn helped spearhead a campaign whose aim was to allow slot machines become operational in Bangor Raceway.
For several reasons, Shawn had to leave the business but he sold it only to attain a more than $50 million profit.
But before Shawn could give away the business, he was faced with 37 legal suits in four U.S. states.
Even as LePage tries to use his office's influence to bury the casino expansion referendum, Shawn and his sister Lisa have nothing to lose because they are also prepared to use every resource within their disposal to make sure the referendum goes through.
Previous News Article: The 'Cash Cow' Online Slot Game Is Now Live At Vegas Casinos

Tagged with: 2017 • entertainment • News • online gambling • Politics • Real Money Online Slot Games • USA Casinos