Washington DC Casinos & Gambling Guide 2023
If you're looking to gamble from or in Washington DC, you need to read this guide first as your options are few and far in between. There are indeed some land-based casinos nearby and a lottery-owned sportsbook, but to really gamble you'll need to visit the offshore casinos. We'll talk you through all the options for Washington casino players right here on this page, so you'll be able to make your choice.
Read on to find:
Land-based casinos in and around Washington DC

District of Columbia gambling legislation

Best offshore online casinos for Washington DC

Frequently asked questions
Best Washington DC Online Casinos
Washington DC Casinos – An Overview
The situation regarding gambling in Washington DC isn't too favorable for the player. It is a nice coincidence that the state of Maryland allows land-based gambling and that a part of Washington is actually in Maryland, so there's a large casino within city limits.
But other than that, there are no gambling facilities whatsoever in this area with 700,000 inhabitants. No card rooms, no poker, no bingo. There is DC Lottery, there is an online sports betting site ran by the DC Lottery, and there's that large casino that is technically in Maryland.
This is why a large portion of Washington DC gamblers turns to offshore online casinos that you see on this page. It is simply the most convenient option even if you visit land-based casinos occasionally, and it's practically the only way to play the most popular slot games from Washington DC.
If you intend to visit those casinos, do sign up through our links, as that makes sure you can get all the best exclusive offers you see on this page.
Washington DC Gambling & Casinos – Legislation
There are no commercial or tribal casinos in the District of Columbia, nor there are any parimutuel options. There are no card rooms either. That means that DC is deprived of any kind of land-based gambling activities, except for several games of chance that are allowed under the umbrella term of lottery.
This is because the area is far too small and deprived of Indian tribes, so no Indian casinos are possible, and the political decision is to prohibit commercial-style gambling.
There is one exception to the rule, however, that opened up the doors for future gambling legislation in Washington DC.
The Sports Wagering Lottery Amendment Act of 2018 marked the launch of Washington DC's own sports betting app and website that is run by the DC Lottery. Betting on collegiate games and events, including player prop bets, is prohibited.
When it comes to US casinos, poker and bingo, there is nothing of the sort in Washington DC, at least in the DC part. There is a large casino within the Washington DC city limits, but in the state of Maryland.
Other Casinos Near Washington DC
Since there are no casinos in the city of Washington DC, people who are looking to gamble in a land-based casino will have to head over to Maryland. Fortunately, the state of Maryland, where gambling is legal, surrounds Washington DC so it isn't a long drive at all.
The offer of casinos near Washington DC is very interesting – there are two large casinos, by MGM and Caesars, an interesting chain of casinos with slot-like games in Virginia, and a very small family-owned casino with 85 slots.
If you're willing to drive a bit longer, there are eight more land-based casinos within the 100-mile radius that we didn't mention here as that's just too far away and none of them is a resort of such size that would make a long drive feasible.
So let's start with the largest and nearest casino, that is likely the best overall choice if you want a full casino experience at the highest level. This is your best option if you want to gamble at a real casino in Washington DC.
MGM National Harbor Hotel & Casino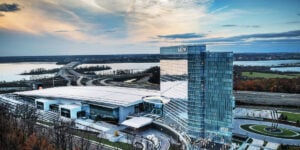 The MGM National Harbor opened in 2016 and is a very large casino complex that was built to cater to the residents of Washington DC. It is in fact in the Maryland suburbs of Washington DC. You'll find everything you need in this casino: sportsbook, race book, poker, slots, table games, casino events, rewards, promotions, entertainment, dining and nightlife. MGM National Harbor has it all.
Address:

101 MGM National Ave, Oxon Hill, MD 20745

Gaming space:

125,000 sqft

Games:

2,800 slots, 120 table games, sportsbook, race book, poker

Hotel rooms:

308

Amenities:

live shows, fine dining, bars, spa, shopping, pool, fitness
Rosie's Gaming Emporium Casino, Dumfries
Rosie's Gaming Emporium in Dumfries, Virginia, is one of six Rosie's locations in Virginia. There is a $372 million location in Dumfries called The Rose Gaming Resort that is due to open in 2023, with a 50,000 sqft gaming space and 1,100 machines, so there will be two Rosie's locations near Washington DC. This is a brand that was launched in 2019 and that features no traditional slots or poker, but instead offers slot-like machines that use past results of horse races to generate randomness.
A&A Gaming Chesapeake Beach
A&A Gaming is a casino and bingo hall operated by the Abner family. It's a very small establishment that started with 8 machines in 2007 and has since grown to – 85. It is located 30 miles southeast of Washington DC, on the shores of Chesapeake Bay. It's a very, very small establishment – you will not go there intentionally but will only pay it a visit if you're passing by.
Horseshoe Casino Baltimore
This is the second-largest casino in Baltimore and the one closer to Washington DC, it's only 31 miles from the city center. It's right next to the Baltimore Ravens stadium. The two-story casino holds a 24/7 liquor license as the only bars in Maryland that are allowed to serve alcohol around the clock are casinos. This is your standard big-franchise casino, if that's the experience you prefer, but it seems inferior to its competitor, the MGM Casino.
Address:

1525 Russell St, Baltimore, MD 21230

Gaming space:

122,000 sqft

Games:

1,600 slots, 105 table games, WSOP poker room, Caesars sportsbook

Hotel rooms:

n/a

Amenities:

premier restaurants, bars and lounges
Washington DC Online Casinos
Unless you want to visit one of the nearby casinos in Maryland or Virginia, you won't be able to gamble at a land-based casino in the District of Columbia since it doesn't have any such facilities, not even card rooms.
There is also no way to gamble online legally unless you want to place sports bets on the DC Lottery owned website.
Therefore, the only option that makes sense is to visit an offshore online casino as DC laws don't apply to those. What matters is choosing the right casino, and we at PlaySlots4RealMoney.com are here to help with that as we thoroughly review all online casinos. We are presenting only the best online casinos to you on this page. These casinos accept Washington DC players, so go ahead, click the links and register a player account. You'll be able to play for real money and withdraw real money.
Gambling & Casino Taxation For Washington DC
Federal law requires the DC Lottery to report any winnings of over $600 to the IRS and to withhold 25% of any claim of more than $5,000. Lottery winnings are also subject to state income tax, which in DC's case is 8.5%.
Washington DC Casinos FAQs
Does Washington DC have casinos?
No, Washington DC technically doesn't have any casinos, at least not within the District of Columbia limits. There is a large MGM casino in Maryland, in the suburbs of the city of Washington, though.
Is it legal to gamble in Washington DC?
There is no legal way to gamble in Washington DC, unless we're talking about the DC Lottery or the DC Lottery owned sportsbook. This is likely to remain the case in the foreseeable future.
How old do you have to be to gamble in Washington DC?
The legal gambling age in DC is 18, but since almost all gambling is prohibited, this only means that you're able to buy a lottery ticket. Underage persons can receive a lottery ticket as a gift and still get the winnings, under certain conditions.
Can Washington DC residents play at online casinos legally?
Washington DC residents can play at offshore online casinos as the DC laws don't apply to these casinos. This is actually the only way to gamble online from Washington DC as there are no licensed casinos.