Wyoming Casinos & Gambling Guide 2023
Are you looking for gambling options in Wyoming? On this page we'll explain all the gambling verticals that are available to you, from four Indian casinos in the Wind River Reservation, to playing online at licensed sportsbooks and offshore casinos.
The key things you'll find on this page:
Four tribal casinos in Wyoming reviewed
Legal online sports betting in Wyoming
Online offshore casinos that accept Wyoming players
Local gambling laws and taxation
Best Wyoming Online Casinos
Wyoming Casinos – An Overview
The state of Wyoming has four Indian casinos, and no state-licensed casinos. All three tribal casinos are located on the Wind River Indian Reservation, in the Fremont county that is located centrally in the state. Three casinos are owned by the Northern Arapaho tribe and one by the Eastern Shoshone tribe.
The two smaller gambling establishments are the 789 Casino and the Little Wind Casino, both owned by the Northern Arapaho tribe. And then there are the two large resorts that you'll want to visit for the weekend – the Shoshone Rose and the Wind River, one owned by each of the two Wyoming tribes.
789 Smokeshop & Casino
The 789 is actually a smokeshop with slots. It looks more like a gas station than as a casino, and it was the first legal gaming venue in Wyoming that started out as a bingo hall. It's worth visiting for its historical importance for gambling. It offers a gas station, convenience store, a restaurant, and about 200 slot machines plus some video poker games. There is a bingo hall that's open on Friday and Saturday evenings. It's located six miles from the Wind River Hotel & Casino.
Address: 180 Red Wolf Place, Riverton, WY 82501
Gaming space: n/a
Games: 200 slot machines, video poker, bingo
Hotel: n/a
Amenities: restaurant, gas station
Little Wind Casino
The Little Wind Casino is indeed little, as it basically offers 170 slots, 5 blackjack tables, and a restaurant serving Indian tacos, fried bread and chili. This is a very small establishment that's more intimate and friendly than the others, as it's rarely crowded. Those players that prefer smaller casinos will enjoy this one.
Address: 800 Blue Sky Hwy, Ethete, WY 82520
Gaming space: 7,000 sqft
Games: 170 slot machines, 5 blackjack tables
Hotel: none
Amenities: Morning Star restaurant
Shoshone Rose Casino & Hotel
The Shoshone Rose Casino & Hotel is a small casino that still manages to capture and offer the atmosphere of much larger gambling establishments. The casino floor looks the same as in Vegas, except that it's much smaller, so when you're playing your slots you won't know the difference. The casino and the hotel are located practically in the middle of nowhere with dirt all around, so the only things you can enjoy are the actual hotel and casino facilities.
Address: 5690 US-287, Lander, WY 82520
Gaming space: 7,000 sqft
Games: 300 slot machines, 5 table games, video poker, three blackjack tables
Hotel: 60 rooms
Amenities: Two restaurants, heated pool, hot tub, gift shop, meeting space
Wind River Hotel & Casino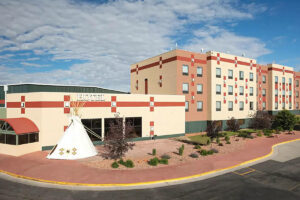 The Wind River is the largest casino in Wyoming, and it seems to be the most impressive of the four casinos available, though you will undoubtedly want to visit them all since they're located right next to each other. Nothing about the Wind River Hotel & Casino stands out in terms of numbers as the gaming space is only 25,000 sqft and the hotel has only 90 rooms, but this is a really nice place that's definitely worth visiting, as the atmosphere of this place is second to none.
Address: 180 Red Wolf Place, Riverton, WY 82501
Gaming space: 25,000 sqft
Games: 800 slot machines, 10 casino gaming tables, VIP room, poker
Hotel: 90 rooms
Amenities: Two 24-hour restaurants, espresso bar
Wyoming Gambling & Casinos – Legislation
Things looked grim for a long time in Wyoming as the legal forms of gambling included only charitable games, bingo, and parimutuel betting. Despite the Indian Gambling Regulatory Act of 1988, the state was refusing to let the federally recognized Indian tribes erect fully-fledged casinos.
The Northern Arapeho tribe then sued the state over its right to construct and open a casino in Riverton with Class III games. The tribe claimed that it had every right to offer Class III games – which includes slots – as these were already permitted during charitable events. In 2004, the federal case was concluded, and the Northern Arapeho tribe won. This allowed the Eastern Shoshone tribe, the only other tribe in Wyoming today, to jump in and negotiate their own deal.
While the tribal casinos are allowed to offer Class III games, the local racetracks aren't allowed to, and they must resort to offering slot machines that generate random outcomes based on historical horse racing data. So, in Wyoming, the only real slot machines are those found in Indian casinos.
Sports betting is legal and active in Wyoming, as the market opened up on 1 September 2021 when legislators passed a bill to create legal Wyoming sports betting environment. Gov. Mark Gordon signed HB-133 into law. BetMGM, FanDuel and DraftKings are the three well-known brands that are active on the Wyoming market. Each of the operators pays $100,000 for an initial five-year license and then $50,000 for every five-year period afterwards. Sports betting revenue is taxed with 10%, with the first $300,000 going towards gambling addiction treatment.
The sports betting bill came after a long period when nothing happened after PASPA was struck down by the Supreme Court, and it seemed Wyoming didn't care about legalization of sports betting. But, it turned out, it did, and three years after the PASPA event Wyoming suddenly had legal sportsbooks.
The Wyoming Lottery was launched really late, in 2013, and it doesn't belong to the Multi-State Lottery Association as Wyoming didn't take part when the Association was first formed. There is a state lottery with several different games, and these include Powerball and Mega Millions. It's interesting to note that of the participating states, Wyoming (together with Mississippi and North Dakota) never sold a winning ticket for either Powerball or Mega Millions.
There are three poker rooms in Wyoming. Two are independent cardrooms, while the Wind River Casino operates the third one. All of these venues are very small so they don't host any major tournaments, not even close, but small tournaments are organized on a weekly basis.
Bingo is allowed in the state, especially as the Northern Arapeho tribe used to operate a bingo hall before being allowed to turn it into a full-fledged casino. Charitable games, social gambling and raffles are also allowed.
Indian Wyoming Casinos
As we already explained, all the casinos in Wyoming are Indian casinos. The Northern Arapeho tribe operates the 789 Casino, Little Wind Casino, and the Wind River Hotel & Casino. The Eastern Shoshone tribe operates the Shoshone Rose Casino & Hotel. All four casinos are in the Wind River Reservation, in Fremont county, where these two tribes live. There used to be 11 tribes that either originated or passed through Wyoming but only these two remain today.
Wyoming Online Casinos
While the state of Wyoming doesn't wish to get involved with regulating the online gambling landscape, that doesn't mean that the players don't have any options. Quite the opposite, they do, it's just that these options don't include the big brands such as BetMGM as these only operate in areas where they can get a proper license. In Wyoming, there is no way to do so.
The online casinos that are accepting Wyoming players are operating in a similar grey area to Daily Fantasy Sports sites. While the DFS sites claim that their games are skill-based and Wyoming didn't bother to object, the US-friendly online casinos that operate offshore have no ties to the local state laws. In other words, the local laws don't apply.
Since the state of Wyoming doesn't really enforce any kind of ban on gambling, Wyoming players are free to play for real money at offshore online casinos. There are hundreds if not thousands of such sites that would gladly accept money from Wyoming, but we made it our business to select the ones that have been paying back the winnings without a single problem in recent years.
We not only carefully examine all aspects of an online casino before we include one on PlaySlots4RealMoney.com, but our reviewers actually get $100 to spend at the casino. They claim the welcome bonuses, play the games, and finally withdraw the winnings. We know what red flags to look out for by now, and if you see a casino on this page, it means that it didn't raise one during the review process.
Gambling & Casino Taxation For Wyoming
Wyoming is one of the states with the lowest taxes in USA. There is no statewide income tax, the state has a 4.00% state sales tax, a maximum local sales tax rate of 2.00%, and an average combined state and local sales tax rate of 5.36%. This only goes to show how low the taxes are in Wyoming.
There is no specific gambling tax in Wyoming, nor an individual income tax. Wyoming doesn't even tax Powerball winnings and is one of 13 states that won't even tax the retirement income.
Wyoming Casinos FAQs
Does Wyoming have any casinos?
Yes – Wyoming has four Indian casinos operated by two tribes that offer Class III games, which means slot machines. The two larger casinos, Shoshone Rose and Wind River, are the main points of interest for gamblers in the state, as they offer affordable and nice hotel rooms as well as many amenities such as restaurants and bars.
Which cities in Wyoming have casinos?
All four land-based casinos in the state of Wyoming are located in the Wind River Indian Reservation, where both of the remaining tribes live. Two are in Riverton, one in Ethete and one in Fort Washakie.
Are there any casinos in Cody Wyoming?
There are no casinos in Cody, but there are four a bit to the south, in the Wind River Indian Reservation. The reservation is a two-and-a-half drive away so it's still a viable option, especially as there are two resorts that have hotel rooms.
Is gambling legal in Wyoming?
Wyoming isn't one of those states that restrict gambling, and at the moment you can gamble at one of four land-based tribal casinos or place sports bets online at regulated sportsbooks. Those are the only options, as gambling in non-tribal casinos isn't allowed.