Idaho Casinos & Gambling Guide 2023
If you're looking to gamble in Indian casinos in Idaho or at online casinos, you'll find all the information you could possibly need right here on this page. We'll describe each of the eight tribal gambling establishments in Idaho in detail, and also tell you how and where you can gamble online from Idaho.
Some of the key things you'll find on this page:
Idaho tribal casinos reviewed
Offshore casinos that accept Idaho players
Local gambling legislation and taxes
Frequently asked questions
Best Idaho Online Casinos
Accepts Players From Most Countries
RTG Software
Great Customer Service
Payouts In Less Than 1 Day
Crypto & Tons of Banking Options
Mobile Friendy
Mobile App
Live Chat
Allows Sports Bettting
Has a Racebook
Accepts USA Players
Unique Casino Games
BetSoft Casino Gaming Software
Great Customer Service
Fast Payouts
Live Chat
Mobile Phone Casino
Accepts USA Players
Fast Payouts
Real Time Gaming Software
Excellent Graphics
Large Selection Of Games
Great Bonuses
Awesome Customer Service
Idaho Casinos – An Overview
There are eight gaming establishments in Idaho where you can play bingo-based slot machines, but not all of them are casinos. Some are simply grocery stores with a dozen machines, some are truck stops. On the other hand, some are really large resorts that deserve to be called casinos.
There are no commercial casinos in Idaho, as it's the tribes that have the exclusive right to offer gambling games.
If you want a proper casino or a resort with a casino, then there are four casinos to consider: Coeur d'Alene, Clearwater and Kootenai in the north, and the Shoshone-Bannock in the east.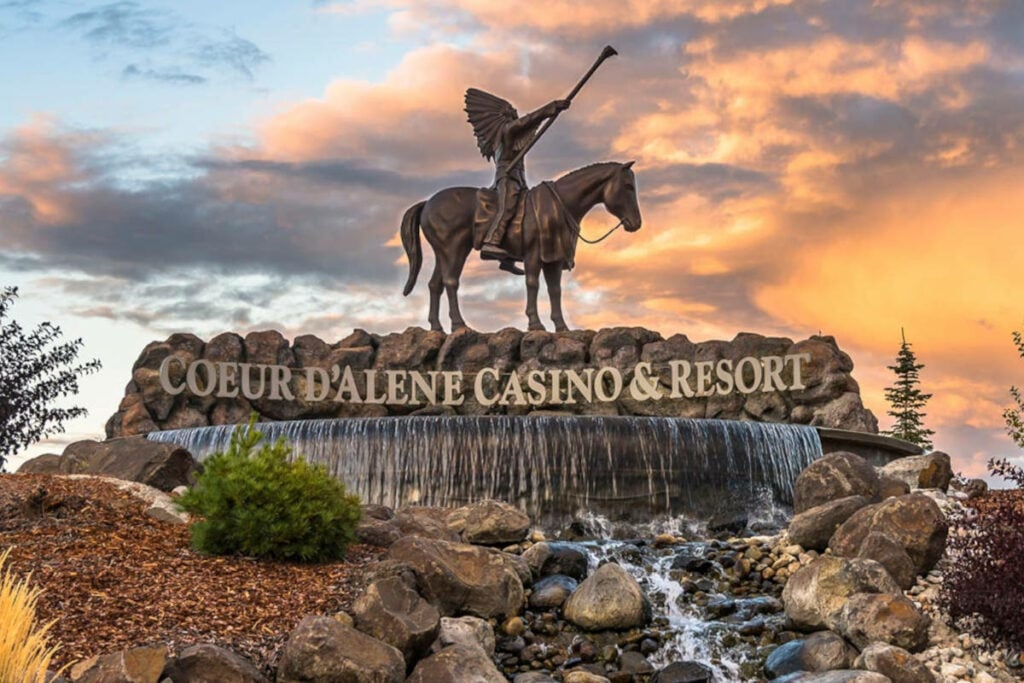 Coeur d'Alene Casino
The largest casino in terms of games offered in Idaho is the one that's near the border with Washington. It's a large tribal casino resort in the Coeur d'Alene Reservation. This is the place you visit when you want to relax for a few days, a little piece of Vegas right here in Idaho, sprinkled with Indian culture all around. The championship golf course is a particular treat.
Address: 37914 S Nukwalqw St, Worley, ID83876
Gaming space: 60,000 sqft
Games: 1,400 gaming machines
Hotel and amenities: 300 rooms; golf, shopping, spa
Shoshone-Bannock Casino
The Shoshone-Bannock Casino is a very large casino in the east of the state that has an 80,000 sqft gaming floor and a 8,000 sqft bingo hall on the side. In terms of gaming space this is the largest casino in Idaho, so if you want a large casino, it's basically a choice between Coeur d'Alene in the north and this one in the east. Although, this is not a resort, it is more of a shopping mall in style and appearance.
Address: 777 Bannock Ave, Fort Hall, ID 83203
Gaming space: 80,000 sqft
Games: 900 gaming machines, bingo
Hotel & amenities: 153 rooms; bars, dining, shopping
Clearwater Casino & Lodge
This tribal casino resort is in the north, and features an RV park, which immediately reveals Clearwater Casino & Lodge as a family destination that has a casino as well. There is a lot to like about Clearwater Casino & Lodge so if you intend to travel for the weekend, look into this resort first. Despite its small gaming floor and the absence of hotel as it has lodges, it's definitely worth a look.
Address: 17500 Nez Perce Rd, Lewiston, ID 83501
Gaming space: 18,000 sqft
Games: 600 gaming machines, bingo
Hotel & amenities: 50 rooms, two suites with jacuzzi; dining, pool, event center, RV park
Bannock Peak Casino
Shoshone-Bannock Casino is a large one but the nearby Bannock Peak Casino is no more than its little brother as it features only 60 gaming machines. This is a facility that's interesting only to the truckers that pass by as it's right next to the Bannock Peak Truck Stop.
Address: 1103 E County Rd, Pocatello, ID 83204
Gaming space: 2,700 sqft
Games: 60 gaming machines
Hotel: none
Sage Hill
This is the third and final casino in the group of casinos operated by the Shohone-Bannock tribes, and it too, just like Bannock Peak Casino, caters to truckers. It even has a Truckers Lounge, as well as showers, convenience store and, of course, a gas station. There are around 100 gaming machines.
Address: 843 N Treaty Hwy, Blackfoot, ID 83221
Gaming space: 10,000 sqft
Games: 100 gaming machines
Hotel: none
It'se Ye Ye
It'se Ye Ye is a casino you'll encounter on your way to Clearwater Lodge, and will probably stop for a bit to eat something and play some casino games, but won't stay for long.
Address: 419 3rd St, Kamiah, ID 83536
Gaming space: 6,000 sqft
Games: 110 gaming machines
Hotel & amenities: RV park
Benewah Market Family Foods
The Benewah Market is just a small establishment near Coeur d'Alene that offers exactly 13 gaming machines. If you can't wait to play some games while driving to Coeur d'Alene, you'll make a stop here.
Address: 1111 Birch St, Plummer, ID 83851
Gaming space: n/a
Games: 13 gaming machines
Hotel: none
Kootenai River Inn Casino & Spa
The northernmost casino in Idaho is a proper tribal resort. You'll get everything you need here to relax, from spa and pool to 400 gaming machines and some bingo. The resort is in a very remote location so pretty much all you see around you is wilderness. Kootenai River Inn lacks the grandeur of Coeur d'Alene, it's just a retreat in the wilderness that has gaming machines.
Address: 7169 Plaza St, Bonners Ferry, ID 83805
Gaming space: 30,000 sqft
Games: 400 gaming machines, bingo
Hotel & amenities: 65 rooms, 4 suites; arcade, convention center, spa, pool
Idaho Gambling & Casinos – Legislation
Idaho has an interesting relationship with gambling. Initially, in the 1800s, gambling was popular and regulated by individual towns, but in 1953 the legislature passed a statewide prohibition.
Then, one by one, exceptions were made and all that led us to this point where gambling in Idaho is allowed but very tightly regulated. Horse race betting was allowed in 1963, state lottery in 1989, tribal gaming in 1992, charitable bingo and raffles in 1993, off-track betting in 2011 and historical horse racing (HHR) in 2013.
The gambling laws in Idaho are enforced. The authorities even managed to force the DFS companies out of the state. Same fate would await any entity that tries to go against the state law. Fortunately, that doesn't include the players who play at offshore gambling sites, as none was ever prosecuted for doing so.
The tribal casinos must stick to Class II games, which include bingo-style slot machines that are functionally similar to slots but are actually running on bingo game mechanics. Live poker is a Class II game but it's illegal in the state so you won't find it at any of the tribal casinos or elsewhere in Idaho. Even a small-stakes poker game by the pensioners in 2010 was raided by the authorities. When Idaho authorities say no, it means no.
Class III games such as slots and Blackjack aren't allowed. There is legal room for a deal to be negotiated, but the state has so far declined to do so. This yet again strengthens the argument for offshore play, as Idaho residents can only play slots or Blackjack online at offshore sites.
Parimutuel betting on horse and dog races, which includes simulcast betting, is legal in the state. Sports betting is not, hence the firm stance against DFS companies. Even after 2018 and PASPA there has been no inclination whatsoever from the Idaho authorities to allow and regulate sports betting. It's not happening anytime soon.
Bingo is available both as a charity game and as a Class II casino game in tribal casinos. Lottery is also available everywhere, including Powerball and Mega Millions.
Indian Idaho Casinos
All the casinos in Idaho are tribal casinos and there are eight of them, four of which are large enough to be worthy of a visit, while the other four are just for passers-by.
Coeur d'Alene, Kootenai River Inn and Clearwater Casino & Lodge are in the northern part of Idaho where the largest Indian reservations are, and Shohone-Bannock casino is in the eastern, urban part of the state.
If we'd have to narrow it down further and say which two tribal casinos in Idaho are the best ones to visit, it would probably come down to Coeur d'Alene and Clearwater Casino & Lodge. The remaining two that we mentioned are also large tribal casinos, but somehow lack the charm. If you want a tribal casino experience in Idaho, it's Coeur d'Alene or Clearwater.
Casinos near Boise Idaho
There are no casinos near Boise, Idaho, but Boise residents still have two viable options to choose from. One is to drive east for three to four hours towards a group of casinos in and near Fort Hall (Bannock Peak Casino, Shoshone-Bannock Casino, Sage Hill) or head north to the wilderness of the Nez Perce Reservation. That's where It'se Ye Ye and Clearwater Casino & Lodge are located. The remaining three casinos in the state are even further north.
So, it's a matter of traveling for four hours east to an urban casino or five hours north to treat yourself to a weekend getaway at an Indian reservation. Or, simply explore the option that we'll explain in detail in the next section.
Idaho Online Casinos
If you don't want to travel to tribal casinos or don't want to on a given day but still want to gamble, you should explore the online offshore casinos that accept Idaho players. No player was ever prosecuted for gambling online in Idaho, so you're safe.
We made sure to hand select the casinos that deserve inclusion on this page and that deserve to be presented to you as the best casinos that accept Idaho players. We carefully review all casinos, and on this page you'll see only those that passed our checks with flying colors. Sign up with any of them using our links and deposit money whenever you feel ready. They are all quality sites.
Gambling & Casino Taxation For Idaho
The lottery automatically deducts federal and state income taxes from any winnings above $5,000. The federal tax rate is 24% and the Idaho tax rate is 5.8%. Gambling losses are deductible.
Idaho Casinos FAQs
How many casinos are there in Idaho?
There are eight facilities that offer gambling machines in Idaho, but only four of them could be called proper casinos as they are tribal resorts. You will usually hear that there are eight casinos in Idaho, but in reality, only four matter.
Are casinos legal in Idaho?
Yes, tribal casinos are legal in Idaho, but commercial casinos are not. Also, all casinos in Idaho can only offer Class II games, so no slots or blackjack are available, just bingo-based slot-like machines. Poker is prohibited too, and so is sports betting, so basically all Idaho players can play legally are bingo-style slots, bingo, lottery and parimutuel betting.
Which towns in Idaho have gambling?
You'll find several towns in the Shoshone-Bannock county that have gaming machines, most notably Pocatello and Port Hall. Most of the other casinos are in remote areas of Idaho, in the north.
Can you gamble online from Idaho?
Yes, you can gamble online from Idaho if you register an account with one of the US offshore casinos. You can play for real money, win, and withdraw your winnings without any problems. Visit any of the casinos we list on this page and use our links to do so, because that makes sure you can get the exclusive deals.