Utah Casinos & Gambling Guide 2023
If you're looking to gamble in Utah, the situation isn't as dire as you might think, as there is a gambling mecca with five casinos less than two hours from Salt Lake City, and offshore online gambling is always an option if you know which sites to trust. We'll guide you through all gambling options in Utah on this page, so keep reading.
The key things you'll find on this page are:
Utah gambling laws and legislation
Casinos near Utah
Online gambling in Utah
Frequently asked questions
Best Utah Online Casinos
Utah Casinos – An Overview
The entire state of Utah, 85,000 square miles of it, is completely devoid of casinos or any other kinds of gambling establishments. There is not even a lottery ticket to buy anywhere, there is no charitable gambling, no bingo, nothing. To gamble at a land-based casino, Utah residents must travel to neighbouring states, as we'll explore in detail later on this page.
For now, let's just briefly mention that the closest gambling state is Nevada and its city of West Wendover that is right on the Nevada/Utah state border. Depending on where you live in Utah, you might find the Idaho casinos in the Shoshone-Bannock county closer.
Finally, the next closest casinos from Salt Lake City would be those that are located deeper in the state of Nevada. And that's about it for the 300-mile radius.
Of course, if you live in the southwestern part of Utah, then by all means, go a bit more southwest and you'll be in Las Vegas.
Utah Gambling & Casinos – Legislation
Utah is one of only two US states that don't allow gambling in any shape or form, the other one being Hawaii. The prohibition of gambling is embedded in the Utah constitution and can be traced back to the state's Mormon roots.
The state of Utah is home to eight federally recognized Indian tribes, but despite the Indian Gaming Regulatory Act of 1988, Utah simply declined to sign compacts with them. Likewise, when everyone else was joining the Multi-State Lottery Association, Utah simply declined to establish a state lottery.
The one and only event when Utah legislators did anything that would be a step towards allowing gambling was in 1925, when parimutuel horse race betting was legalized within the state lines. It was repealed in 1927, and Utah has remained a completely gambling-free state ever since, if you don't count the offshore online casino gambling that Utah residents must resort to.
If anything, the Utah state legislators are on a mission to keep the state gambling-free, and are actively monitoring all the latest developments to prevent any kind of gambling activity to fly under the radar and become legal in the state.
In numerous states, the casino game developers and operators must resort to making their slot machines have a game engine that's based on an allowed form of gambling. Such as bingo or past horse race results. That won't work in Utah, since no form of gambling is allowed, including lottery, so there is no way to disguise any game to make it legal.
Utah also doesn't have legal live poker cash games or tournaments, and this is one truly skill-based game, so there is no way around the firm stance of the Utah authorities. Even the skill games such as poker are not allowed, and neither are the usual harmless games of chance such as bingo or lottery, and everything in between is prohibited as well. In other words, there is zero gambling allowed in Utah.
One notable thing that shows how firm the Utah's stance against gambling is is that even home poker games that don't include rake aren't allowed. If you get caught playing, it's a Class B misdemeanor.
However, there is always a way to gamble, especially when you happen to be bordering with the gambling state.
Wendover Utah Casinos
West Wendover is a small city in Elko County, Nevada, with a population of 4,410, that is often confused with Wendover, Utah. While Wendover is in Utah and therefore no gambling could possibly take place, West Wendover is in Nevada and is making the most out of its prime location on the I-80, just past the state border.
West Wendover, a city with 1,100 residents and five casinos, is less than a two-hour drive west from Salt Lake City, which for most people in Utah will be closer than the tribal casinos near or in Pocatello, Idaho, to the north. On the plus side, West Wendover also has a cannabis dispensary, if gambling wasn't enough to entice Utah residents to come on over.
The first casino in West Wendover was constructed in 1983, so 40 plus years ago, and the last ones were built around late in the 20th century, near the year 2000. So, gambling in this small city isn't going away, as there's nothing Utah authorities can do about it.
Let's cover the five Utah-facing casinos in West Wendover in detail. They're all within a mile radius so we won't bother with the actual street addresses. You can't miss any of them.
Montego Bay
The Montego Bay Hotel Casino Resort is the first casino you'll see if you reach West Wendover via I-80. This casino as well as Rainbow and the Peppermill are all owned and operated by Peppermill Casinos, Inc. This is a large facility that justifies the 'resort' part of its name. It has 40,000 sqft of gaming space with over 800 slots, as well as 552 rooms in its 2-star hotel. Don't be fooled by the stars, some of these rooms are absolutely stunning suites. This is the newest casino in the city, and it features an outdoor pool and jetted tubs, and a fitness facility.
Wendover Nugget
Just across the street from the Montego Bay Casino, Wendover Nugget is possibly the most famous one. There is a connecting skyway between the Nugget and the Montego Bay, so the two share traffic. Both casinos' buildings are so close to the state lines that their parking lots are actually in Utah. There is 47,500 sqft of gaming space with over 700 slots, and the 2-star hotel has 426 rooms and 64 suites. On Fridays and Saturdays you can enjoy local and national acts in the live entertainment venue. Maverick Gaming owns the casino, same as the first casino that was constructed in the city, Red Garter.
Peppermill Wendover
The Peppermill Wendover is a casino that doesn't have the prime location of the first two casinos on this list that catch the passers-by before they think of anything else, and also doesn't have the luxury of having other notable things around, like the next three on this list. This casino is somewhat unremarkable but still offers 36,000 sqft of gaming space and 382 rooms. What's interesting about the three casinos owned by Peppermill Casinos is that you can earn exclusive rewards while playing at either of the three casinos. Simply earn points by using your card while playing slots, table games or betting at the racebook or the sportsbook.
Rainbow Hotel Casino
The Rainbow Hotel Casino is located in a hugely popular area that also includes McDonald's, Burger King, Fratelli Pizza, Arby's, and many other points of interest, including the next casino on this list. The Rainbow Hotel Casino offers 429 luxurious rooms and suites, an indoor pool and jetted tubs, as well as restaurants and other amenities. There is almost 57,000 sqft of gaming space with almost 900 slot machines. Unlike most hotels in this city, this one has a 3-star rating, but actually the rooms look quite unremarkable compared to the two newest hotels in the city that are right on the border.
Red Garter Hotel & Casino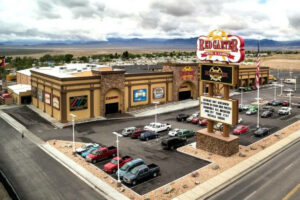 Finally, the Red Garter Hotel & Casino is the last one in West Wendover if you're traveling from the Salt Lake City direction, which most people are doing, and also the smallest. It features only 12,500 sqft of gaming space and a hotel with 108 rooms. It's notable as it was the first casino opened in West Wendover, in 1983, and then the other ones followed, claiming space closer and closer to the Nevada/Utah border up until the point where the parking lots ended up being in Utah.
Utah Online Casinos
Unless you want to drive to West Wendover – which every Utah resident should do at least once just to experience the beauty of the small town with five casinos and lots of happy people – you have the option of online gambling.
The state of Utah refuses to hand out any sort of license to any gambling operator, which means there is no way – nor there will be one – to gamble legally in the state. But you can gamble at an operator that's technically not only out of state but out of country, so local laws do not apply.
However, the state of Utah seems to enforce the class B misdemeanor charges whenever it catches a person that is unlawfully gambling online, regardless of what the person was doing and where the operator was located. In Utah, it's important to be extra careful when gambling online. Use a VPN if the casino will allow it, and don't go around telling people about your gambling activities.
We curated the list of best USA offshore online casinos that accept Utah players, so browse through the casinos displayed on this page and pick one you like. You can win real money at these casinos, and you can be certain the casinos shown here are legit as our reviewers spent a lot of man hours to find the best ones.
Gambling & Casino Taxation For Utah
Since all forms of gambling are illegal in Utah, there is no possible way to file a gambling win on your tax return. If you attempted to do so, you would most certainly be facing a misdemeanor charge.
Utah Casinos FAQs
Are there casinos in Utah?
No, there are no casinos in Utah and there never will be, but the small city of West Wendover in Nevada is just across the state border, two hours from Salt Lake City, and it has five casinos. If you live in the southern, preferably southwestern part of the state, then Las Vegas or at least Reno will be nearby.
What cities in Utah have casinos?
No city in the state of Utah has casinos, but the city of Wendover, Utah is pretty close as it borders with the neighbouring West Wendover that is in Nevada and that has five casinos.
Can you legally gamble in Utah?
No, there is absolutely no legal way to gamble in Utah. All forms of gambling are prohibited, including the usual gambling activities that are often allowed elsewhere, such as lottery and bingo, charitable gambling, sweepstakes, parimutuel betting, and poker. The Utah authorities are really firm in their stance against gambling and are actively trying to suppress it.
Why are there no Indian casinos in Utah?
While the state of Utah should have acknowledged the Indian Gaming Regulatory Act of 1988 and should have given the eight federally recognized tribes the rights to construct casinos, it simply downright refused to do so. So, while the tribes in Utah technically should have the right to construct casinos, that right was unlawfully denied.