Maine Casinos & Gambling Guide 2023
On this page we'll talk about the land-based and online gambling options for the state of Maine, and explain the local gambling legislation and taxation. So if you're looking to play some casino games from the state of Maine, we'll tell you what games you can play for real money, and where.
Some of the key things you'll find on this page:
Two Maine casinos near Portland reviewed
Online casinos that accept Maine players
Maine gambling laws
Frequently asked questions
Best Maine Online Casinos
Accepts Players From Most Countries
RTG Software
Great Customer Service
Payouts In Less Than 1 Day
Crypto & Tons of Banking Options
Mobile Friendy
Mobile App
Live Chat
Accepts USA Players
Fast Payouts
Real Time Gaming Software
Excellent Graphics
Large Selection Of Games
Great Bonuses
Awesome Customer Service
Allows Sports Bettting
Has a Racebook
Accepts USA Players
Unique Casino Games
BetSoft Casino Gaming Software
Great Customer Service
Fast Payouts
Live Chat
Mobile Phone Casino
Maine Casinos – An Overview
You'll find two land-based casinos in Maine, catering to a population of over 1 million; one in Bangor and one in Oxford County. These are the only two casinos that have a state license and there aren't expected to be any new ones built. If there will be, a state-wide referendum would be required beforehand. The two casinos had a total annual net gaming revenue of $165 million as of 2022.
The Penobscot Indian Nation used to operate the Penobscot High Stakes Bingo in Old Town, which was the only tribal gaming facility in the state. Numerous attempts by the tribe to upgrade the gaming operation were blocked by the Maine officials, and eventually went out of business.
Let's just briefly mention the two casinos that exist in Maine, as we'll describe them in more detail in the Portland casino section.
Hollywood Casino, Bangor
The Hollywood Casino in Bangor belongs to a well-known Hollywood brand and it's operated by Penn Entertainment.
Oxford Casino, Oxford County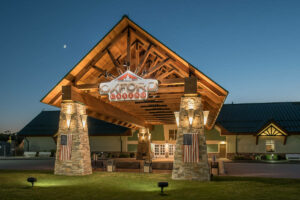 The Oxford Casino is owned and operated by Churchill Downs. This is the newer of the two casinos as it opened in 2012.
Maine Gambling & Casinos – Legislation
Two casinos are allowed under Maine state law, and each was approved by a state-wide referendum. In 2003, slot machines were approved by a referendum but rejected by local voters at Scarborough, so Bangor had the only permitted casino. In 2010 another referendum was held and that's how the Oxford location got its casino. In 2011, both casinos were allowed to include table games. The Indian tribes in Maine have no rights to operate a land-based casino.
The four federally recognized tribes have the exclusive right to offer mobile sports betting as well as high-stakes bingo games. While this looks good on surface, the tribes don't have the same rights as those in other states because the Maine Indian Claims Settlement Act subjects the tribal lands to stale law, and therefore the Indian Gaming Regulatory Act does not apply. The one operator of a land-based casino establishment, the Penobscot tribe, was de facto forced out of business by the legislators.
However, when Maine decided to pass legislation that authorizes sports betting in 2022, the right to offer mobile sports betting was offered exclusively to Maine's tribes. They will be able to partner with third parties to operate their online mobile sportsbook platforms. As far as retail sports betting goes, that will be available at the two land-based casinos in the state, as well as licensed racetracks and off-track betting facilities. At the time of writing, Maine is finding it difficult to find third-party betting partners as both DraftKings and FanDuel declined to take part due to the poor revenue sharing system, but BetMGM seems to be interested.
Charitable gambling is allowed in Maine, so community organizations can conduct various games of chance for fundraising purposes. This includes bingo, raffles and card games. Stakes, as well as prizes, can get quite large with these types of charitable games in Maine, so it's an avenue worth exploring if you're a high roller and want something different than the traditional casino games that are offered at the two casinos.
Maine allows private home poker games, and that's pretty much it as far as poker players are concerned. That means that if you're a Maine resident and are interested in poker, you'll have to resort to online poker play at offshore sites and will then have to visit real tournaments in other states.
There are two racetracks in Maine, one is the already mentioned racino Hollywood Casino Hotel & Raceway in Bangor, and there's also the Cumberland Fairgrounds in Cumberland. There are also three off-track betting parlors in Lewiston, Sanford and Waterville.
The Maine Lottery offers scratch-offs and drawing games, and Powerball and Mega Millions are also made available to Maine residents.
Casinos in Portland Maine
There are no casinos in Portland, Maine, but fortunately for Portland residents both of the licensed casinos are nearby, a one and two-hour drive, respectively.
Oxford Casino Hotel, Oxford, 40 miles from Portland
The casino that's nearer to Portland is the second one that opened in Maine after it was allowed in the 2010 referendum. The fact that table games were allowed during the construction of the casino meant that the table games can be incorporated in the main design of the facility. So, Oxford Casino has more table games than its Bangor counterpart. This is a slightly smaller casino but not by much, and there's no horse racing, compared to Bangor. For many people in Portland this will be the preferred choice as it's closer to the city. You can get to the Oxford Casino Hotel from Portland in an hour, which means this is the go-to daily gambling centre for all Portland players.
Address: 777 Casino Way, Oxford, ME 04270
Gaming space: 27,000 sqft
Games: 970 slots, 28 table games
Hotel: Four stories, 107 rooms
Amenities: Three eateries
Hollywood Casino Hotel & Raceway, Bangor, 130 mi from Portland
The Hollywood Casino in Bangor is a casino and a harness racing track, a racino, in Bangor. It is owned by Gaming and Leisure Properties and operated by Penn Entertainment. This a very nice establishment that is near enough to Portland to make it a viable trip, especially as there's a hotel with 152 rooms and suites. This is the first casino that was available in Maine, and it added table games in 2011. While you can still drive to Bangor and get back to Portland the same day, it's probably a better choice to make it a weekend trip and stay the night or two. The casino belongs to the well-known Hollywood brand so you know what you're getting, and there's a harness racetrack as well as a particular treat that sets this racino apart from the Oxford one.
Address: 500 Main St, Bangor, ME 04401
Gaming space: 30,000 sqft
Games: 1,000 slots, 12 tables, racebook
Hotel rooms: 152
Maine Online Casinos
If you don't want to drive to one of the two Maine land-based casinos or the games they offer aren't enough for you, then you always have an option of registering an account with an offshore US-friendly online casino that accepts Maine players.
These casinos are legit – at least the ones we list here – and are offering world class casino games at your fingertips. You don't have to drive anywhere and can play wherever you are – at home, at work, or in public transit even. Playing online is simply the best way to gamble in the state of Maine.
We test each online casino thoroughly. Our reviewers actually deposit $100 at each casino, claim the bonuses, play some games and then withdraw the money. This is what allows us to write an unbiased review from the player's perspective and tell you if the casino is good or not. Those that are not aren't listed here. On this page you're presented with only the best Maine casinos.
You'll find all the best slot games by Betsoft, Realtime Gaming and other smaller developers, as well as every table game you can think of, even live dealer table games at select casinos. Poker is also available.
So, visit any of the online casinos you see on this page and register a free account. Make sure to use our links when signing up as that guarantees you'll get all the exclusive deals if any are available. When you're ready to play for real money, simply make a deposit. We made sure that you'll be playing at casinos that pay the winnings without any fuss, as that's our main criteria for inclusion of a casino on this page.
Gambling & Casino Taxation For Maine
As usual, the state of Maine taxes the casinos. Net table game income is taxed at a rate of 16 percent. Slot game net income is taxed at a rate of 39 or 46 percent, depending on whether a casino also has a racetrack or not. So, the Bangor casino gets taxed a bit less than the Oxford one.
As far as the players are concerned, the tax is 5% for all winnings above $5,000. The Maine State Lottery will withhold federal and state taxes at 24% and 7.15% respectively on all prizes above $5,000.
This means that the gambling taxes in Maine are quite hefty for everyone involved, to the point where DraftKings and FanDuel declined to appear as third-party sports betting partners in the state. But at least you can deduct gambling losses.
Maine Casinos FAQs
Does Maine have any casinos?
Yes, Maine has two licensed casinos, and both are near Portland. The Oxford Casino is the one nearer to Portland as it's a one-hour drive away, while the Hollywood Casino in Bangor is located 130 miles from Portland, which is usually a two-hour drive, depending on traffic.
What are the four casinos in Maine?
Maine has two casinos, one is the Oxford Casino Hotel and the other is the Hollywood Casino in Bangor. There used to be an establishment ran by the Penobscot tribe but it went out of business. There are no other casinos in Maine and none are planned for construction at the time of writing. If there ever will be, any such decision would be preceded by a state-wide referendum.
Is gambling legal in Maine?
Gambling is legal in Maine, but it's only the two land-based casinos that have licenses to offer casino gambling. Other gambling verticals are also legal and also heavily restricted by legislation as they can only be offered by a small number of hand selected establishments. Maine is therefore one of those states that keep a tight grip – and heavy taxation – on gambling.
Who owns the casinos in Maine?
The Oxford Casino Hotel in Oxford is owned and operated by Churchill Downs, while the Hollywood Casino in Bangor is operated by Penn Entertainment and owned by Gaming and Leisure Properties. These are, therefore, commercial casinos and not tribal ones, as there are no tribal casinos in Maine.