Bellagio Las Vegas Review
Located at 3600 Boulevard South, Las Vegas, The Bellagio Las Vegas casino falls in the category of major Nevada casinos that receive a massive number of guests each day. Apart from receiving many visitors on a daily basis, Bellagio Las Vegas has one of the biggest gaming and convention floors among Nevada casinos.
Here is a quick glance of some of the notable facts about Bellagio Las Vegas:
1. Poker tables installed inside the casino – 40.
2. Available gaming machines – over 2, 300.
3. Table games -136.
4. The facility is open 24 hours all the seven days in a week.
5. There are valet and self-parking.
6. Gaming space (gambling floor space) -155, 000 square feet.
7. Conference space (meeting space) – 117, 000 square feet.
8. There is also Bellagio Poker room where clients find ample space to enjoy poker.
9. Inside Bellagio, you'll find a salon, fitness center and spa.
Other venues of interest are Fountains of Bellagio, Fine Art Gallery, several lounges, The bank, Shadow Creek golf course and botanical gardens and a conservatory among many attractive sites. The Bellagio Las Vegas is also home to several 4 and 5-star restaurants that serve different local and exotic meals to all clients whenever they desire.
Some of the restaurants in Bellagio include
1.Quick Eats.
2. Roy Elllamar's Harvest.
3. Michael Mina.
4. Picasso.
5. Todd English's Olives.
6. The Buffet.
7. Julian Serrano's Lago.
8. Prime Steakhouse.
9. Le Cirque.
10 Jasmine.
Review Of Bellagio Casino In Las Vegas
Bellagio has everything any gamer would want and it doesn't stop there, those that have never tested gambling might as well want to jump into gaming after visiting Bellagio for the first time. The elegance, the style and some finer things that surround Bellagio Las Vegas, which are especially evidenced during the night can for sure draw someone into loving gambling. Before 2004, not many people could lodge at the Bellagio Casino. But things changed that year when the investor decided to put in more money in order to expand hotel rooms.
In fact, in that year alone, the operator added some 1, 000 guest suites and furnished them with special interior décor that resonates the beauty and elegance anyone could expect at the LVS.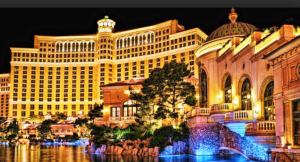 There is nothing that can deter visitors from booking a room in Bellagio because hotel rates start from $152 to $999 per night.
Enjoy The Bellagio Restaurants, Fountains & More.
With over 2, 000 video reel, video poker, reel, and various slots, gamers are treated to a high gaming ecstasy full of prizes and tournaments with some earning between $100, 000 and $2 million. The poker room is very special. Some 7, 000 square feet have been reserved to take care of some 40 poker tables.
Besides, visitors who play poker get dining services inside the poker room that is smoke-free 24 hours a day. If you do not want to be disturbed by anyone when enjoying your game, there are at least 2 high limit rooms that come with complimentary beverages around the clock. To book a room or for any inquiries, call (702) 693 7111 or visit www.bellagio.com.