Harlow's Casino Resort & Spa Review
Why do we say that Harlow's Casino Resort & Spa In Mississippi is the place you need to be? Well, from the name itself, you'll be able to know that it is not just a place where you can walk in and out only to do one or a few things. On the contrary! In fact, Harlow's, Casino Resort & Spa is one of the Mississippi casinos online that have caused an uproar especially when people are searching for a casino that will offer not only casino games but also other things such as food, fitness, pool, and meetings.
So, it is reasonable when you read the title that says Harlow's Casino Resort & Spa Is The Place To Be. But where can you find this facility? Well, Harlow's Casino Resort & Spa is located at 4280 Harlow's Boulevard in Greenville Mississippi.
Quick statistics about Harlow's Casino Resort & Spa:
• The number of table games inside the casino – 14
• The number of gaming machines available -727
• Harlow's Casino Resort & Spa is open 24/7
• Minimum bet amount is set at $0.01
• The is valet parking as well as self-parking
• Amount of casino space in this facility is 33, 000 square feet
• Some 10, 000 square feet has also been given to carter for convention
You will even realize that indeed Harlow's is the place to be when you start to fully utilize available amenities namely Tabu Lounge, the Event Center, the Harlow's Casino Hotel. The Woodhouse Day Spa and of course the Rhythm & Brews.
Hotel rooms at Harlow's will cost you something between $145.00 and $146.00. You will also enjoy dining at the three restaurants in this Mississippi Casino. Something that tells you that you will love the food at the restaurants is that it is prepared by qualified chefs who have many years of experience in the hotel and hospitality industry.
The three restaurants are:
• Sand Bar Café
• Louie's Steakhouse
• Delta Delights Buffet
The beauty about all the three restaurants is that together with the casino's schedule, they do not close their doors even for a second. That means you shouldn't be worried whether or not you'll get your preferred meal any time of day and night.
Honest Harlow's Casino Resort & Spa Review
Owned and entirely operated by Churchill Downs Inc., Harlow's Casino Hotel and Spa in Washington County is the ideal place for gamers both low and high rollers. With over 700 slots and video machines, 14 table games where you can play roulette, craps, blackjack among other games, you will be assured that you have made an excellent choice to be in the right place at the right time.
Inside the convention area, you will find some 600 seats that are nicely arranged for the convenience of your small or large meeting. This property has 105 guest rooms with all the necessary amenities inside the rooms.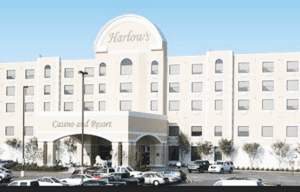 It is a good thing to know that upon finishing all your gaming, you will finally leave the premises with a gift to your loved ones thanks to the Harlow's Resort Gift Shop.
Popular games at The Harlows Casino include:
• Blackjack
• 3 Card Poker
• Caribbean Stud Poker
• Video Poker
• Craps
• Roulette
• Slot machines
• Mississippi Stud