Diamond Jacks Casino Vicksburg Review
Are You Ready To Learn Why You Should Visit Diamond Jacks Casino & Hotel in Vicksburg Mississippi? The Diamond Jacks Casino & Hotel is located at 3990 Washington Street in Vicksburg. It isn't a big casino, and in fact, among MS Casinos, Diamond Jacks Casino & Hotel might be the smallest regarding casinos space. Nonetheless, it has everything you need to enjoy your gaming.
For instance, visitors who check in the casino to play slot machines have been taken good care of because you will find up to 681 gaming machines as well as 13 table games. The minimum betting amount in this casino has been set at $0.01. That means those that do not have a healthy budget but still want to enjoy a slot machine can always do just as high rollers do. All visitors checking in Diamond Jacks Casino & Hotel will access plenty of parking spaces. Yes, you will get valet and self-parking space for your car.
With a casino space of some 30, 000 square feet, Diamond Jacks Casino Hotel is the ideal place for gaming for those who want to seek solicitude. Remember too that there is nothing sort of convention space. That in it means that the operator wants the best for gamers by giving them all the space there is.
After enjoying your various preferred games at the Diamond Jacks Casino & Hotel, you might find it applicable to enjoy seeing one of the notable amenities at the casino, the Lucky Bean.
There are also two restaurants from where you will serve your favorite meals. The two restaurants are:
• Legends Buffet
• DJ's Seafood & Steakhouse
Review of Diamond Jacks Casino & Hotel
Diamond Jacks Casino & Hotel is found at the very location where Isle of Capri Vicksburg once sat at 3990 Washington Street.
It is an ideal place for gaming because it gives people non-stop gaming experience 24/7 with lots of other entertainment, food, and social amenities to crown their day. You can get close to 700 reel progressive, video poker, and video bonus slots that take most of these gaming machines right inside the Diamond Jacks Casino & Hotel.
It is a good thing to note that the operator is keen to bring in fresh releases every time something is out on the market. That means you will never go back to Diamond Jacks Resort Casino to play the same old slots you played three months ago.
However, because there is still the high demand for classic slots, Diamond Jacks Casino has plenty of them in store. Notably, the facility is home to two restaurants that are also open twenty-four hours a day seven days a week. Also, the property also has a coffee shop that operates 24/7.
After enjoying a very fruitful day gaming, it is time to sleep. The only bready option is the Diamond Jacks Hotel. With 122 well-furnished rooms and suites, you are assured of enjoying your sleep as long as you want. The Hotel room rates are very affordable! You can enjoy playing the outdoor pool as well.
You May Also Like: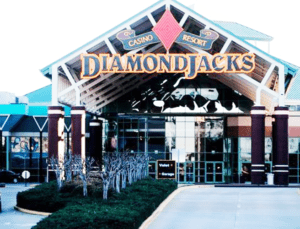 Some of the games offered at Diamond Jacks Casino include:
• Blackjack
• Slot machines
• Video Poker
• Craps
• Roulette
• Mississippi Stud
• 3 Card Poker
• Three Card Blackjack
For more information about Diamond Jacks Casino & Hotel call (601) 636-5700, Toll-free (877) 711-0677 or visit Diamondjacks.com.