Harrahs Casino Resort In Gulf Coast Biloxi Review
Are You Ready To Find Out Why Harrah's Casino Resort At The Gulf Coast In Biloxi MississippiIs Unique To Many Gamers? Are you a gamer who always finds pleasure in visiting different land-based gaming facilities as well as Mississippi casinos online? What have you found out? Can you aptly say that from your 'research' all gaming facilities or even Mississippi casinos online are the same and that the difference is the same? If you say so, then it is easy for many people to disagree with your self-confessed 'research' because it does not in any way reflect on the real situation on the ground.
Perhaps you are asking, what do facts on the ground say? Well, they reveal that Harrah's Gulf Coast is a unique gaming facility. Granted, no facility is the same as the other. For instance, the location and architectural design differ significantly. You can get Harrah's Gulf Coast at 280 Beach Boulevard in Biloxi Mississippi.
Here are Harrahs Casino Resort In Gulf Coast Biloxi facts at a glance:
• The casino is open 24/7
• You can access free self-parking as well as valet parking
• The casino's minimum bet is $0.01
• Inside this facility, there are a total of 820 gaming machines
• There are 25 table games
• Some 35, 000 square feet of the facility has been dedicated to gaming
• There are 5, 000 square feet for meetings
Some of the attractions at the Harrah's Gulf Coast are The Grand Bear Golf Course, the Great Lawn at the Harrah's as well as amenities such as Bellissimo Spa & Salon.
Hotel rooms rates range from $162.00 to $235.00 per night. You will also love the idea that some of the restaurants here at the Harrah's Gulf Coast serve your favorite delicacies. So you do not need to worry about carrying about your prepared meals. The other good thing is that all the restaurants here remain at your service 24/7. Here is the list of the restaurants: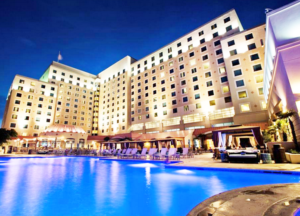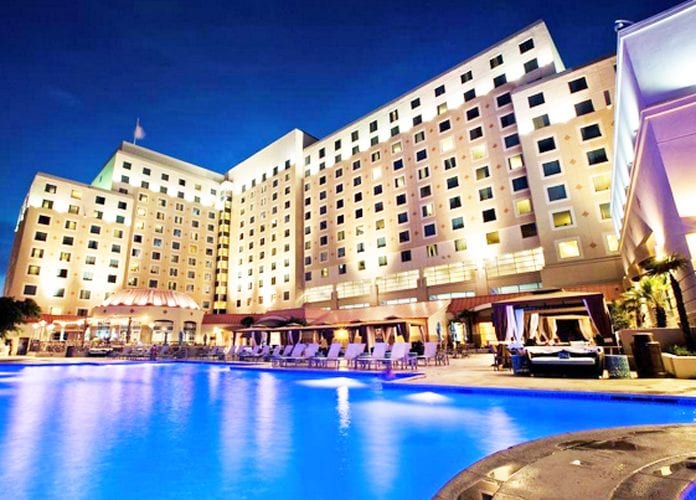 Corner Café
Mix & Mingle
Steak 'n Shake at the Harrah's Gulf Coast
  Magnolia House by Kelly English
  Flavors Buffet
Harrah's Gulf Coast Review
Anyone who knew Harrah's Gulf Coast before the striking of Hurricane Katrina and has never been to the facility after it was utterly rebuilt from scratch will be astounded to see what it turned out to be.
The post-Hurricane Katrina Harrah's has 25 table games, and close to 800 gaming machines all carefully arranged inside the 35, 000 square feet that have been set aside for gaming.
The casino is open throughout the day and night seven days in a week. In fact, in a more recent effort of trying to give real value to the Asian community living in Mississippi, the management has included what they now call Asian Room where you can access games such as mini-baccarat and Pai Gow Poker.
The nearly 500 guestrooms here feature among other things full HD screens, Wi-Fi and bath taps in each room. Gaming is also top notch at the facility with visitors enjoying their favorite games such as:
 Video Poker
Pai Gow Tiles
For more information call (228) 436-2946 or go online at Caesars.com/harrahs-gulf-coast.