Golden Moon Casino At Pearl River Review
Are You Ready To Find Out If The Golden Moon Casino At Pearl River Mississippi Is The Ideal Casino For You? Many times, it is not always easy to make the right decision when you need to make it quick. But do you know what! It is not in all situations that when you do not have enough time to think you will make the wrong decision.
Yes, there are times even if you had very little time to think of something, you emerge with the very best decision ever. That is the case that will happen when asked whether or not you will visit Golden Moon Casino at Pearl River, one of best casino in Mississippi that have been the source of joy to many gamblers from MS and beyond.
You will find Golden Moon Casino at Pearl River along 13541 Highway 16, in Philadelphia Mississippi.
A quick view of the inside and bit of the outside of this gaming facility will be the ideal thing to do at this time.
Statistics
1. The casino is open 24 hours each day for seven days
2. There are 14 poker tables
3. You will find 1, 150 gaming machines in the facility
4. There are 25 table games
5. The casino is owned and operated by American Native Tribe
6. There is plenty of parking space, both valet, and self-parking
7. You will find some 70, 000 square feet purely for gaming
8. There is also some 11, 570 square feet of convention
Pearl River
At the time you set at the Golden Moon Casino at Pearl River, you'll even in a position of enjoying several amenities that are so close or within the premises. Some of the amenities include the famous Geyser Falls Water Theme Park, Time Out Lounge, Center Bar, Meetings & Events Space, The Azaleas Course, and The Dancing Rabbit Golf Club.
For your information, hotel room rates at the Pearl River Hotel start from $129.00 to 130.00 per room per night.
The poker room at the Golden Moon Casino is another social amenity in itself following the way it is nicely designed and arranged. You will also be happy to know that you will find two restaurants at the Golden Moon Casino at Pearl River. The exciting part is that the two restaurants are open to visitors 24/7 namely:
Restaurants
1. Bistro 24
2. The Whiskey Bean
The Golden Moon Casino Review
It is important to note at this point that the Golden Moon Resort Casino is just a part of the Pearl River Resort that is owned and operated by an Indian Band of Choctaw in Mississippi. The casino is located on the north side of Highway 16 and directly across from the Silverstar Hotel and Casino. Other notable properties around are the Inn, the dancing Rabbit Clubhouse, and the Golf Course.
Golden Moon Casino Gaming
While it has always been a challenge to know the exact number of gaming machines in each of the two properties, Silver Star and Golden Moon, it is fair if we settle at 2, 200 for Golden Casino.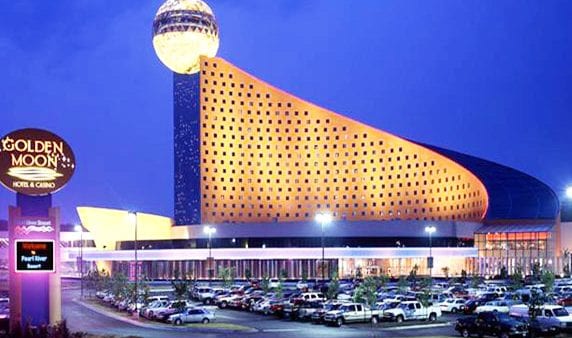 Some of the Golden Moon Casino games you are likely to find inside the facility are:
  Mini-Baccarat
Electronic Keno
For more information call (601) 650-1234 or visit Pearlriverresort.com/golden_moon.html.