TEN Atlantic City Casino

Are You Ready To Find Pleasure When Visiting The TEN Atlantic City Casino Resort? Are you a gamer? Do you find pleasure in visiting new facilities to see for yourself what they have got for you? Well, if that is what you crave then you will be more than happy to learn that TEN Atlantic City the proposed New Jersey casino is the right place for you to visit once it is open to the public.
Overview Of The Proposed TEN Casino In Atlantic City
You will find it at 500 Boardwalk, in Atlantic City. The beauty is that this is not a clueless guess we are talking about. The new developer, Glen Straub is not a man to joke with. With many years of experience in his real estate business, you can imagine how dangerous he will be when it comes to a more lucrative gaming business.
When the Atlantic City Casino is finally opened to the public, at least according to confirmed sources, it will have plenty of self-parking for all clients, and will be open 24 hours a day, seven days in a week.
Hitherto, it is hard to say a lot about the number of social amenity site and attraction spots for clients. Besides, it is hard at this moment to say the exact number of gaming equipment. Nonetheless, the little we know about TEN is more than enough to see that it indeed the kind of casino you need to visit after reading this write-up.
Well, for now, it is good to point out that you will be spending at the Atlantic City Hotels, which are within the TEN Atlantic City. With that said, here is the complete review of the TEN Atlantic City. Note that many people would want to visit this casino as fast as they could the moment it is made public that it has been officially launched to the public.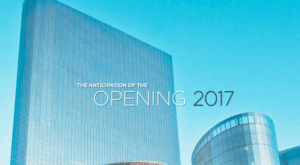 TEN Casino Review
The short history of this casino will take you back to September 20, when the amended site plan was approved to change the name of this casino from Revel Casino as it was formerly called to TEN. The approval was granted by the Casino Reinvestment Development Authority for the State of New Jersey.
It is said that the name of this proposed casino was chosen by a tenant who used to stay at the property. The tenant received some $22, 000 for coming up with that name that was later approved by Glen Straub. After getting a new name, Straub embarked on choosing a team of experts who will assist him in the management of his newly acquired facility.
Those selected to the high positions by Mr. Straub include CEO Robert A. Landino, the former co-founder and president of BL Companies, and Alan Greenstein, who is a certified accountant and former worker at the same position with the Revel and Mohegan Sun. The two together with Straub witnessed the signing of a 25-year-old lease at the fall of last month.
It should be remembered that before Straub could get full ownership of the property, he underwent several setbacks.
The 47-storey building that Straub bought at a discounted price of $82 million is set to be opened in 2017. For more information about the casino resort, visit Tenacnj.com.
Summary
Reviewer
Review Date
Reviewed Item
Author Rating