Binion's Gambling Hall Las Vegas Review
The Binion's Gambling Hall Las Vegas is not the most famous casino in Nevada, but it is good. Are you a lover of poker? Do you enjoy playing slot machines for real money? Well, I believe you do. If that is the case, it is time you looked for a new venue to play from. The Binions Gambling Hall is located at 128 Fremont St in Las Vegas.
The Binion Gambling Hall Las Vegas is truly a gambling hall because the only space available has been dedicated to only gambling. It is not like many other casinos that have allocated some space to the convention, usually bigger than what they have reserved for gaming. Nonetheless, here is a quick view of what Binions Gambling Hall is like. This might tell you why you need to visit this facility of all Nevada Casinos.
Quick Binion's Gambling Hall Las Vegas View
Minimum bet at the casino $0.05
Open to the public 24/7
You can access self and valet parking
The number of poker tables is 10
Gaming machines available – 800
Table games – 40
Casino space – 87, 000 square feet
So, Is This Casino On The Las Vegas Strip?
Other things that you might find appealing when you visit Binions Gambling Hall are social amenities. These sports create an atmosphere that you will never forget years after you leave Binions Gambling Hall.
They include Whisky Licker, The Longhorn Room, Cowgirl Up Cantina, Pool Deck, The $1 Million Display, Fremont Street Experience, Four Queen's Royal Pavilion, and much more. Restaurants at the Binions Gambling Hall are not may, but you will be satisfied with the way you will be handled.
Enjoy 4 Restaurants
In fact, there are only four restaurants at the Binions Gambling Hall that will give you a service you will always come back for. The four restaurants are:
1.Binions Deli
2.The Café
3.Benny's Smoking BBQ and Brews and
4.Top of Binion's Steakhouse
5. The Gambling Hall Spotcheck
The History And WSOP
The History of the Binions Gambling Hall dated back over 40 years ago in 1970. That year, Binions Horseshoe, how the facility was then known went on record as the first gaming facility to inaugurate World Series of Poker (WSOP). It is funny that WSOP started as a tournament that involved only ten people who showed interest. Little did the organizers know that in many years to come, WSOP would come to affect thousands even tens of thousands of individuals.
So, it is an honor to say that Binions Horseshoe, now Binions Gambling Hall is the fountain of modern poker. Some managerial changes were done close to nine years ago in 2008 when the facility was sold to TLC Casino Enterprises. Still, Binions is indeed the home of poker. Until now, various tournaments go on even weekend concerning poker.
Although poker tournaments are conducted every day, the ultimate prize of $10, 000 guaranteed tournament kicks off every Saturday at 1 pm. Some of the games you expect to enjoy at Binions Gaming Hall are: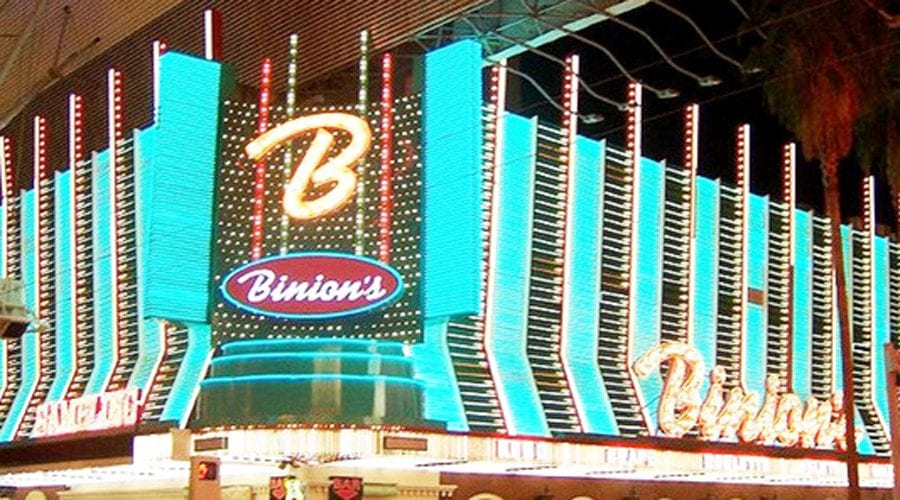 The Gaming Floor
1.Video Poker.
2.Racebook.
3.Sportsbook.
4.Roulette.
5. Let it ride.
6.Blackjack.
7.Pai Gow.
8.Progressive 3-card poker.
9. Many other games.
First of all, you can visit Binions.com. Additionally, you can call them at +1 (702) 382 1600 for more information.