Riverwalk Casino Hotel Vicksburg
Are You Ready To Find Out If Visiting The Riverwalk Casino Hotel In Vicksburg Mississippi Is Worthwhile? Many people have come into gaming because they want to make real money. Those that have come with this view, and done something about it have reaped from their efforts.
The fact is that most of them do not stick to one facility for they believe that by visiting different gaming facilities, they will be increasing their chances of winning.
Perhaps, that is why you too need to visit Riverwalk Casino Hotel, one of MS Casinos that receive a lot of people who gamble for money. You can find Riverwalk Casino Hotel at 1046 Warrenton Road in Vicksburg Mississippi. Before we look into the intricate detail of this casino, here is the quick view of the casino:
• There are 710 gaming machines
• You will find 17 table games
• Free valet and self-parking for all clients
• The casino is open to visitors 24/7
• There is over 25, 000 square feet dedicated to gaming
• 8, 000 square feet has been left to carter for conventions
When you finally decide to visit Riverwalk Casino Hotel in Mississippi, you will realize that the hotel and casino are not the only things that will add the joy in you.
There are meetings and events space that you would like to hold your meetings from as well as restaurants that will serve your favorite delicacies. In short, the list of social amenities at the Riverwalk Casino Hotel is inevitably endless. There are three restaurants where you can dine from in this casino, and the beauty is all the three restaurants are in operation 24/7. They are:
• Smiley's Deli
• Magnolia Hill Buffet
• Rocky's
The other exciting part about these restaurants is that they serve both ready meals and ordered. So, you do not have to worry if you walked into any of the three restaurants that are close to each other and you did not find a ready meal that you prefer. Just place an order, and in a few minutes, your delicacy is right before you.
Riverwalk Casino Hotel Review
The Riverwalk Casino Hotel located at 1046 Warrenton Road is no doubt a reasonably small Resort Casino with slightly over 20, 000 square feet that are purely set aside for gaming. It is unique that when you check in the facility, you'll realize that all the 20, 000 plus square feet are a single floor where more than 710 slot machines and some 17 gaming table have been carefully spread.
You will enjoy dining from the three eateries that are on the premises. Starting with Smiley's Deli where you just need to grab a bite and go to a more of sit-eat-to satisfaction Rocky's Restaurant. There is plenty of accommodation space for those who would prefer to stay late and spend a night or more at the Riverwalk Casino Hotel.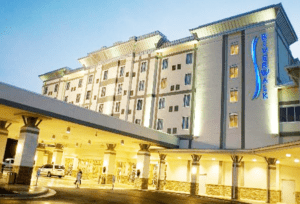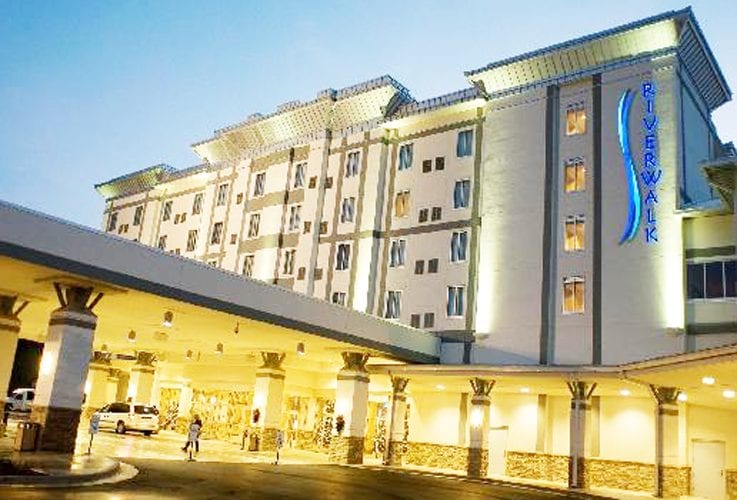 Favorite games that are offered at the Riverwalk Casino Hotel include:
• Blackjack
• Craps
• 3 Card Poker
• Video Poker
• 21+3
• Roulette
• Slot machines
• Mississippi Stud
• Bet The Set
For more information call (601) 634-0100 or visit Riverwalkvicksburg.com.