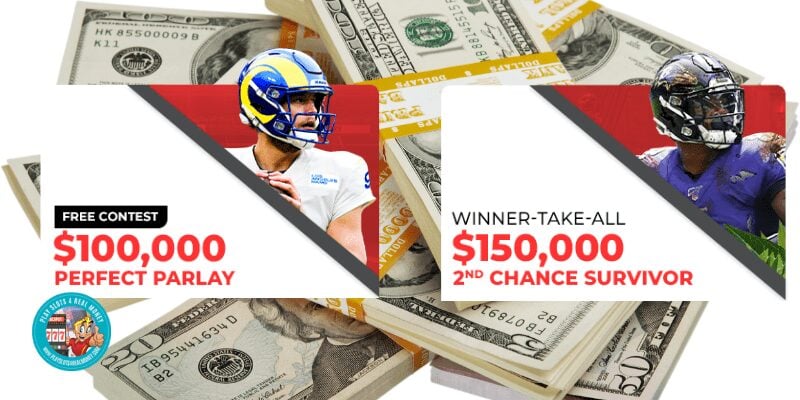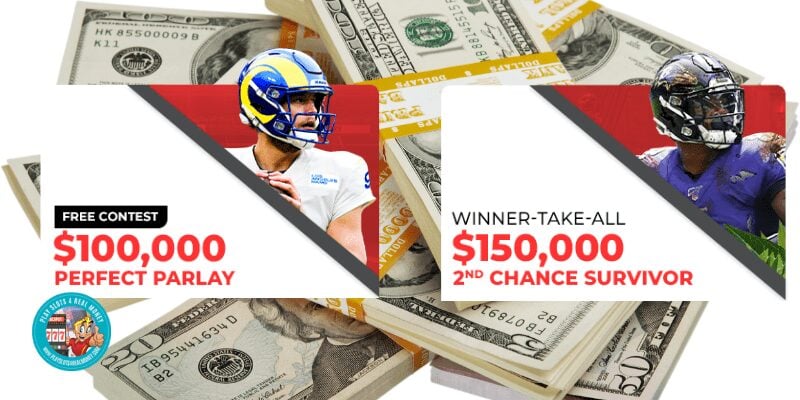 The NFL season is heating up and so are the online sports betting contests at BetOnline.ag! This week, we're offering our Perfect Parlay contest where you can win a cool 100K by correctly picking all 16 games. But that's not all – next week we're kicking off our Second Chance Survivor Contest with a 150K prize pool! Entry is just $30 and you get a discount when purchasing 2 or more entries (see complete specs below). So don't miss your chance to score big this NFL season – enter now at BetOnline.ag!
100K Perfect Parlay Contest
The $100,000 Perfect Parlay is a weekly football wagering competition that takes place throughout the 2022 NFL betting season.
The contest runs from Wednesday afternoon until Sunday at 12:55 pm (ET). The aim of the $100,000 Perfect Parlay is to pick 16 listed NFL games correctly- either against the spread or game total. If you correctly choose each of the 16 games, you may win $100,000.
You don't have to pay to enter this contest, but your players must've wagered at least $50 in real money over the last seven days to qualify for the prize(s). If you correctly predict all 16 games and fulfill the bet requirement, you must send an email to contestwinner@betonline.ag within 48 hours of Monday Night Football's conclusion to claim your $100,000.
Please type "Perfect Parlay Winner" in the subject line and include your username in the body of the email.If you do not fill in the paperwork in time, the $100,000 will be lost. Only one entry per account is allowed. Be sure to use our BetOnline.ag promo code to obtain exclusive bonuses.
150K Second Chance Survivor Contest
The $150,000 2nd Chance NFL Survivor Contest at 'BetOnline' is scheduled to start Week 5 of the 2022 NFL Season and run through Week 18 (postseason not included). The registration period begins on Tuesday, September 20th, 2022 and ends Monday, October 10th, 2022 at 8:05pm (ET). If you register for the contest on either Sunday, October 9, 2022 or Monday, Oct. 10, 2022, you can only choose games from the Week 5 schedule that have not yet begun.
To participate in the Survivor Contest, you must create a BetOnline account and buy at least one entry for $30. Players can enter the $150,000 2nd Chance Survivor Contest multiple times – up to 25 entries.
One entry costs $30, while 2-5 entries cost $20 each. If you buy between six and ten entries, it will cost you $15 per entry. If you want to get the entry cost down to $10 per entry, you have to buy between 11-25 entries.
BetOnline will withdraw any cash from your BetOnline Sportsbook account for entry purchases. You have until Monday, October 10th at 8:05pm to purchase entries for this contest. However, buy as many or as few entries as you want – there is no minimum!You can only register for the Survivor Contest online.
How to Play
Every week of the NFL Regular Season, contestants must pick one team to win its game. Point spreads will not be taken into account.
Choosing a winning team keeps your entry alive for the next week.
Your entry is eliminated if the team you select loses or ties.
You can choose a team for just one week; after that, it's unavailable for selection for the rest of the contest.
The contestant with the most entries at the end of the contest period wins $150,000.
The contest will end on Week 18 of the 2022 NFL season, or when there is only one contestant remaining. This will be whichever comes first. For example: If three contestants remain in Week 15 and two contestants select losing teams, the remaining contestant is declared the winner.
If there are more than two contestants left at the end of Week 18, they will each receive $150,000.
Summary
So, if you're feeling lucky and want to try your hand at winning some serious cash next week, be sure to sign up for our NFL contests! We have a new contest starting every week, so there's always something exciting on the horizon. We appreciate your continued support of PlaySlots4RealMoney.com–the home of the best online casino bonuses and promotions in the business. Thanks for reading and good luck in all your future gambling endeavors!