Hooters Casino Hotel Las Vegas Review
Do you want to enjoy some of the best games that are offered by the land-based casino? Well, if that is what you have been craving for, then it is time you visited Hooters Casino Hotel Las Vegas. You can locate the location of the hotel at 115 East Tropicana Ave in Las Vegas. But before a complete review of the casino here is a quick look at some of the things you expect to find once you check in:
Find Time To Visit Hooters Casino Hotel Las Vegas
Gaming machines – 354
Table games – 22
There are two poker tables
You can find plenty of self-parking
Available valet
Open casino space for gaming 27, 537 square feet
38, 500 sq ft for convention
Hooters Casino Hotel Las Vegas has some of the best restaurants where you can serve your favorite dishes. It is true that there aren't many of them, but the three available restaurants are reason enough to prove that you can get whatever meal you desire.
The three restaurants are some of the best among Nevada casinos. They are:
Mad Onion Fine Food & Spirits
Pete & Shorty's and
Hooters Restaurant
Hooter's Vegas Hotel Review
Quite some people are familiar with the Hooters restaurants that are available throughout the USA. But due to public demand, they have now opened up a casino facility in Las Vegas. It's located just off the Las Vegas Strip just next to The Tropicana.
It is also very close to the MGM Grand. It is easy to think that there is nothing of substance that will come out of Hooters Casino. However, if you take your time to check in the hotel, you will be surprised to learn that the facility is well-equipped to handle all your gaming needs. Inside the rooms, you will soon realize that they are very comfortable than some of the rooms you are likely to find in some Nevada Casinos.
It is expected that Hooters Casino might have Hooters restaurant. While that is true, there are also other options for you to choose from. The beauty is that all the restaurants attached to Hooters Casino Hotel Las Vegas offer sweet and delicious meals 24/7. On your way to Hooters, you'll get a chance to drop by Porch Dogs, a bar that offers some of the spectacular indoor and outdoor club services in Nevada.
Related: (CyberSpins Review & No Deposit Bonus Codes)
Gaming At Hooters Casino
With close to 30, 000 square feet, you can expect that a serious gaming investor like the owner and operator of Hooters Casino Hotel Las Vegas can build a gaming space without the necessary equipment.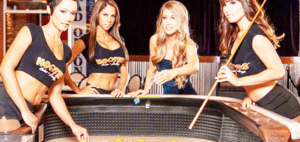 Thus, there are all kinds of gaming equipment such as gaming tables, slot machines, poker tables that will end all your gaming thirst. Wait! There is more. The ladies who serve in the facility dress professionally thus you will know that they are at work.
On the other hand, the rest of the workers wear traditional Hooters attire.
It is interesting to note that poker lovers who smoke can access an area meant for them with two tables where they can enjoy their game as they smoke. You can get in touch with the casino by calling (702) 739 -9000 or visit Hooterscasinohotel.com