The Palms Casino Las Vegas Review
Perhaps one of the most frequented Nevada casinos is The Palms Casino Resort Las Vegas that is located at 4321 West Flamingo Rd in Nevada. At The Palms, you are likely to be confronted with a top-shelf gaming experience thanks to its close to 100, 000 square feet of casino space.
This space is filled with new slot and table machines, sport and racebooks, and two separate rooms that have set aside for those who prefer poker to any other game to mention a few. It is good to state that The Palms Casino Resort is widely open to receive anyone who has attained gambling age. Thus you can expect to encounter celebrities on the Nevada Casinos gaming floor, jet-setters, and ordinary people.
What is even funny is that with a room in any of the hotel's nicely-finished rooms, you can get yourself a bit of Italian, French or even cosmopolitan snack.
Here is a quick view of The Palms Casino Las Vegas:
Number of table games – 90
Gaming machines available – 1, 300
The number of poker tables at the Palms – 10
Open 24/7
Ample valet and self-parking
Casino space (for gaming) – 95, 000 square feet
Conference space (for meetings) – 65, 000 square feet
Upon arrival at The Palms Casino Resort, you might want to ensure that you are properly equipped for gaming that is ahead of you by checking into one of the following restaurants:
24 Seven Cafe
Alize
N9NE Steakhouse
Nove Italiano
Bistro Buffet
Simon Restaurant
Fortunes
The Eatery
When it comes to gaming, you cannot afford to love The Palms Casino Resort for what it offers. With some ten modern poker tables, you will like to come with your friends for a weekend of nothing but exquisite gaming.
For those from the East who may prefer to play different types of games, there is plenty of baccarat as well as Pai Gow Poker that you can confidently say that is set aside for them.
In case you want the high limit slots, there are a few that have been reserved for those who deserve them. The only way through, you can access the high limit slots is by making sure that you inquire from the responsible staff as soon as you arrive.
Some of the games you'll expect to play at the Palms Casino Resort are in the list below. Note that the list does not contain all the games that are offered at the casino.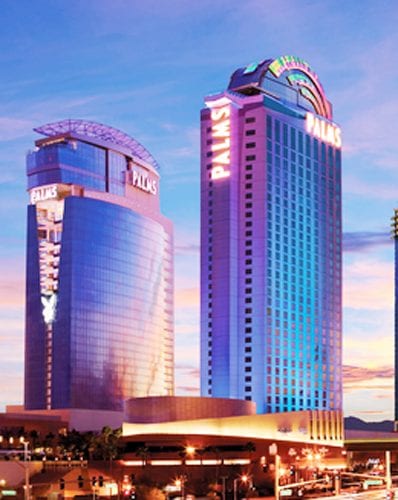 List Of Casino Games Available At The Palms Casino Resort
Mini-baccarat
Slot machines
Blackjack
Craps
Video Poker
Progressive 3-card poker
Roulettes
 You May Also Like:
Of course, if you want a particular game that is not on the list but provided in at the facility, you can always ask from the attendants who are at your service. Do not also forget to get in touch with the casino in case you want to book a room in advance, know when a particular restaurant is running some promotions and such like things. For more information visit Palms.com