The Plaza Hotel Las Vegas
Are you looking for a place you can walk into and the first thing you encounter is a gaming floor full of modern machines that you have been looking for? That place is at 1 Main Street, Las Vegas where you'll find The Plaza Casino & Hotel, one of the very few Nevada Casinos online that have shown the need to welcome visitors no matter their financial and social status.
Here is a quick view of The Plaza Hotel Las Vegas & Casino
Gaming machines available, 550
Table games – 23
Poker tables – 3
There are self and valet parking for all guests
Total space for holding meetings – 23, 000 square feet
Aggregate casino space – 57, 436
During your visit to The Plaza Casino, you will realize that there are many amenities and other attraction sites that you need to check on.
In fact, some of these amenities would not be known to you had you not decided to visit The Plaza Casino & Hotel.
What might come on top of all the attractions in and around Plaza Casino is the Freemont Street Experience that gives you the real feeling of what it is like to be in Las Vegas and particularly The Fremont area.
It is also good to mention that hotel rates are very affordable. With only $32.00 you can find a very nice and comfortable bed to sleep on. However, other rooms come with added advantages. As for these, you only need to pay $59.00. Still, that is a very friendly price.
During your time of gaming and staying at The Plaza Casino & Hotel, you may want to take a bite of a snack. Alternatively, you might want to enjoy a whole meal with friends or family.
Here are The Plaza Casino restaurants were you can eat from:
Pop Up Pizza
Plaza Hotel and Casino Food Court
Has House A Go Go
Island Sushi & Grill Express and Oscar's Steakhouse
Gaming At Plaza Casino
There is no doubt that being in the heart of the Las Vegas town; Plaza will give gamblers a chance to enjoy whatever they want. Remember that with the building of the Plaza Casino, and other neighboring casinos, many things have changed.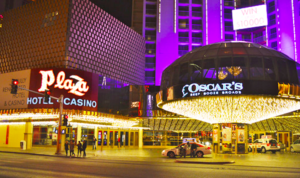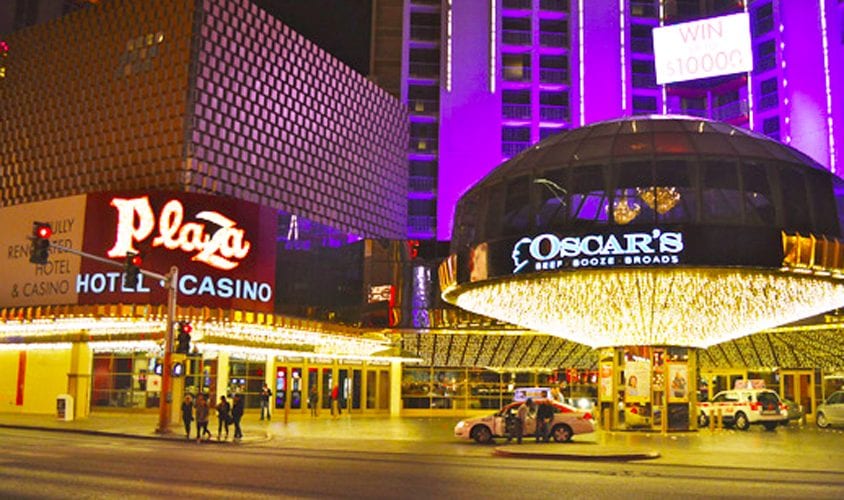 In those days, the only way you'd pass by 1 Freemont Street is by speeding down. However, things have changed for the better.
Today, you cannot afford to drive and leave the experience that awaits you when you stroll towards the end of the street where Plaza Casino is located.
Gaming At The Plaza Casino In Las Vegas
It is hard to finish this review without talking about the casino's main business. With over 57, 000 square feet that have been set aside for nothing but gaming, there is no doubt that you're thirsty for games played at a conducive space is quenched.If you don't want to wait to travel, folks may be able to start gambling online at Uptown Aces Casino.
 You May Also Like:
Some of the games you are expected to enjoy the moment you check in the facility are:
By the way, if you want more information about The Plaza Casino, just call (702) 386-2110. Alternatively, you can visit VegasInternationalHotel.com.