Fiesta Rancho Hotel & Casino Reviews
Are you ready to hear about the Fiesta Rancho hotel and casino? The Fiesta Rancho hotel is one of the most affordable Nevada Casinos. If you want a club whose management is serious about gaming, then it is time you made your mind to visit Fiesta Rancho Hotel and Casino that is strategically located at 2400 North Rancho Drive in Las Vegas.
Fiesta Rancho Hotel & Casino Quick View
Minimum bet amount has been set at – $0.01
The total number of table games is – 13
Available gaming machines – 1, 100
The facility is open to visitors 24/7
There is a plant of parking space for both valet and self
Total casino space – 75, 000 square feet
Convention space – 7, 000 square feet
There are quite some social amenities and attraction sites in and around the Fiesta Rancho Hotel & Casino that you'll love to know and find time to enjoy some of them. To start with, it is good to mention that there is Club Tequila, an arcade that is home to many entertainment pieces for the whole family.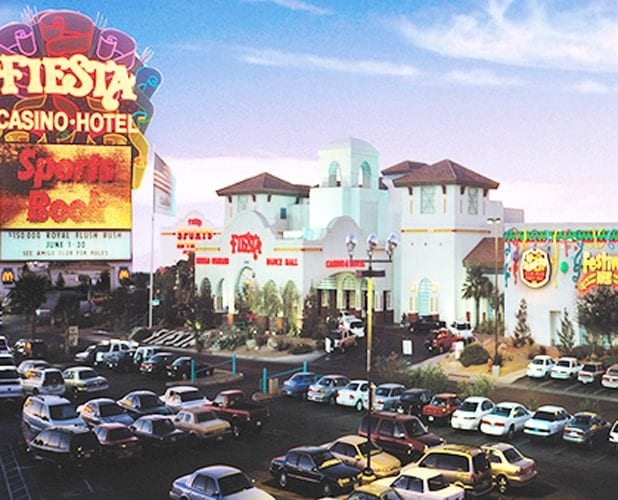 An Outdoor Pool
Additional amenities and attraction sites include the Sobe Arena, the meetings and events space, Venom Bar, Cabo Lounge, and an outdoor pool for all that love swimming.
At the Fiesta Rancho Hotel & Casino, the price of hotel rooms ranges from $50.00 to $130.00. This is a reasonably affordable price for all considering the value of other things around. Nonetheless, when you finally visit the casino and feel like you should take a bite of something delicious, why not check with n of the local restaurants.
One thing is clear though that these restaurants always prepare fresh and delicious local and exotic cuisines. Your only part is to place an order and wait as it is quick yet nicely prepared.
Here are the Fiesta Rancho Casino And Hotel restaurants:
 Gardunos of Mexico
 Blue Agave Cantina
 Festival Buffet
Fiesta Rancho Hotel Review
When you are driving from Fremont Street, you will only be required to drive for less than eight minutes at a normal speed for you to reach Fiesta Rancho. The experience here will not be matched with any other for the feeling is unique thanks to the conducive environment that you will encounter.
Apart from the casino, which the primary business. Furthermore, the owner of Station Casinos also operates a hotel that has 100 rooms. Also, there are other things around and inside this casino such as an outdoor pool. Ultimately, this is for all clients who would love to swim. However, you can find lounges, ice creams bars, restaurants, live entertainment, bars, and many other amenities. You will also find it interesting to realize that there is another space, 7, 000 square feet to be precise that is meant for banquet rooms, as well as an outside patio.
Fiesta Rancho Hotel & Casino Gaming
This is, of course, the core business of the day. The property, Fiesta Rancho dedicates most of its investments, spaces and even energy to nothing but ensure clients have the latest types of gaming equipment as well as games in general. Whether it is slotted, video poker, blackjack, craps or even roulette, there are plenty of such.
 You May Also Like:
Here is a list of some available games at Fiesta Rancho Hotel & Casino:
1.Pai Gow
2.Roulette
3.Sportsbook
4.Craps
5.Video Poker
6.Keno
7.Blackjack
8.Bingo
If you want to get in touch with the casino, call them at (702) 631-7000. Alternatively, you can visit the casino's sited at Fiestarancho.sclv.com.